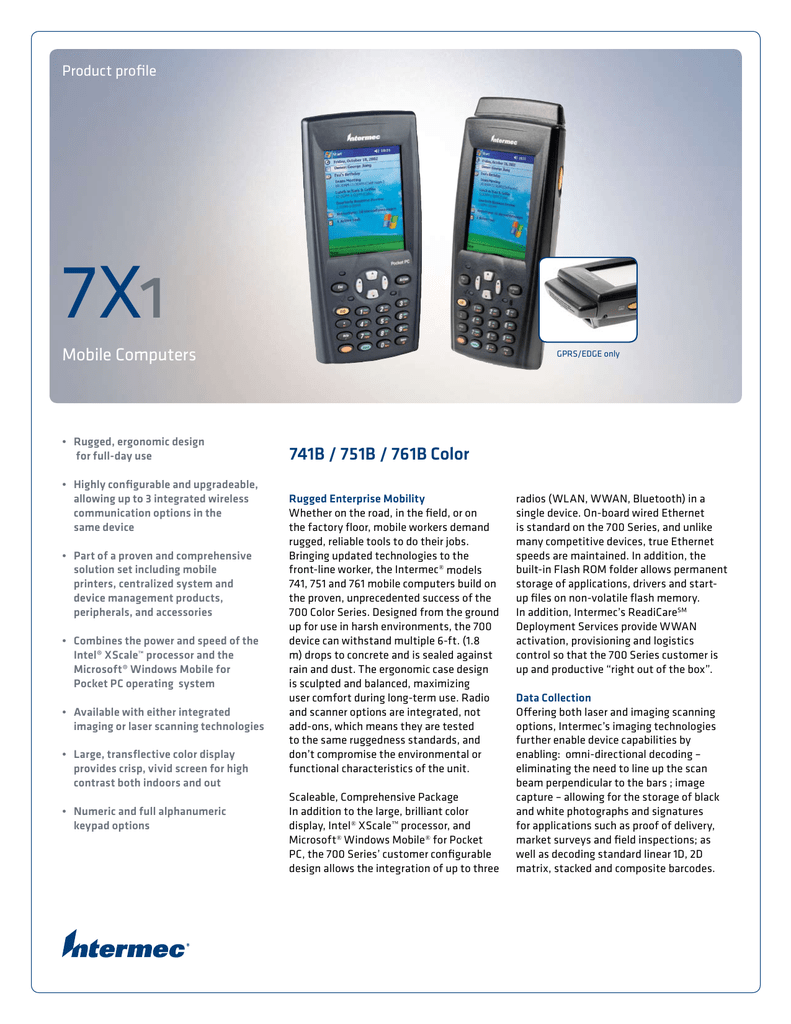 Product profile
7X1
Mobile Computers
• Rugged, ergonomic design for full-day use
• Highly configurable and upgradeable, allowing up to 3 integrated wireless communication options in the
same device
• Part of a proven and comprehensive solution set including mobile printers, centralized system and
device management products,
peripherals, and accessories
• Combines the power and speed of the Intel® XScale™ processor and the Microsoft® Windows Mobile for Pocket PC operating system
• Available with either integrated imaging or laser scanning technologies
• Large, transflective color display provides crisp, vivid screen for high contrast both indoors and out
• Numeric and full alphanumeric keypad options
GPRS/EDGE only
741B / 751B / 761B Color
Rugged Enterprise Mobility
Whether on the road, in the field, or on
the factory floor, mobile workers de­mand
rugged, reliable tools to do their jobs.
Bringing updated technologies to the
front-line worker, the Intermec ® models
741, 751 and 761 mobile computers build on
the proven, unprecedented success of the
700 Color Series. Designed from the ground
up for use in harsh environ­ments, the 700
device can withstand multiple 6-ft. (1.8
m) drops to concrete and is sealed against
rain and dust. The ergonomic case design
is sculpted and balanced, maximizing
user comfort during long-term use. Radio
and scanner options are integrated, not
add-ons, which means they are tested
to the same rug­gedness standards, and
don't compro­mise the environmental or
functional characteristics of the unit.
Scaleable, Comprehensive Package
In addition to the large, brilliant color
display, Intel ® XScale ™ processor, and
Microsoft ® Windows Mobile ® for Pocket
PC, the 700 Series' customer configurable
design al­lows the integration of up to three
radi­os (WLAN, WWAN, Bluetooth) in a
single device. On-board wired Ether­net
is standard on the 700 Series, and unlike
many competitive devices, true Ethernet
speeds are maintained. In addition, the
built-in Flash ROM folder allows permanent
storage of ap­plications, drivers and startup files on non-volatile flash memory.
In addition, Intermec's ReadiCareSM
Deployment Services provide WWAN
activation, provisioning and logistics
control so that the 700 Series customer is
up and productive "right out of the box".
Data Collection
Offering both laser and imaging scanning
options, Intermec's imaging technologies
further enable device capabilities by
enabling: omni-directional decoding –
eliminat­ing the need to line up the scan
beam perpendicular to the bars ; image
capture – allowing for the storage of black
and white photographs and signatures
for applications such as proof of delivery,
market surveys and field inspections; as
well as decoding standard linear 1D, 2D
matrix, stacked and composite barcodes.
Cross Functional Deployments
Whether your application is stand-alone,
client-server, browser-based, or terminal
emulation, the 700 Color is the right tool
for the job. It's comprehensive feature set
allows for a single device to provide cross
functional capabilities. Your day's start-up
activates can begin on-premise, utilizing
wireless LAN access points for cross
docking or load planning ap­plications and
move off-premise to the delivery vehicle,
utilizing wireless wide-area voice and data
services, all the while using Bluetooth
compatible networking to print. Whatever
your communication requirements, the 700
Color has you covered.
Complete Systems That Work
The 700 Color is part of a suite of
fully- integrated system components,
including a wide selection of periph­erals
and accessories. Intermec systems
are designed to meet the needs of the
business enterprise. Applications and com­
munication software products are available
to address business process automation
needs – including software to remotely
configure and manage devices from a
central location. The In­termec 700 Color
can help businesses worldwide improve
their operations, increase mobile worker
efficiency, and build a better bottom line.
Portable Receipt Printers
• Rugged design built for field environment
• 2" and 4" paper options
• Lightweight, belt-clip mounting for hands-free mobility
• Bluetooth compatible wireless printing, IrDA and RS-232 serial communications
• Rechargeable customer replaceable, Lithium-Ion battery provides ample power for all-day printing
• Wireless IrDA interface to mobile computer
Physical Characteristics for models PB40 and PB41
Dimensions:
167mm L x 172mm W x 66mm D
6.56in L x 6.8in W x 2.6in D
Weight: 932 gms (32.9 oz) with batteries and paper)
Physical Characteristics for models PB20 and 681T
Dimensions:
144mm Lx 112mm W x 616mm D
5.65in L x 4.39in W x 2.40in D
Weight: 393g (13.85 oz) without paper; 418g (14.72 oz)
with paper
Vehicle Dock and Cradle
(shown with stand)
• Provides a secure place to store the 700 Series mobile computer in a vehicle or fork truck
• Full access to touch screen and all keys while in
dock
• One-handed insertion and removal
• Two RS-232 ports for connectivity via DB-9 connector to printers and other serial devices, including long range scanners
• Option for DC power jack to support charging of the mobile computer
Physical Characteristics
Dimensions:
159mm L x 111mm W x 58mm D
6.25in L x 6.25in x 2.3in D
Weight: 284g (10oz)
Vehicle Dock and Cradle
Workboards
• One-piece design holds 700 series securely while
providing 2" or 4" printer receipts
• Lightweight, rugged and weather resistant
• Self powered with Lithium-Ion battery to support
all day printing need
• Supports user downloadable character sets
• 4 Mbits of flash memory
• Power saving sleep mode
Physical Characteristics for model 782T
Dimensions:
290mm L x 213mm W x 67mm H
11.42in L x 8.40in W x 2.63in H
Weight: 815.4g (28.76oz) without paper; the weight
with paper is 29.63 oz. 840 gms or 30.48 oz
Physical Characteristics for model PW40
Dimensions: 21 cm L x 35.25 cm W x 6.7 cm H
8.24 in L x 13.9 in W x 2.62 in H
Weight: 1.13 kg (2.51 lbs.) without paper; 1.39kg (3.07
lbs.) with paper
• Ideal for home and small depot environments
• Charges the 700 Series mobile computer
• Supports RS-232 serial port with DB-9 connector, Active Sync cable and printers; Ethernet 10Base-T LAN; or USB host.
Physical Characteristics
Dimensions:
114mm L x 133mm W x 64 mm
4.5in L x 5.25in W x 2.5in D
Weight: 1181g (2.6lb)
Multi-unit Depot Dock
Adapter Modules
The 700 Series adaptation of snap-on modules
accessories easily enables applications requiring
support for long-range scanning; mag stripe reading
(MSR) and dial-up modem capabilities.
Snap-On Modem
Mag Stripe Reader*
• Holds four Intermec 700 Series mobile computers for charging and communications
• Full access to touch screens and all keys while in
dock
• Ethernet 10/100 Base-T LAN connectivity with integrated switch or charge only option
• Can be mounted on a countertop or wall
Physical Characteristics
Dimensions:
114mm L x531mm W x 61mm D
4.5in L x 20.9in W x 2.4in D
Weight: 1658g (3.65lb)
Scan Handle
•
•
•
•
•
• Reads cards up to .055 inches (1.4 mm) thick
• Supports ANSI, ISO, AAMVA, CA DMV and User Configurable Generic Formats
• Snap on retainment features for temporary attachment
• Thumb screws for semi-permanent attachment
• Ability to charge unit via cable or dock while
adapter is attached.
• Battery accessible with module attached
Physical Characteristics (with 700 installed)
Size: 3.7" x 7.5" x 1.7" (94x191x43mm) plus 2.0" x 4.6"
x 1.1'' (51x117x28mm) volume at base of the handle
for the handle grip (handle and handheld overall
dimensions)
Weight: 624g (22oz)
Dimensions:
3.55in W x 3.45in L x 1.45in D
Accessories
Dimensions:
3.55in W x 3.25in L x 1.45in D
*The Mag Stripe Reader is NOT RoHS
certified.
• Attaches to 700 Series without extra tools; designed for easy insertion and removal
• Handle option to allow for docking with handle attached.
• Ergonomically designed handle and trigger mechanism allows for fatigue-free use
• 700 is positioned horizontally for convenient access
to display and keypad
• Access to the 700 Series battery compartment allows the user to change the battery pack without removing the handle
Supports V.90 for download speeds upto 56 Kbps
LED's to indicate connection status
Connects to a standard RJ-11 phone jack
Battery accessible with module attached
Ability to charge unit via cable while adapter is attached.
3.3 Volt to 5 Volt Scanner
Adapter
• 3.3 Volt to 5 Volt Boost converter with DB9M RS-232 interface
• Snap on retainment features for temporary attachment
• Attachable with thumb screws for semi-permanent attachment
• Battery accessible with module attached
Dimensions:
3.52 in W x 2.63in L x 1.39in D
The Intermec 700 series support a full line of accessory
items including: holsters, carry cases, multi-pack
external battery charger, power and data cables,
compact flash and secure digital cards.
Physical Characteristics
Length: 191 mm (7.53 in.)
Width: 90 mm (3.5 in.)
Height: 50 mm (1.97 in.)
Weight: 483-568 grams (17-20 oz) depending on
options
Environmental
Operating Temp:
-20° to +60°C (-4° to +140°F)
Storage Temp:
-20° to +60°C (-4° to +140°F)
Relative Humidity:
5% to 95% (non-condensing)
Rain and Dust Resistance:
IP64 compliant
Drop Spec: 6 ft., (1.8 meter) MIL-STD 810F
Power
Battery Type: Lithium-Ion, 7.2V, 2400 mAh,
customer replaceable
Battery Capacity: 17.3 Watt-hours
Battery Life: 9-12 hours, application dependent
Recharging Time: 4 hours
Operating Systems
Windows Mobile® 2003
Microprocessor
Intel® XScale™ Processor, 400 MHz
Memory and Storage
RAM Memory: 128 MB
Flash ROM: 64 MB; includes ROM folder for
application storage
North America
Corporate Headquarters
6001 36th Avenue West
Everett, Washington 98203
Phone: (425) 348-2600
Fax: (425) 355-9551
North Latin America
Headquarters Office
Mexico
Phone: +52 55 52-41-48-00
Fax: +52 55 52-11-81-21
South Latin America
Headquarters Office
Brazil
Phone: +55 11 5502.6770
Fax: +55 11 5502.6780
Europe/Middle East &
Africa Headquarters Office
Reading, United Kingdom
Phone: +44 118 923 0800
Fax: +44 118 923 0801
Asia Pacific
Headquarters Office
Singapore
Phone: +65 6303 2100
Fax: +65 6303 2199
Internal Slots
• Secure Digital (SD)
• CompactFlash (CF) Type II
Display
Transflective, 240x320 pixels, 3.8 in. (97 mm) diagonal,
256 K colors
Standard Communications
RS232
IrDA 1.1 (115 kbps)
10/100 Base-T Ethernet
USB Client
ReadiCareSM Activation and
Provisioning Services
WWAN Carrier Provisioning
WWAN Carrier Activation
Software Configuration
Tagging
Operational Testing
Packing, Storage & Staging
For additional details, go to:
http://www.intermec.com/
WWANActivationandProvisioning
Integrated Radio Options
LAN: 802.11b/g (Wi-Fi certified)
WAN: GSM/GPRS/EDGE, CDMA/1xRTT
Bluetooth®
Regulatory Approvals
FCC Part 15 Class B
UL Listing
CE Mark
CB Report
Modem
• Optional v.90 modem snaps on to 700 Color
• v.92 docking options
Hazardous Location Certified (741 & 751 models only)
UL Listing (United States and Canada)Division 2, Class
I, Groups A, B, C, D
Integrated Scanner Options
• Area imager
• Linear imager
• Standard Range laser
* Bluetooth is a trademark owned by Bluetooth SIG,
Inc., USA.
Microsoft, Windows, the Windows logo, Windows
Media, Outlook, and ActiveSync are registered
trademarks or trademarks of Microsoft Corporation in
the United States and/or other countries.
Keypad Options
• Numeric
• Full alphanumeric
Intel® and XScale™ are trademarks of Intel Corporation.
Cisco Compatible
Version 1
Version 2
Internet
www.intermec.com
Worldwide Locations:
www.intermec.com/locations
Sales
Toll Free NA: (800) 934-3163
Toll in NA: (425) 348-2726
Freephone ROW:
00 800 4488 8844
Toll ROW: +44 134 435 0296
OEM Sales
Phone: (425) 348-2762
Media Sales
Phone: (513) 874-5882
Customer Service
and Support
Toll Free NA: (800) 755-5505
Toll in NA: (425) 356-1799
Copyright © 2009 Intermec Technologies Corporation. All
rights reserved. Intermec is a registered trademark of Intermec
Technologies Corporation. All other trademarks are the
property of their respective owners. Printed in the U.S.A.
611587-01J 05/09
In a continuing effort to improve our products, Intermec
Technologies Corporation reserves the right to change
specifications and features without prior notice.