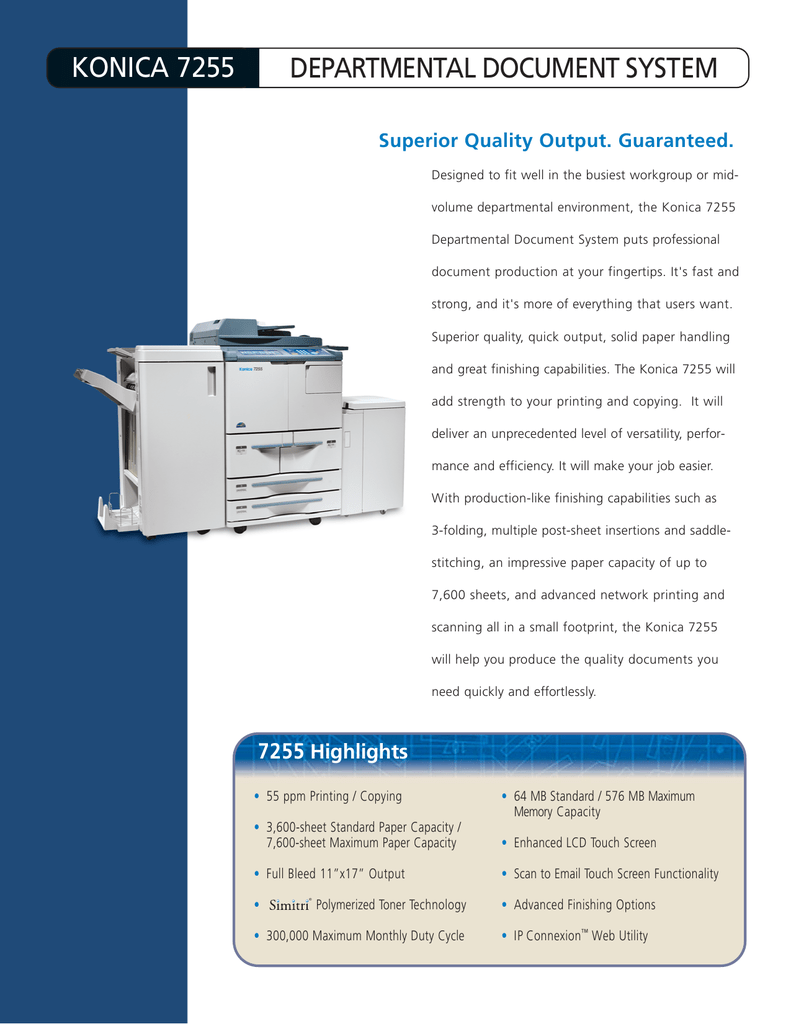 KONICA 7255
DEPARTMENTAL DOCUMENT SYSTEM
Superior Quality Output. Guaranteed.
Designed to fit well in the busiest workgroup or midvolume departmental environment, the Konica 7255
Departmental Document System puts professional
document production at your fingertips. It's fast and
strong, and it's more of everything that users want.
Superior quality, quick output, solid paper handling
and great finishing capabilities. The Konica 7255 will
add strength to your printing and copying. It will
deliver an unprecedented level of versatility, performance and efficiency. It will make your job easier.
With production-like finishing capabilities such as
3-folding, multiple post-sheet insertions and saddlestitching, an impressive paper capacity of up to
7,600 sheets, and advanced network printing and
scanning all in a small footprint, the Konica 7255
will help you produce the quality documents you
need quickly and effortlessly.
7255 Highlights
• 55 ppm Printing / Copying
• 64 MB Standard / 576 MB Maximum
Memory Capacity
• 3,600-sheet Standard Paper Capacity /
7,600-sheet Maximum Paper Capacity
• Enhanced LCD Touch Screen
• Full Bleed 11"x17" Output
• Scan to Email Touch Screen Functionality
•
®
Polymerized Toner Technology
• 300,000 Maximum Monthly Duty Cycle
• Advanced Finishing Options
• IP Connexion™ Web Utility
KONICA 7255
Features
Expansive Paper Capacity
The Konica 7255 offers a generous standard paper
capacity of 3,600 sheets with four paper trays in
the main body. With more paper available, users are
required to replenish paper less frequently, reducing
downtime. Adding one of the two 4,000-sheet
LCT options provides even more convenience, raising the paper capacity to an impressive 7,600
sheets.
®®
Polymerized Toner
Breakthrough Simitri® Polymerized Toner
Technology provides significantly better halftone
definition and better solid fills. By maintaining toner
particle uniformity, Simitri toner sharpens text,
images and lines, reproduces better over generations of copies, and improves grayscales, halftones
and solid fills. Simitri gives you offset press-quality
with digital efficiency.
Production Finishing Options
Three finishing options help the 7255 meet the
demand for start-to-finish document output no
matter what the environment. Stapling for 50 or
100 sheets, z-folding and 3-fold mode for flyers,
on-line booklet finishing multi-position stapling and
punching, cover insertion are available for producing professional looking documents on demand
from your desktop. The output tray (OT-101) supports offset functions in a basic exit tray with a
maximum capacity of up to 1,250 sheets and is
ideal for small workgroups and datacenters that do
not require advanced finishing functions.
Enhanced Scanning Functionality
With a maximum engine memory capacity of
576 MB, the 7255 is ideal for users scanning large
amounts of documents for reprints or scanning for
document management. And because the 7255
scans documents from the ADF at a speed of 70
opm, scanning documents has never been faster. In
addition, the scan counter enables users to track
the number of scans completed using the ADF or
platen glass for scan-to-email, FTP or hard drive.
Innovative Web Utilities
Users and IT professionals alike will benefit from
advanced IP Connexion™ Web Utilities that allow
them to remotely set the IP address of the engine
and get instant information about the machine's
configuration, from paper to accessories to network
settings. Users can now also set the scan-to-email
function remotely via a Web browser for added
convenience.
DEPARTMENTAL DOCUMENT SYSTEM
KONICA 7255 SPECIFICATIONS
Engine Speed (Print/Copy)
Scan Speed
Warm Up Time / First Copy Out Time
Resolution
ERDH Memory Capacity
Reduction / Enlargement
Grayscale
Maximum Monthly Volume
Paper Handling
55 cpm (8.5" x 11")
70 opm
3.1 seconds or less
600 x 600 dpi (smoothing 1200 x 600 dpi)
64 MB standard / 576 MB maximum
25% - 400%
2-256 levels
Up to 300,000 impressions
Standard Input Capacity: 2 x 500 Sheets (Tray 1
up to 8.5" x 14"; Tray 2 up to 12" x 18")
Paper Size - Minimum / Maximum
5.5" x 8.5" / 12" x 18" (full bleed 11" x 17")
Paper Weights - Minimum / Maximum
60 - 200 gsm (Tray 1-4), 50 -200 gsm (MSBT)
Total Paper Capacity
7,600 sheets - Tray 1: 1,500 sheets (adjustable);
Tray 2: 1,000 sheets (adjustable); Tray 3: 500 sheets
(universal; Tray 4: 500 sheets (universal)
Large Capacity Tray (choice of two): 4,000 sheets
PRINT CONTROLLER SPECIFICATIONS
Name
IP-511 Type A
Print Speed
55 ppm
Processor
566 MHz
Print Quality
600 x 600 dpi
Memory
Standard 64 MB / Maximum 192 MB
Hard Drive
20 GB Standard
Interface
PCI Connection with MB (embedded),
10BaseT/100BaseT standard, KN-302a network card
PDL
PCL5e / Optional PostScript® 3
Fonts
PCL5e - 80 fonts / PostScript® 3 - 136 fonts
Operating System
Windows 95/98/ME/2000/NT 4.0/XP Visual Driver
Protocol
TCP/IP (LPD/LPR, IPP, FTP, HTTP, SNMP),
IPX/SPX (NDS, pServer), EtherTalk
Features
Scan to Email, FTP, Hard Drive; Visual Driver;
Driver-based Tab and Mixplex Support
ACCESSORIES
Large Capacity Tray (LT-402)
Paper Type: 60-200 gsm; Paper Size: 8.5" x11"
Large Capacity Tray (LT-412)
Paper Size: 60-200 gsm; Paper Size: 12" x 18"
11" x 17", 8.5" x 14", 8.5" x 11", 8.5" x 11"R
Finisher (FS-110)
8-position stapling; 50-sheet stapling;
3,000-sheet output capacity (sort)
Finisher (FS-111)
8-position stapling; 100-sheet stapling;
3,000-sheet output capacity (sort)
Finisher (FS-210)
8-position stapling; booklet making mode (maximum
80-page booklet capability - 20 sheets; Three-Fold
mode; 2,500-sheet output capacity
Post Insertion Tray (PI-110)
Two Input Trays; Off-line folding, stapling and folding, punching, three-folding
Punch Unit (PK-120/PK-120A)
Embedded accessory placed inside the finisher
offering three-hole punching (2-hole punch – PK-120A)
Punch and Z-Fold Unit (PZ-109)
External accessory offers two- and three-hole punching
as well as z-folding
Shift Tray (OT-101)
Exit Tray with offset capability up to 1,250
sheets (8.5" x 11")
WEIGHT, YIELDS, ELECTRICAL REQUIREMENTS, DIMENSIONS
PM Cycle
250,000 Pages
System Weight (main body and RADF only)
476 lbs.
Dimensions
69" W x 230" D x 45" H
Drum / Developer Yields
500,000 / 250,000 Impressions
Simitri Toner Yield
Up to 47,500 Impressions
Electrical Requirements
120V, 16A, Dedicated Line Recommended
All specifications are approximate and are subject to change. All names are trademarks or registered trademarks of their respective companies.
www.konicaminolta.us
KM-04-1
©2004 Konica Minolta Business Solutions U.S.A., Inc.
Printed in U.S.A.