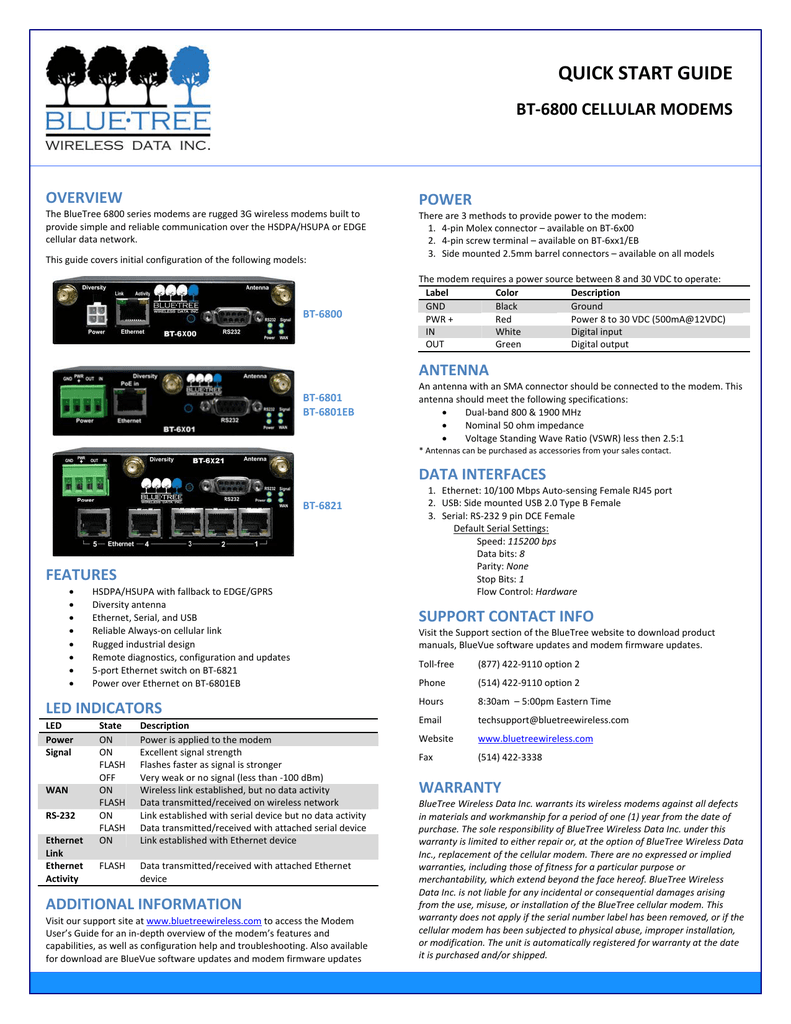 QUICK START GUIDE
BT‐6800 CELLULAR MODEMS
OVERVIEW POWER The BlueTree 6800 series modems are rugged 3G wireless modems built to provide simple and reliable communication over the HSDPA/HSUPA or EDGE cellular data network. There are 3 methods to provide power to the modem: 1. 4‐pin Molex connector – available on BT‐6x00 2. 4‐pin screw terminal – available on BT‐6xx1/EB 3. Side mounted 2.5mm barrel connectors – available on all models The modem requires a power source between 8 and 30 VDC to operate: Label Color Description GND Black Ground PWR + Red Power 8 to 30 VDC (500mA@12VDC) IN White Digital input OUT Green Digital output This guide covers initial configuration of the following models: BT‐6800 ANTENNA BT‐6801 BT‐6801EB An antenna with an SMA connector should be connected to the modem. This antenna should meet the following specifications: •
Dual‐band 800 & 1900 MHz •
Nominal 50 ohm impedance •
Voltage Standing Wave Ratio (VSWR) less then 2.5:1 * Antennas can be purchased as accessories from your sales contact. DATA INTERFACES 1. Ethernet: 10/100 Mbps Auto‐sensing Female RJ45 port 2. USB: Side mounted USB 2.0 Type B Female 3. Serial: RS‐232 9 pin DCE Female Default Serial Settings: Speed: 115200 bps Data bits: 8 Parity: None Stop Bits: 1 Flow Control: Hardware BT‐6821 FEATURES •
•
•
•
•
•
•
•
HSDPA/HSUPA with fallback to EDGE/GPRS Diversity antenna Ethernet, Serial, and USB Reliable Always‐on cellular link Rugged industrial design Remote diagnostics, configuration and updates 5‐port Ethernet switch on BT‐6821 Power over Ethernet on BT‐6801EB LED INDICATORS LED Power Signal WAN RS‐232 Ethernet Link Ethernet Activity State ON ON FLASH OFF ON FLASH ON FLASH ON Description Power is applied to the modem Excellent signal strength Flashes faster as signal is stronger Very weak or no signal (less than ‐100 dBm) Wireless link established, but no data activity Data transmitted/received on wireless network Link established with serial device but no data activity Data transmitted/received with attached serial device Link established with Ethernet device FLASH Data transmitted/received with attached Ethernet device ADDITIONAL INFORMATION Visit our support site at www.bluetreewireless.com to access the Modem User's Guide for an in‐depth overview of the modem's features and capabilities, as well as configuration help and troubleshooting. Also available for download are BlueVue software updates and modem firmware updates SUPPORT CONTACT INFO Visit the Support section of the BlueTree website to download product manuals, BlueVue software updates and modem firmware updates. Toll‐free (877) 422‐9110 option 2 Phone (514) 422‐9110 option 2 Hours 8:30am – 5:00pm Eastern Time Email techsupport@bluetreewireless.com Website www.bluetreewireless.com
Fax (514) 422‐3338 WARRANTY BlueTree Wireless Data Inc. warrants its wireless modems against all defects in materials and workmanship for a period of one (1) year from the date of purchase. The sole responsibility of BlueTree Wireless Data Inc. under this warranty is limited to either repair or, at the option of BlueTree Wireless Data Inc., replacement of the cellular modem. There are no expressed or implied warranties, including those of fitness for a particular purpose or merchantability, which extend beyond the face hereof. BlueTree Wireless Data Inc. is not liable for any incidental or consequential damages arising from the use, misuse, or installation of the BlueTree cellular modem. This warranty does not apply if the serial number label has been removed, or if the cellular modem has been subjected to physical abuse, improper installation, or modification. The unit is automatically registered for warranty at the date it is purchased and/or shipped. QUICK START GUIDE
BT‐6800 CELLULAR MODEMS
1– Setup a data account for the modem Contact your cellular provider (carrier) and request a data account. The carrier should provide you with a SIM card to insert into the modem, along with the APN/username/password for data connectivity. 2– Insert the SIM card 1. Locate the SIM slot on the right side of the modem. 2. insert the card with its cut side facing forward and on the left 3. Using the tip of a pen, push it in until it clicks. Troubleshooting If BlueVue displays "Detecting Modem at 192.168.0.1" indefinitely, then: •
Make sure the modem is powered on •
Check the Ethernet Link LED on the modem. If it's off, it usually means you have a problem with the Ethernet cable or with your computer's network card. •
Close all other network connections (such as WiFi) •
Set your computer to obtain an IP address automatically 5– Confirm that the modem is acquiring a cellular signal The Signal LED should be on or flashing, indicating that the modem has a signal. BlueVue Device Manager displays signal information in the top right of its window; a minimum of 1 bar is required to connect with the modem. Troubleshooting If the Signal LED is off, then there may be an issue with the antenna or cellular coverage might be too low in your current location. 6– Set the WAN data connection 1.
2.
3.
4.
5.
3– Wiring and Power‐up 1. Connect the modem to your computer using a standard Ethernet cable. Alternatively, the RS‐232 or USB ports can be used for setup. 2. Connect the cellular antenna to the Antenna connector. 3. Plug in the power connector to power‐up the modem. 4– Start BlueVue Device Manager to detect the modem 1. Download and install the latest version of BlueVue Device Manager from: www.bluetreewireless.com 2. When launched, it will attempt to connect to 192.168.0.1 by default, once connected to the modem the Modem Diagnostic window will open (Note that 192.168.0.1 connects to the Ethernet cable. To connect to the USB port use 192.168.111.1): Setup is complete! The modem should be ready for use as a basic internet access point. For more advanced modem configuration, consult the documentation section of our website www.bluetreewireless.com In BlueVue Device Manager, click on the WAN button Set the Username and Password if provided by the carrier Set the APN as provided by the carrier Click Submit Confirm the modem has successfully connected to the cellular network: •
The WAN LED will be on or flashing •
In BlueVue, click the DIAG button, the WAN IP should indicate the IP address assigned to the modem by the cellular network. 
* Your assessment is very important for improving the work of artificial intelligence, which forms the content of this project