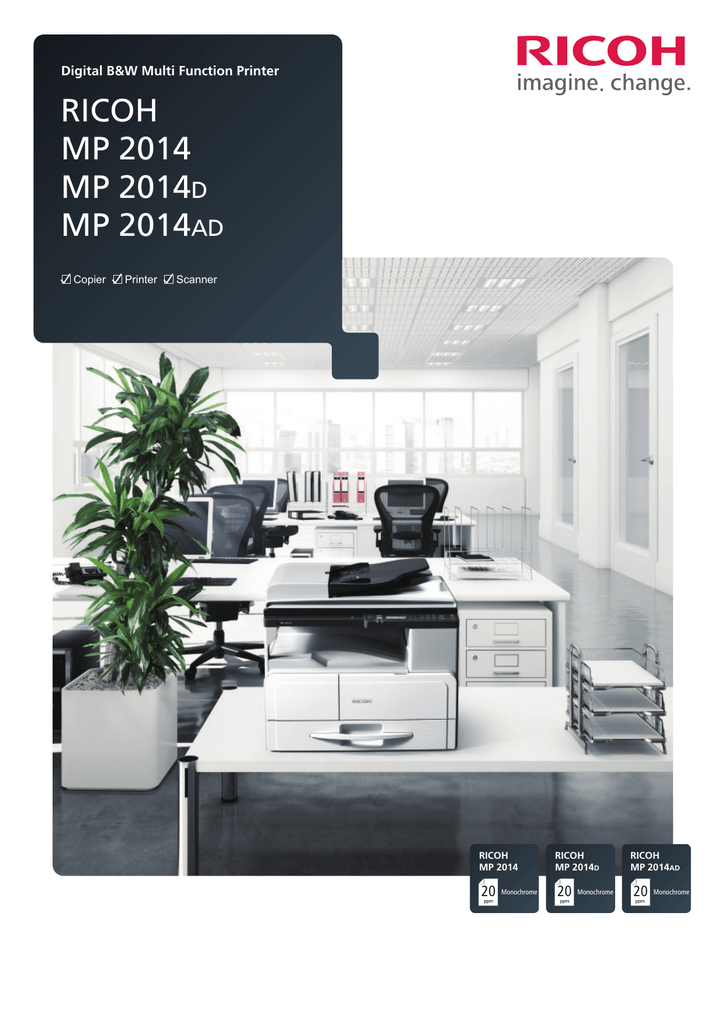 Digital B&W Multi Function Printer
RICOH
MP 2014
MP 2014D
MP 2014AD
Copier
Printer
Scanner
RICOH
MP 2014
RICOH
MP 2014D
20
20
Monochrome
Monochrome
RICOH
MP 2014AD
20
Monochrome
Sophisticated features at an affordable price
The Ricoh MP 2014/ MP 2014D/ MP 2014AD is an A3 black-and-white MFP with a brisk output speed
of 20 ppm, providing maximum efficiency for document processing in your office. Your total cost of
ownership is low because the MP 2014/ MP 2014D/ MP 2014AD has an economical initial cost with
low operating expenses. This reliable MFP has been designed to provide you with robust
performance in demanding office environments. The MP 2014/ MP 2014D/ MP 2014AD comes with an
Energy Saving Key, putting it instantly into sleep-mode, reducing your energy bill.
• ID card scan function copies both sides on to a single sheet, saving you time
• Two short-cut keys can be customised to perform frequently performed tasks quickly
• Automatic Document Feeder (ARDF)* speeds up copying and scanning
• Economic price and low running costs make the MP 2014 a cost-effective solution
*Only available for MP 2014AD
Low operating costs matched by valuable features
Low total cost of ownership
The MP 2014/ MP 2014D/ MP 2014AD offers highly competitive
operating costs. The cost of consumable sets is amongst the most
economical on the market. Being able to print double-sided as
standard (not applicable to MP 2014) also cuts your paper costs and
reduces your carbon footprint.
Time-saving features
Highly productive features such as ID scanning simplify common
copying and printing tasks for you. Short cut keys allow one-touch
customisation of frequent routines for maximum efficiency. Folder
Print allows frequently used documents to be stored securely for
convenient output at the touch of a button.
Full colour scanning reduces filing
Scan colour originals to your PC, email, or folder with optional NIC
(Network Interface Card) for efficient communications. Scanning at
up to 600 dpi resolution allows you to electronically store documents
in high quality. Electronic document filing saves you storage space
and reduces your paper usage.
RICOH MP 2014/ MP 2014D/ MP 2014AD
MAIN SPECIFICATIONS
Interface:
GENERAL
Warm-up time:
First output speed:
Continuous output speed:
Memory:
Dimensions (W x D x H):
Weight:
Power source:
31 seconds
8.8 seconds
20 pages per minute
Standard: 256 MB
587 x 581 x 461 mm
(MP 2014/ MP 2014D)
587 x 581 x 537 mm (MP 2014AD)
28.5/ 29/ 33.5 kg
220 - 240 V, 50/ 60 Hz
PRINTER
Printer language:
Resolution:
Interface:
Network protocol:
®
Windows environments:
UNIX environments:
Standard: GDI
600 dpi
Standard: USB 2.0
Option: Ethernet 10 base-T/100
base-TX (DDST Unit)
TCP/IP (IP v4)
®
®
Windows Vista, Windows 7,
®
Windows 8/8.1,
Windows® Server 2003,
Windows® Server 2003R2,
Windows® Server 2008,
Windows® Server 2008R2,
®
Windows Server 2012R2
OPEN SUSE (KDE & Gnome): v12.1
Ubuntu (Unity): v12.04
RedHat®: v6.0
Boss: v5
SCANNER
Scanning speed:
B/W:
Resolution:
Bundled drivers:
Colour: Maximum 6 originals
per minute
Maximum 15 originals per minute
Maximum 600 dpi
TWAIN, SANE, Network TWAIN
(Option)
File format:
Scan to:
Standard: USB 2.0
Option: Ethernet 10-base-T/100
base-TX (DDST Unit)
TIFF, JPEG, PDF
Email / Folder with network
controller/DDST unit
COPIER
Copying process:
Multiple copying:
Resolution:
Zoom:
Laser beam scanning & electro
photographic printing
Up to 99 copies
Up to 600 dpi
From 50% to 200%
PAPER HANDLING
Recommended paper size:
Bypass tray:
Paper input capacity:
Paper output capacity:
Paper weight:
Standard paper tray(s): A3, A4, A5
A3, A4, A5, A6
Standard: 350 sheets
Maximum: 1,350 sheets
Standard: 250 sheets
Standard paper tray(s):
52 - 105 g/m²
Bypass tray: 52 - 216 g/m²
Duplex: 64 - 105 g/m²
ECOLOGY
Power consumption:
Ready mode:
Sleep mode:
TEC (Typical Electricity
Consumption):
Less than 950 W
92/ 100/ 110 W
2.7/ 2.8/ 2.8 W
ISO 9001:2000 certified
ISO 14001 certified
1,480/ 1,500/ 1,520 W/h
Ricoh has designed these products to meet
EC ENERGY STAR guidelines for energy
efficiency.
OPTIONS
1 x 500-sheet paper tray (maximum 2 units),
Network controller (DDST Unit), Bypass tray cover.
For availability of models, options and software,
please consult your local Ricoh representative.
All brand and/or product names are
trademarks of their respective owners.
Specifications and external appearance
are subject to change without notice.
The colour of the actual product may vary
from the colour shown in the brochure.
URL: http://www.ricoh.co.in
For more information, please contact:
CORPORATE OFFICE: 2nd Floor, Salcon Aurum Building, Plot No. 4, District Centre, Jasola, New Delhi-110 025
Tel: (011) 49103000, 49103100, 49103200 Fax: (011) 49103099, 49103199 Email: ril.info@ricoh.co.in SMS: 'RICOH' to 53456
REGISTERED OFFICE: 801, 8th Floor, Ackruti Star, MIDC Central Road, Andheri-East, Mumbai - 400 093
Tel: (022) 66833000 Fax: (022) 67032099
Ahmedabad, Bangalore, Bhopal, Bhubaneswar, Chandigarh, Chennai, Coimbatore, Delhi, Gurgaon, Guwahati, Hyderabad,
Jaipur, Kochi, Kolkata, Lucknow, Mumbai, Nagpur, Noida, Patna, Pune, Ranchi, Visakhapatnam.