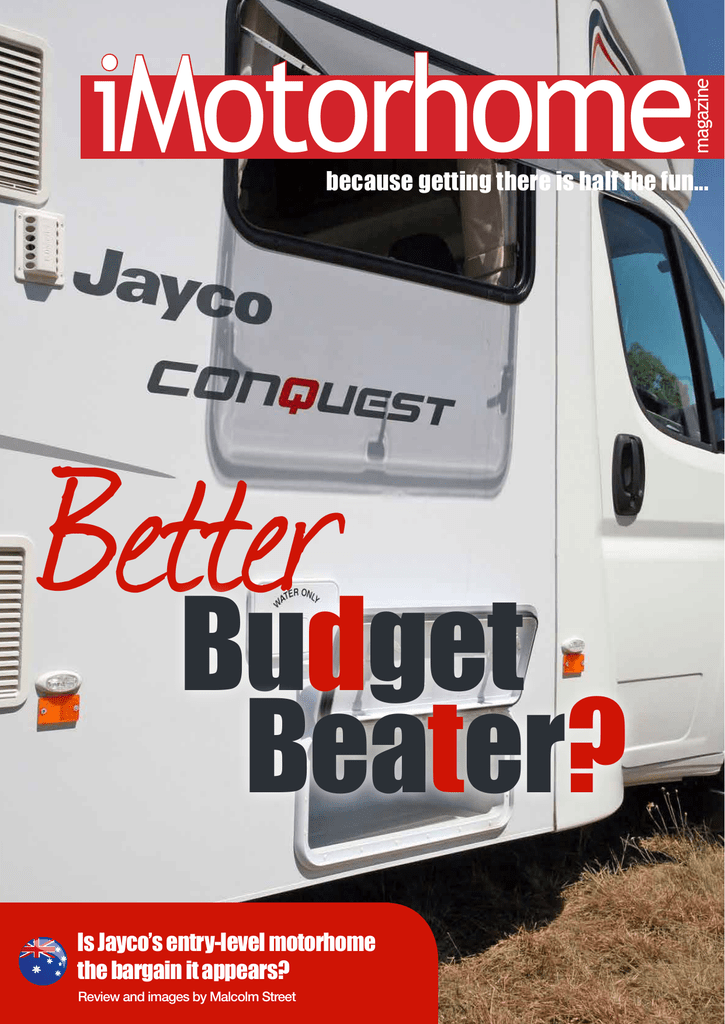 magazine
iMotorhome
because getting there is half the fun...
Better
Budget
Beater?
Is Jayco's entry-level motorhome
the bargain it appears?
Review and images by Malcolm Street
Day Test: Jayco Conquest 20ft | 2
The baby Conquest's diminutive
dimensions should make for easy
campsite access, whilst a good level
of standard equipment means even
in base form you won't be wanting
for too much. Even with the optional
alloy wheels, security door and
leather upholstery it shouldn't break
the bank.
J
ayco (Australia) is best known for its
multiple ranges of caravans – those
things without an engine up front. More
recently it's added fifth wheelers and of course
motorhomes. There were various models
available for this review, but I opted for the
smallest and cheapest, Jayco's Conquest 20 ft
(6.4 m). Although it's a coachbuilt motorhome
it's actually an alternative to some of the large
van conversions available.
The Vehicle
F
or the baby Conquest, Jayco has used
the tried and trusted Fiat Ducato cabchassis: In this case the equally-baby
130 Multijet model with a 96 kW/320 Nm
2.3-litre turbo-diesel and six-speed automated
manual transmission (AMT).
Behind the driver's cab all the walls and roof
are a vacuum bonded fibreglass structure.
3 | Day Test: Jayco Conquest 20ft
The optional Crimsafe security
door is well worthwhile, while
the standard slide out tray for
the gas bottles, although basic,
is effective nonetheless.
There are fibreglass mouldings
too – the top and side cab
surrounds, along with the
top and bottom mouldings
at the rear. Underfoot the
floor surprisingly has a timber
frame sandwiched together
with polystyrene. According
to Jayco it provides both
sound proofing and insulation
qualities. Dometic double
glazed acrylic windows
are used all round and the
standard door has a top
half, non-opening window.
Undoubtedly the winner option
on my review vehicle was the
Crimsafe security flyscreen,
which allows the main door to
be left open without intruding
insects – or worse.
Probably the advantage a
coachbuilt motorhome has
over a van conversion is that
a bit more external bin space
can be built in. Naturally there
were dedicated bins for the
gas cylinder and Thetford
toilet cassette, but there were
also two small mid-mounted
bins on both sides. Not large
enough for a great deal of
gear, but certainly good
enough for power cords,
hoses and camp chairs.
Day Test: Jayco Conquest 20ft | 4
In Europe, Fiamma-style bike
racks are all the rage.
Basic though it was, I did like
the slide-out tray for the gas
cylinders, which makes access
so much easier.
I've not long returned from
a brief holiday in England
and France and something
I noticed on a considerable
number of motorhomes were
Fiamma-style bike racks.
The Brits and Euro folk prefer
biking to towing a car and
it was with interest I noticed
our review motorhome had
an optional Fiamma bike rack
fitted – mostly because I also
have a bike!
On The Road
A
bit of background
on Fiat Ducatos here
before we go further.
Until recently, most Ducatos
Rear mouldings enhance the
appearance, but at what cost
in terms of weight, dollars and
damage susceptibility? Thank
goodness for the standard
reversing camera.
used in van and cab-chassis
conversions came with the
largest and most powerful Fiat
turbo-diesel available. For the
most part it was the 3.0-litre
160 Multijet engine (115.5
kW/400 Nm) until the arrival of
the 180 Multijet (132 kW/400
Nm). Recently a few 2.3-litre
150 Multijet (109 kW/350
Nm) engines have been used,
mostly in van conversions,
5 | Day Test: Jayco Conquest 20ft
To keep the price down
the smallest Conquest
comes with Fiat's smallest
engine. At just 96 kW and
320 Nm it's no ball of
fire when combined with
the automated manual
transmission. An engine
upgrade could be money
well spent.
but apart from imported
motorhomes that have come
with the 'tiny' 2.3 litre 130
Multijet (96 kW/320 Nm)
engine attached to six speed
manual gearbox, this is one of
the first opportunities I have
had to test out a 130 Mulijet in
tandem with a six speed AMT.
Now to be fair it was a
very new engine/gearbox
combination and might have
needed a couple of thousand
kilometres to loosen up, but
I found the combination a bit
wanting. I like driving Ducatos,
despite all the reservations
people have – some real,
some imagined– about frontwheel drive, but on my test
drive the mostly unladen
Conquest was wanting
on two counts. From Emu
Plains, west of Sydney, there
are a couple of ways to
get to Blaxland in the Blue
Mountains. One is straight up
the Great Western Highway
and the other is up the Old
Day Test: Jayco Conquest 20ft | 6
Despite being a coachbuilt
motorhome the little Jayco's
not much wider than a vanconversion.
7 | Day Test: Jayco Conquest 20ft
The streamlined nosecone
of the Jayco's B-class
design should help keep
fuel bills down.
Bathurst Road. The latter has some steep
winding curves – an excellent testing ground
– and the gearbox couldn't make up its mind
whether to be in first or second gear. In the
end I manually shifted down to first to get a
constant speed. In a different setting along the
freeway, the Conquest refused to get to the
posted speed limit of 110 km/h even when
coaxed.
As noted it was a very new Ducato, but I
wonder if Jayco, in keeping the price of the
Conquest down by literally giving less bang for
your buck, is doing itself any favours.
For my money, the optional 3.0 litre 132kW
engine at $5,400 is good deal when compared
to the relative purchase price and would
make for a very easy driving, fuel efficient
motorhome. Do make sure you have a test
Day Test: Jayco Conquest 20ft | 8
drive to see what you are happy with. Apart
from the engine, the Conquest was quite a
good handling motorhome, with excellent rear
vision from the Ducato's mirrors and without
too much road noise inside the cab.
test drive who was puzzled by the fact that his
motorhome had four legal passenger seats
but only beds for two. I pointed out that many
smaller motorhomes have that so they can be
used as people movers.
Living Inside
Certainly this Conquest only has sleeping for
two – in the nearside corner bed – and its just
wide enough to allow for a bathroom in the
opposite corner. All that leaves the mid area
for a nearside kitchen bench with fridge and
microwave opposite, plus a reasonably sized
wardrobe area. It's a fairly bright and breezy
interior thanks to Jayco's interpretation of the
Euro Look and it incorporates Jayco's touch
pad lighting system.
A
n advantage of a coachbuilt motorhome
over a van conversion is quite simple:
there's more interior space because of
the width. Jayco has used the Ducato cab,
with its factory-fitted swivelling seats, to full
advantage: there being a table behind the
driver's seat and a two person, seat belt fitted
lounge behind that. I was a little entertained
recently by an RV colleague on a motorhome
Light coloured panelling helps keep
the interior bright, whilst the optional
leather upholstery is practical and
ads a touch of style. For a small
motorhome the interior has a
surprising amount of living space.
9 | Day Test: Jayco Conquest 20ft
Lounging Around
A
s noted, both cab seats swivel and
although the rear lounge seat is better
for dining, the cab seats are winners in
the sit-back-and-relax department. The table
is fixed to the wall on a rail, which means it
can be moved forwards and backwards and
also lifted out of the way if not required, but
Jayco recommends it be removed if carrying
passengers in the rear seats. Around the
front lounge/cab area is a combination of
compartments, overhead lockers and underlocker shelving for storage. What there isn't is
a power point near the table.
Time to Eat
G
iven the available space the kitchen is
a split arrangement. The main bench,
containing both a sideways-fitted twoburner cooktop sans grill and stainless steel
sink, is along the nearside wall and a shorter
second bench area is opposite, with a 3-way,
121-litre fridge below and microwave above.
Although it cuts down on the fridge capacity,
having the extra shelf area is a nice touch.
Generally speaking the under-bench kitchen
storage is well sorted, with plenty of good and
variously sized drawers.
Kitchen is compact and
well-equipped, but bench
space is at a premium.
Day Test: Jayco Conquest 20ft | 10
Rear corner bed should suit
most people but best you
check before buying. Underbed storage is easily accessed
and quite generous.
After Hours
M
easuring 1.88 m x
1.34 m (6 ft 2 in x 4
ft 5 in), the bed fits
neatly into the rear corner. Of
course it's not a true island
bed, but both sleepers should
be able to get in and out
without too much trouble. The
windows on both sides should
provide a good crossflow of
fresh air.
Lifting the posture slat bed
base reveals generous
under bed storage, the only
occupants being the house
batteries and gas cylinder
bin. Above the bed are both
11 | Day Test: Jayco Conquest 20ft
Basic but functional the
bathroom is long, if narrow,
and sits in the rear corner
beside the bed.
lockers and open shelving; the latter being
somewhat useful, given there's no bedside shelf
area.
Additional storage is provided by the cabinet
that fits beside the bathroom cubicle and offers
a selection of a good sized hanging area and
drawers.
Keeping Clean
N
o real surprises in the bathroom;
compact it might be, but with room for
a cassette toilet, variably-height flexiblehose shower, shaving cabinet and small corner
wash basin with mirror it's well equipped.
There's enough room to turn around in without
too much elbow scraping and the vent fan does
a reasonable job on keeping the air flow going.
No real surprises in the bathroom.
Day Test: Jayco Conquest 20ft | 12
What I Think
A
t's worth pointing out our review
Conquest had a number of options fitted:
Alloy wheels, leather upholstery, upgraded
air conditioner, Crimsafe door, 120 W solar
panel, bike rack and upsized fridge. That added
$8920 to the base price of $102,000 and 28 kg
to the standard tare weight of 3280 kg. Although
this motorhome is definitely aimed at the budget
market, some of the options like the security
door should be kept in mind at purchase time.
In many ways this Jayco Conquest in its base
form is good for purchasers on a tight budget.
It certainly offers all the motorhoming essentials,
including a reasonably spacious living area,
and is a viable alternative to a similarly priced
van conversion motorhome. Just be sure the
standard engine is right for you.
The Jayco Conquest 20ft sleeps two
but has approved seating for four.
Given its compact dimensions it could
possibly double as a second car.
13 | Day Test: Jayco Conquest 20ft
Specifications
Manufacturer
Jayco
Model
Conquest 20ft
Base Vehicle
Fiat Ducato
Engine
2.3-litre turbo-diesel
Power
96 kW @ 3600 rpm
Torque
320 Nm @ 1500 rpm
Gearbox
6-speed AMT
Brakes
ABS Disc
Tare Weight
3308 kg
Gross Vehicle Mass
4250 kg
Licence
Car
Approved Seating
4
External Length
6.44 m (21 ft)
External Width
2.39 m (7 ft 10 in)
External Height
3.08 m (10 ft)
Internal Height
1.97 m (6 ft 6 in)
Rear Bed Size
1.88 m x 1.34 m (6 ft 2 in x 4 ft 5 in)
Cooktop
Smev 2 burner
Fridge
Dometic RM 2455 121-litre
Microwave
Stainless steel no name
Lighting
12 V LED
Batteries
1 x 100 AH
Gas
2 x 4.0 kg
Heater
Optional
Solar Panels
1 x 120 AH (optional)
Air Conditioner
Air Command Ibis
Hot Water Heater
Suburban 23-litre
Toilet
Thetford cassette
Shower
Variable height flexible hose
Fresh Water Tank
120-litres
Grey Water Tank
75-litres
Price on road NSW
$102,000
Price as tested
$110,920
Pros
• Good living area for vehicle size
• Good storage, especially in
kitchen
• Passenger carrying capacity
• Touch pad lighting
• Shelves under overhead lockers
• Front lounge/dining area
•
•
•
•
Cons
Low powered engine
No grill in kitchen
The odd quality issue
No power point near table
Contact
Jayco Sydney
63-67 Glossop Street
St Marys NSW 2760.
Ph: 02 9623 1971
E: sales@jaycosydney.com.au
W: jaycosydney.com.au
Click for
Google Maps
For more iMotorhome
Road Tests click here
Copyright © 2014 iMotorhome.com.au All rights reserved.
Day Test: Jayco Conquest 20ft | 14
In many ways this Jayco Conquest in
its base form is good for purchasers
on a tight budget. It certainly offers
all the motorhoming essentials.