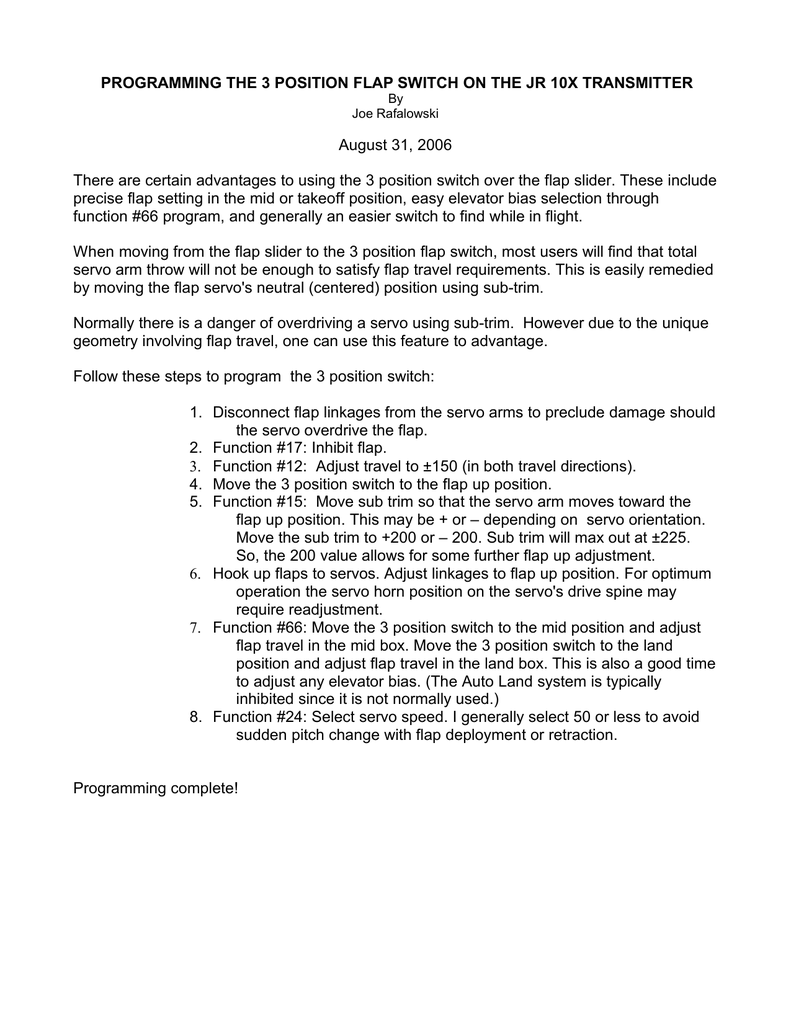 PROGRAMMING THE 3 POSITION FLAP SWITCH ON THE JR 10X TRANSMITTER
By
Joe Rafalowski
August 31, 2006
There are certain advantages to using the 3 position switch over the flap slider. These include
precise flap setting in the mid or takeoff position, easy elevator bias selection through
function #66 program, and generally an easier switch to find while in flight.
When moving from the flap slider to the 3 position flap switch, most users will find that total
servo arm throw will not be enough to satisfy flap travel requirements. This is easily remedied
by moving the flap servo's neutral (centered) position using sub-trim.
Normally there is a danger of overdriving a servo using sub-trim. However due to the unique
geometry involving flap travel, one can use this feature to advantage.
Follow these steps to program the 3 position switch:
1. Disconnect flap linkages from the servo arms to preclude damage should
the servo overdrive the flap.
2. Function #17: Inhibit flap.
3. Function #12: Adjust travel to ±150 (in both travel directions).
4. Move the 3 position switch to the flap up position.
5. Function #15: Move sub trim so that the servo arm moves toward the
flap up position. This may be + or – depending on servo orientation.
Move the sub trim to +200 or – 200. Sub trim will max out at ±225.
So, the 200 value allows for some further flap up adjustment.
6. Hook up flaps to servos. Adjust linkages to flap up position. For optimum
operation the servo horn position on the servo's drive spine may
require readjustment.
7. Function #66: Move the 3 position switch to the mid position and adjust
flap travel in the mid box. Move the 3 position switch to the land
position and adjust flap travel in the land box. This is also a good time
to adjust any elevator bias. (The Auto Land system is typically
inhibited since it is not normally used.)
8. Function #24: Select servo speed. I generally select 50 or less to avoid
sudden pitch change with flap deployment or retraction.
Programming complete!

* Your assessment is very important for improving the work of artificial intelligence, which forms the content of this project