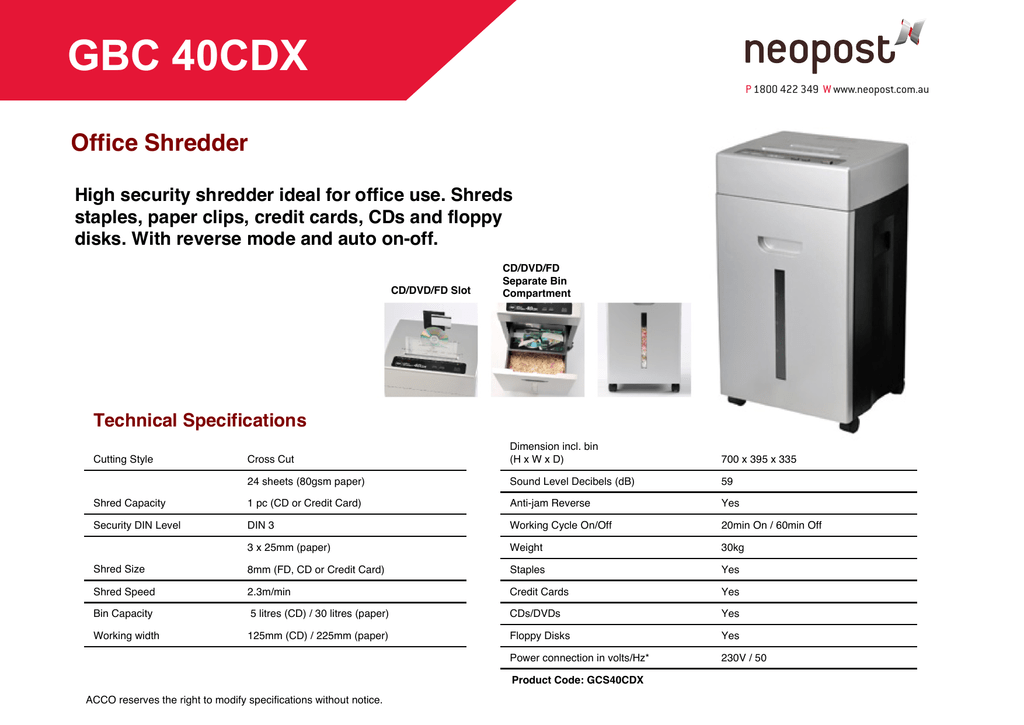 Product 40CDX
Data Sheet
GBC
P: 1800 422 349
E: product.info@gbcaustralia.com.au
W: www.gbcaustralia.com.au
40CDX
P 1800 422 349 W www.neopost.com.au
Office Shredder 40CDX
High security shredder ideal for office use. Shreds
staples, paper clips, credit cards, CDs and floppy
disks. With reverse mode and auto on-off.
CD/DVD/FD Slot
CD/DVD/FD
Separate Bin
Compartment
Technical Specifications
Cross Cut
Dimension incl. bin
(H x W x D)
700 x 395 x 335
24 sheets (80gsm paper)
Sound Level Decibels (dB)
59
Shred Capacity
1 pc (CD or Credit Card)
Anti-jam Reverse
Yes
Security DIN Level
DIN 3
Working Cycle On/Off
20min On / 60min Off
3 x 25mm (paper)
Weight
30kg
Shred Size
8mm (FD, CD or Credit Card)
Staples
Yes
Shred Speed
2.3m/min
Credit Cards
Yes
Bin Capacity
5 litres (CD) / 30 litres (paper)
CDs/DVDs
Yes
Working width
125mm (CD) / 225mm (paper)
Floppy Disks
Yes
Power connection in volts/Hz*
230V / 50
Cutting Style
Product Code: GCS40CDX
ACCO reserves the right to modify specifications without notice.

* Your assessment is very important for improving the work of artificial intelligence, which forms the content of this project