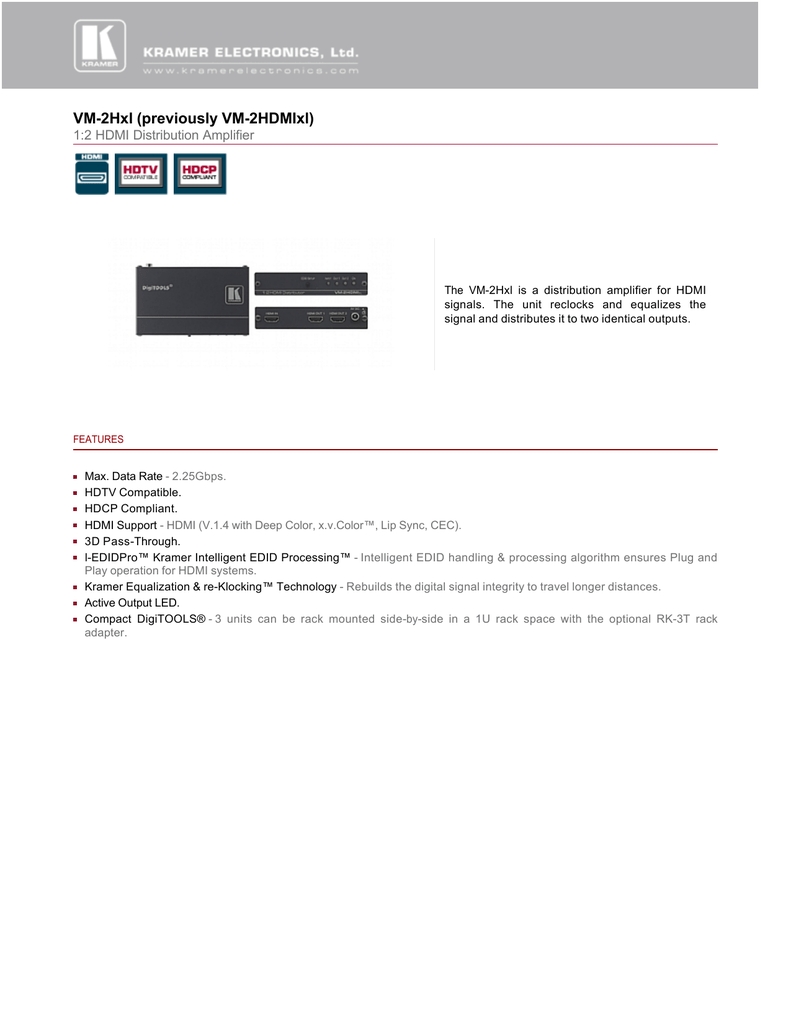 VM-2Hxl (previously VM-2HDMIxl)
1:2 HDMI Distribution Amplifier
The VM-2Hxl is a distribution amplifier for HDMI
signals. The unit reclocks and equalizes the
signal and distributes it to two identical outputs.
FEATURES
Max. Data Rate - 2.25Gbps.
HDTV Compatible.
HDCP Compliant.
HDMI Support - HDMI (V.1.4 with Deep Color, x.v.Color™, Lip Sync, CEC).
3D Pass-Through.
I-EDIDPro™ Kramer Intelligent EDID Processing™ - Intelligent EDID handling & processing algorithm ensures Plug and
Play operation for HDMI systems.
Kramer Equalization & re-Klocking™ Technology - Rebuilds the digital signal integrity to travel longer distances.
Active Output LED.
Compact DigiTOOLS® - 3 units can be rack mounted side-by-side in a 1U rack space with the optional RK-3T rack
adapter.
VM-2Hxl (previously VM-2HDMIxl)
TECHNICAL SPECIFICATIONS
INPUT:
1 HDMI connector.
OUTPUTS:
2 HDMI connectors.
BANDWIDTH:
Supports up to 2.25Gbps bandwidth per graphic channel.
COMPLIANCE WITH HDMI STANDARD: Supports HDMI 1.3 and HDCP.
CONTROLS:
EDID SETUP button, input select button.
INDICATOR LEDs:
IN 1, IN 2, OUT 1, OUT 2, and ON LEDs.
POWER SOURCE:
5V DC, 910mA.
DIMENSIONS:
12cm x 7.2cm x 2.4cm (4.7" x 2.8" 1.0") W, D, H.
WEIGHT:
0.3kg (0.67lbs) approx.
ACCESSORIES:
Power supply, bracket installation kit.
OPTIONS:
HDMI/HDMI male-to-male cables, RK-3T 19" rack adapter.

* Your assessment is very important for improving the work of artificial intelligence, which forms the content of this project