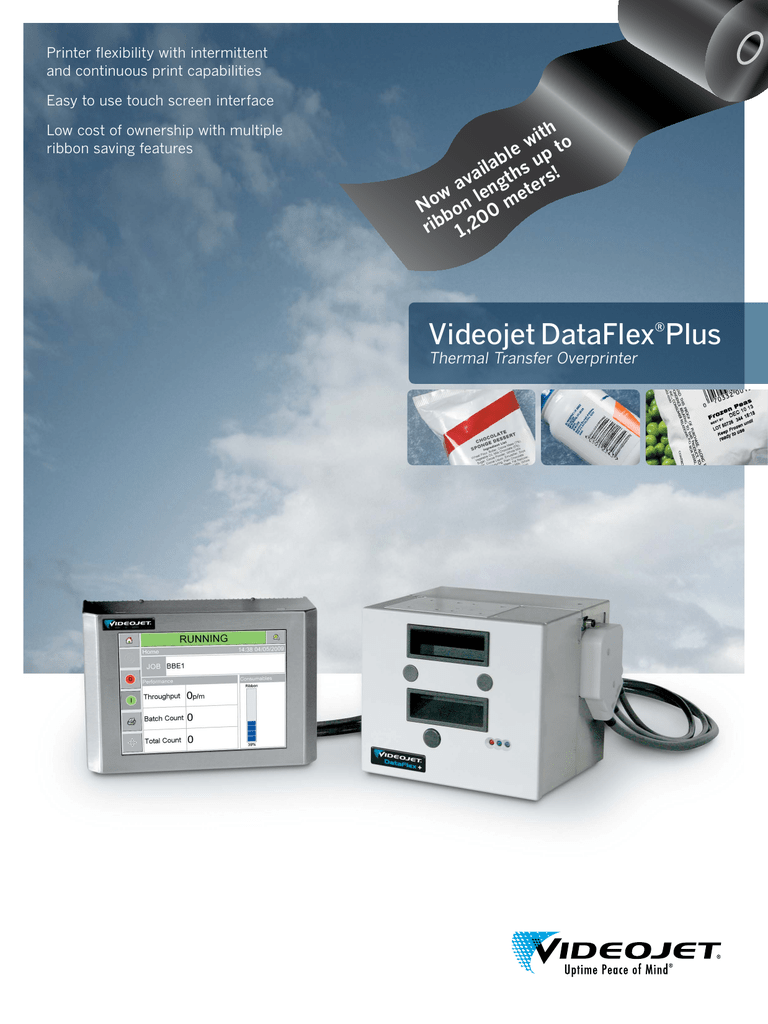 Printer flexibility with intermittent
and continuous print capabilities
Easy to use touch screen interface
Low cost of ownership with multiple
ribbon saving features
ith o
w
le up t
b
a
ail hs !
av ngt ters
e
w le
No bon 0 m
0
rib 1,2
Videojet DataFlex Plus
Thermal Transfer Overprinter
Maximum reliability and
efficiency for variable, high
resolution images on flexible
packaging and labels.
Increased Production Line Uptime
The Videojet DataFlex Plus Thermal Transfer
Overprinter (TTO) delivers high resolution
images on flexible packaging, while
minimizing downtime and costs associated
with ribbon breaks and production
changeovers. For marking variable information
such as date, time, batch code, ingredients,
logos and marketing information onto flexible
film packaging, labels or glossy cards, this
system provides the ultimate in productivity
and efficiency.
A patented and proven clutchless ribbon drive
with few wear parts increases mechanical
reliability and minimizes maintenance-related
downtime. Through the use of motors and
software, optimal ribbon tension is consistently
maintained, virtually eliminating downtime caused
by ribbon breaks and false ribbon breaks.
•A
ccommodates ribbons up to 1,200 meters in
length for long, uninterrupted production runs
• Increased production line efficiency via simple
cassette design and fast ribbon changes
Lowest Cost of Ownership
The DataFlex Plus is designed for
low total cost of ownership. The
patented bi-directional ribbon
drive utilizes motors for both the
ribbon unwind and re-wind reels,
allowing unused ribbon to be
recaptured after each print.
•0
.5mm gap between prints from the beginning to the
end of the ribbon roll creates more prints per roll
and ensures highest possible ribbon efficiency
•B
i-directional drive eliminates over-printing and
provides consistent image quality
•S
tandard ribbon save functions further reduce
ribbon expense and maximize the number of prints
per roll
Videojet DataFlex® Plus
Thermal Transfer Overprinter
Code Assurance
Wrong codes can mean waste,
rework and added expense.
The DataFlex Plus makes it
easy to get your codes right,
and practically impossible to get them wrong.
Easy to Learn and Use
The intuitive, high-resolution graphical user interface
and color touchscreen deliver easy to learn, iconbased controls and a WYSIWYG image display to
reduce downloading and entry errors.
•A
dvanced software provides code assurance by
reducing operator interaction and minimizing
potential for human error
•O
n-board diagnostics make
trouble shooting quick and easy,
resulting in less downtime and
reduced training requirements
• Intelligent Date Rules reduce potential for date
errors that may result in product rework or waste
High Quality Thermal Transfer Printing
•U
SB scanner connection allows for easy,
automated message setup, reducing manual
errors
•T
hree levels of password protection for added
security
Protection in Harsh Environments
The DataFlex Plus is also available with an IP rated
53mm printer width model.
• Enhanced protection against dust and water
• Ideally suited to hygienic packaging applications
and washdown environments
•E
xtended temperature range with selected ribbons
from 35 - 104ºF (2 - 40ºC)
The DataFlex Plus system allows
for on-line printing of variable and
real-time data such as best by
dates, times, batch/lot codes,
ingredients listing, bar codes and
logos with crisp, clear images.
•H
igh-resolution images on a wide variety of flexible
packaging, labels and other materials
•W
ell-suited for applications in the snack food,
bakery, confectionery, frozen and refrigerated foods,
bagged fresh vegetables and dried fruits, meats,
coffee and pharmaceutical markets
Maximum Flexibility
The DataFlex Plus has the built-in capacity to change
between intermittent and continuous operation quickly
and easily — in the same unit.
Serial, Ethernet and USB
communications deliver a
comprehensive communications
package.
Thermal Transfer. Ink Jet. Laser. Labelers. Track & Trace. Supplies. Parts & Service.
Videojet DataFlex® Plus
Thermal Transfer Overprinter
Thermal Transfer. Ink Jet. Laser. Labelers. Track & Trace. Supplies. Parts & Service.
Printhead
Maximum Ribbon Length
55 mm or 110 mm, 300dpi (12 dot/mm)
Lengths up to 1,200 meters (3,937 ft) available, dependent on
ribbon width and color.
Print Area
53 mm Unit
Intermittent Printing Mode: 2.1" (53 mm) wide x 3.0" (75 mm) long
(RH option) 2.1" (53 mm) wide x 2.7" (68 mm) long (LH option)
Continuous Printing Mode: 2.1" (53 mm) wide x 5.3" (200 mm) long
107 mm Unit
Intermittent Printing Mode: 4.2" (107 mm) wide x 3.0" (75 mm) long
(RH option) 4.2" (107 mm) wide x 2.7" (68 mm) long (LH option)
Continuous Printing Mode: 4.2" (107 mm) wide x 7.9" (200 mm) long
Ribbon Widths
Minimum Print Speed
CLARiSOFT®
53 mm Unit & 107 mm Unit
Intermittent Mode: 1.96 in./sec (50 mm/sec)
Continuous Mode: 0 in./sec (0 mm/sec)
Network Management Software
Maximum Print Speed
CLARITY® Configuration Manager
"Off-line" set up and parameter storage available as standard
53 mm Unit
Intermittent Mode: 31.5 in./sec (800 mm/sec)
Continuous Mode: 39.4 in./sec (1000 mm/sec)
107 mm Unit
Intermittent Mode: 27.5 in./sec (700 mm/sec)
Continuous Mode: 31.4 in./sec (800 mm/sec)
Printing Capabilities
Full downloadable font support using TrueType® fonts (including multiple
languages and Unicode support); Fixed, variable and merged text fields;
Flexible date/time formats; Flexible shift code formats; Auto best before
date calculations and concession management; Auto incrementing
decrementing text, counters and bar codes; Multiple graphic formats
supported (up to maximum print area); Link fields to databases; Scalable
text and text blocks
Bar Codes
EAN 8, EAN 13, UPC-A, UPC-E, Code 39, EAN 128, Code 128, ITF, RSS
(including 2D composite codes); others available upon request
Operator Interface
8.4-inch TFT SVGA (800x600) full-color LCD and touch screen,
WYSIWYG print preview, Full on-board diagnostics, 3 levels of password
protection, Extensive language support
Ribbon Range
0.8" (20 mm) min, 4.3" (110 mm) max
Nominal Ribbon Waste Between Successive Prints
0.002" (0.5 mm)
Ribbon Saving Features
Radial, interleaved, intermittent stripes
Image Design Software
CLARiNET®
Remote Coder Configuration software
Standard Installation Options Master / Slave Configuration
Up to 4 DataFlex printers controlled via a single CLARiTY control unit
Web Browser Mode
Remote control of the DataFlex Plus units from a host bagging
system control box interface
External Communications
RS232, Ethernet, USB memory stick and scanner support, Binary
and ASCII comms protocols and Windows drivers
External Inputs/Outputs
3 PNP inputs
2 relay outputs and 2 PNP +24V outputs
Air Supply
6 Bar. 90psi, uncontaminated 1.0ml/cycle (max)
Power Supply
90-264V
Operating Temperature
35 - 104°F (2 - 40°C)*
* With selected ribbons. Actual installation may require additional hardware based on
production environment conditions.
Full assortment of wax / resin and resin inks
800-843-3610
www.videojet.com / info@videojet.com
Videojet Technologies Inc. / 1500 Mittel Blvd.
Wood Dale IL 60191 / USA
Phone 630-860-7300 Fax 800-582-1343
Dimensional drawings for IP-rated model are available upon request.
©2012 Videojet Technologies Inc. — All rights reserved.
Videojet Technologies Inc.'s policy is one of continued product improvement. We reserve the right to alter design and/or specifications without notice.
TrueType is a registered trademark of Apple Computer, Inc.
Part No. SL000418
DFlexPlus-1012
Printed in U.S.A.