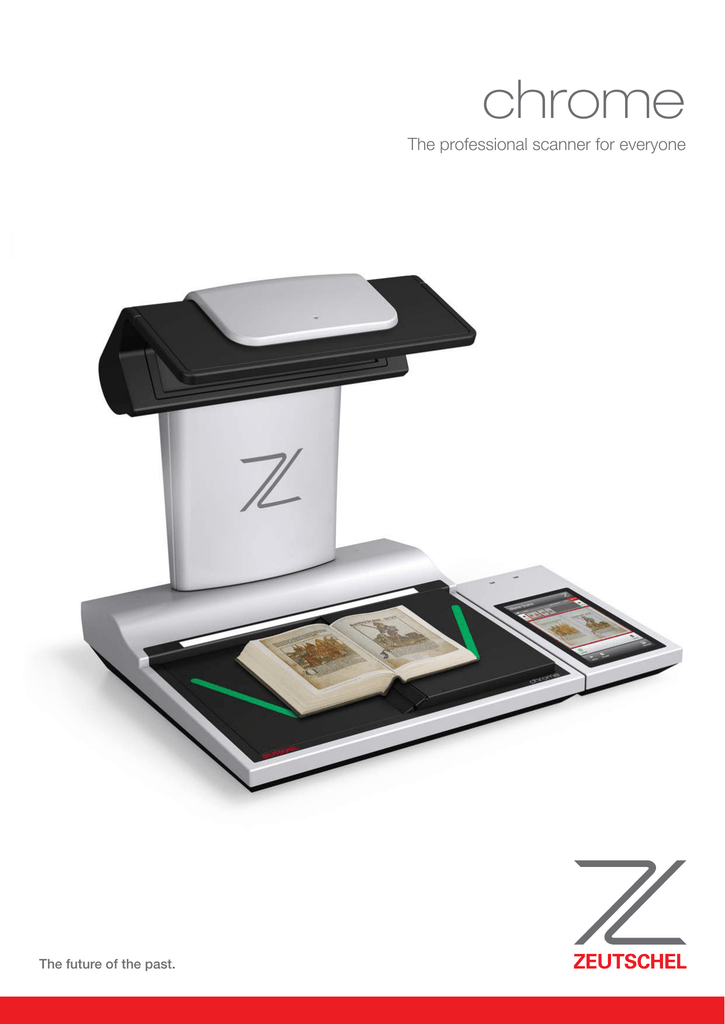 chrome
The professional scanner for everyone
The future of the past.
Simply excellent results
A2+ scanning for everyone with the chrome
At home anywhere: scanners by Zeutschel
For decades, whenever it came to uncompromising quality, reliability and performance, the
user-friendly overhead scanners by Zeutschel
were always first choice. Our book scanners are
available in libraries, archives, businesses and
public authorities around the world. Why is that?
Because we have been setting standards with our
book scanners since 1996 and are never satisfied
with the second-best digitization solution.
Innovation begins with listening
The chrome overhead scanner is the result of
numerous discussions with our users and investment decision makers. What was wanted was a
high-tech scanner, which delivers images of the
highest quality and is really easy-to-use. The result is an accurate, flexible, book scanner, which
is gentle on books and has scored extremely high
marks with users and trade journalists since it
was launched.
Books
Contracts
File
Notebooks Drawings Manuscripts
Court
papers
Maps
USB
Mail
Print
FTP
www
Follow Me
Product advantages
Simply delivers class images: chrome
■
Compact, fast, productive and simple: working
■
with the chrome A2 scanner is exactly as you'd
■
expect. Top scanning technology attractively
■
packaged and very easy to operate. The chrome
■
offers: maximum book protection (up to 100 mm
■
book thickness), very good image quality (300 to
■
600 dpi) and a sufficiently high level of productivity
■
thanks to the manual comfort book cradle for
■
careful handling of books. Mirroring and reflections
■
are avoided, the illumination is very homo­geneous
■
compact
mobile
Plug'n'Scan
high productivity
simple operation
highest image quality (300 to 600 dpi)
zeta software with large touch panel
preview function for reliable results
auto focus
high depth of focus up to 50 mm
homogeneous, shadow-free illumination for
and the image quality consistently high.
excellent images
It can be moved very easily thanks to its com-
■
pact design and is ideal for flexible use in the
■
open stacks section. The user-friendly software
■
and the large touch panel make the chrome
■
scanner something nobody would want to miss.
■
output data in all common file formats
manual comfort book cradle
multilingual user interface
flexible interfaces for almost any environment
remote maintenance and remote administration
energy efficient – conforms to Energy Star
■
chrome
www.kraas-lachmann.com (en-11/2016)
chrome
Scan area
Scan mode
True color processing
Maximum resolution
635 x 460 mm (> DIN A2)
Color
42 bit color | output 24 bit color
14 bit grey scale | output 8 bit grey scale
1 bit b/w | output 1 bit b&w
300 - 600 ppi
Scan speed
3.8 sec /400 ppi
Depth of focus
approx. 50 mm
Auto focus
User software
Book holder
yes
zeta-Software
Perfect Book: 3D scan technology for perfect book curve correction
manual comfort book holder
Working Mode
manual
Maximum
book thickness
100 mm
Scanner interface
Data display
Gig E
TIFF, Multipage TIFF, PDF, Multipage PDF, JPEG, PNG,
iHQC, PDF, PDF/A, searchable PDF
Accessories (optional)
Laser printer, scanner table, bookend
Dimensions (w x d x h)
1050 x 845 x 940 mm
Work space (w x d)
Weight
Power requirements
950 x 690 mm
70 kg
230 V, 50/60 Hz, 1.1 A, other voltages on request
We reserve the right to make technical changes without notice.
Zeutschel GmbH · Heerweg 2 · 72070 Tübingen
Tel: +49 7071 9706-0 · Fax: +49 7071 9706-44
info@zeutschel.de · www.zeutschel.com
The future of the past.

* Your assessment is very important for improving the work of artificial intelligence, which forms the content of this project