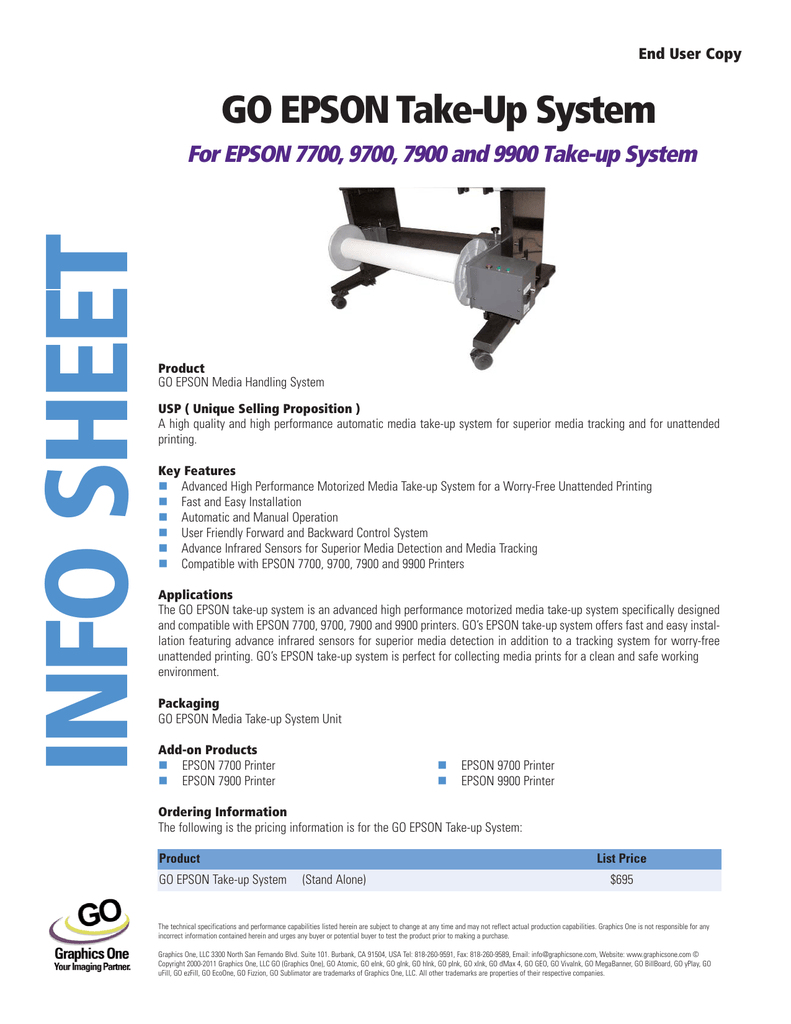 End User Copy
GO EPSON Take-Up System
INFO SHEET
For EPSON 7700, 9700, 7900 and 9900 Take-up System
Product
GO EPSON Media Handling System
USP ( Unique Selling Proposition )
A high quality and high performance automatic media take-up system for superior media tracking and for unattended
printing.
Key Features
Advanced High Performance Motorized Media Take-up System for a Worry-Free Unattended Printing
Fast and Easy Installation
Automatic and Manual Operation
User Friendly Forward and Backward Control System
Advance Infrared Sensors for Superior Media Detection and Media Tracking
Compatible with EPSON 7700, 9700, 7900 and 9900 Printers
Applications
The GO EPSON take-up system is an advanced high performance motorized media take-up system specifically designed
and compatible with EPSON 7700, 9700, 7900 and 9900 printers. GO's EPSON take-up system offers fast and easy installation featuring advance infrared sensors for superior media detection in addition to a tracking system for worry-free
unattended printing. GO's EPSON take-up system is perfect for collecting media prints for a clean and safe working
environment.
Packaging
GO EPSON Media Take-up System Unit
Add-on Products
EPSON 7700 Printer
EPSON 7900 Printer
EPSON 9700 Printer
EPSON 9900 Printer
Ordering Information
The following is the pricing information is for the GO EPSON Take-up System:
Product
GO EPSON Take-up System
List Price
(Stand Alone)
$695
The technical specifications and performance capabilities listed herein are subject to change at any time and may not reflect actual production capabilities. Graphics One is not responsible for any
incorrect information contained herein and urges any buyer or potential buyer to test the product prior to making a purchase.
Graphics One, LLC 3300 North San Fernando Blvd. Suite 101. Burbank, CA 91504, USA Tel: 818-260-9591, Fax: 818-260-9589, Email: info@graphicsone.com, Website: www.graphicsone.com ©
Copyright 2000-2011 Graphics One, LLC GO (Graphics One), GO Atomic, GO eInk, GO gInk, GO hInk, GO pInk, GO xInk, GO dMax 4, GO GEO, GO VivaInk, GO MegaBanner, GO BillBoard, GO yPlay, GO
uFill, GO ezFill, GO EcoOne, GO Fizzion, GO Sublimator are trademarks of Graphics One, LLC. All other trademarks are properties of their respective companies.

* Your assessment is very important for improving the work of artificial intelligence, which forms the content of this project