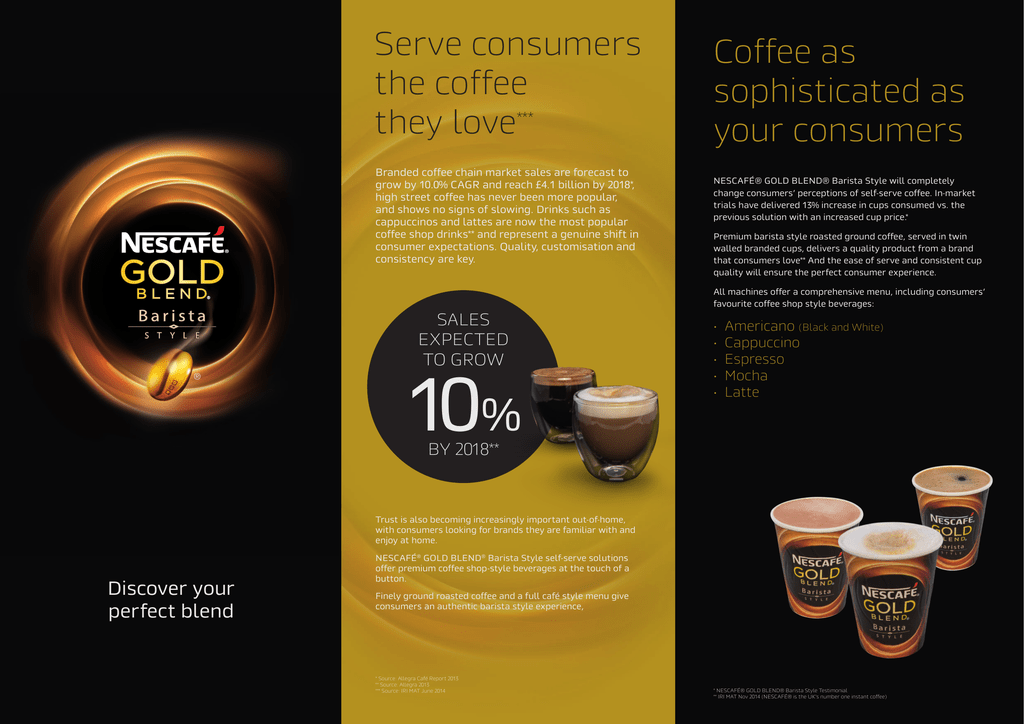 Serve consumers
the coffee
they love***
Branded coffee chain market sales are forecast to
grow by 10.0% CAGR and reach £4.1 billion by 2018*,
high street coffee has never been more popular,
and shows no signs of slowing. Drinks such as
cappuccinos and lattes are now the most popular
coffee shop drinks** and represent a genuine shift in
consumer expectations. Quality, customisation and
consistency are key.
Coffee as
sophisticated as
your consumers
NESCAFÉ® GOLD BLEND® Barista Style will completely
change consumers' perceptions of self-serve coffee. In-market
trials have delivered 13% increase in cups consumed vs. the
previous solution with an increased cup price.*
Premium barista style roasted ground coffee, served in twin
walled branded cups, delivers a quality product from a brand
that consumers love** And the ease of serve and consistent cup
quality will ensure the perfect consumer experience.
All machines offer a comprehensive menu, including consumers'
favourite coffee shop style beverages:
SALES
EXPECTED
TO GROW
®
10%
•Americano (Black and White)
•Cappuccino
•Espresso
•Mocha
•Latte
BY 2018**
Trust is also becoming increasingly important out-of-home,
with consumers looking for brands they are familiar with and
enjoy at home.
Discover your
perfect blend
NESCAFÉ® GOLD BLEND® Barista Style self-serve solutions
offer premium coffee shop-style beverages at the touch of a
button.
Finely ground roasted coffee and a full café style menu give
consumers an authentic barista style experience,
* Source: Allegra Café Report 2013
** Source: Allegra 2013
*** Source: IRI MAT June 2014
* NESCAFÉ® GOLD BLEND® Barista Style Testimonial
** IRI MAT Nov 2014 (NESCAFÉ® is the UK's number one instant coffee)
Machine features:
• Surround delivering the option for
self-serve or cup drop, cup holder,
lid holder and bin
• Lit up header communicating the
brand
• Contemporary branding
communicating coffee quality
and Britain's favourite coffee*
• Screen for advertising and
promotions
tte
Customisation options allow consumers to get the drink they
want, exactly how they want it. Double shot? NESCAFÉ® GOLD
BLEND® Barista Style machines will enable your consumers to
create their perfect blend.
Keep consumers
happy all year
round
The right
coffee solution
for you
A full range of premium marketing
materials will be available through your
Vending Operator.
The new range of NESCAFÉ® GOLD BLEND® Barista
Style machines are designed to fit perfectly into
your unique business environments, meeting your
individual site needs.
You can keep your consumers informed and engaged
through the innovative touch screens on the
NESCAFÉ® GOLD BLEND® Barista Style machines.
* Promotional activity is at the discretion of the Vending Operator
Drink options include:
Screens also provide an innovative and contemporary consumer
experience, delivering convenience at the touch of a button.
Coffee that cares
Building a
better future
Seasonal syrup
promotions
Social media campaigns
· Americano
· Americano White
· Espresso
· Double Espresso
· Cappuccino
· Cappuccino - Extra Shot
· Latte
·Mocha
• Seasonal drinks
Branded cup options:
· 9oz embossed
· 12oz embossed
· 12oz single walled
And with every cup of
NESCAFÉ® GOLD BLEND®
Barista Style, you and your
consumers can rest assure
that they are choosing
responsible coffee. At NESCAFÉ®,
we do things differently. We're
developing better farming
practices, using our local coffee
factories and creating objectives
for every part of our business –
from plantlet, to production, to distribution, to the cup in a
consumer's hand. We're making our coffee more responsible
and embracing our social responsibility. Join us.
Discover your perfect blend
®
* IRI MAT Nov 2014
® Reg. Trademark of Société des Produits Nestlé S.A.

* Your assessment is very important for improving the work of artificial intelligence, which forms the content of this project