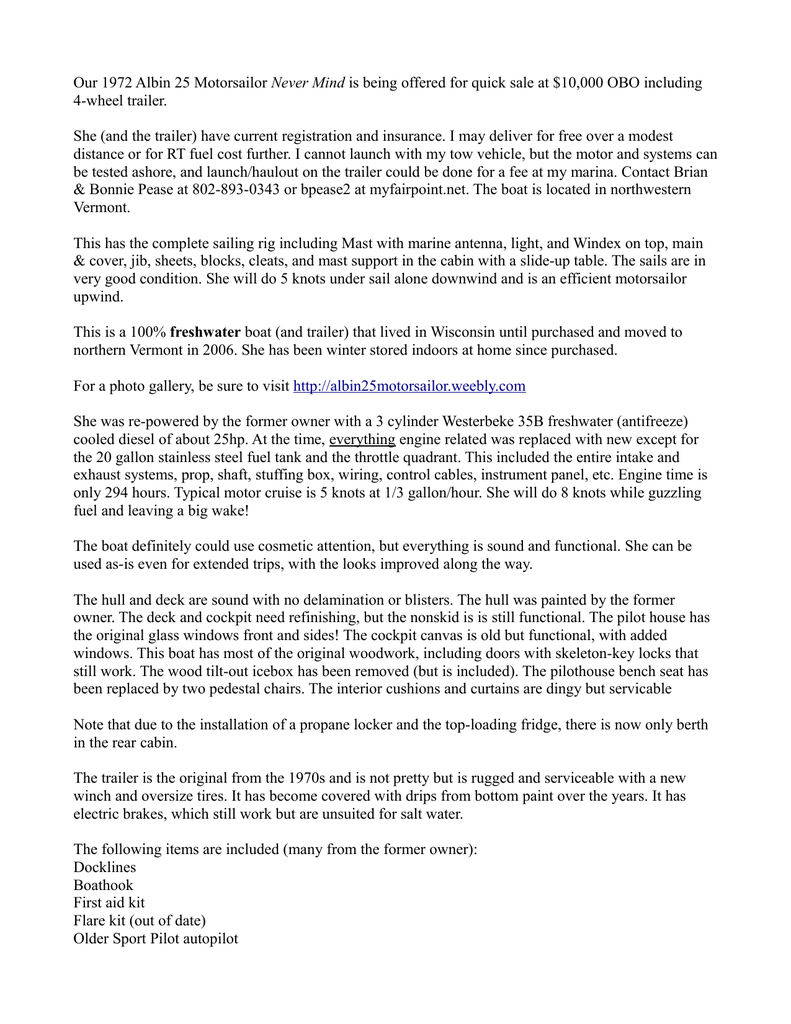 Our 1972 Albin 25 Motorsailor Never Mind is being offered for quick sale at $10,000 OBO including
4-wheel trailer.
She (and the trailer) have current registration and insurance. I may deliver for free over a modest
distance or for RT fuel cost further. I cannot launch with my tow vehicle, but the motor and systems can
be tested ashore, and launch/haulout on the trailer could be done for a fee at my marina. Contact Brian
& Bonnie Pease at 802-893-0343 or bpease2 at myfairpoint.net. The boat is located in northwestern
Vermont.
This has the complete sailing rig including Mast with marine antenna, light, and Windex on top, main
& cover, jib, sheets, blocks, cleats, and mast support in the cabin with a slide-up table. The sails are in
very good condition. She will do 5 knots under sail alone downwind and is an efficient motorsailor
upwind.
This is a 100% freshwater boat (and trailer) that lived in Wisconsin until purchased and moved to
northern Vermont in 2006. She has been winter stored indoors at home since purchased.
For a photo gallery, be sure to visit http://albin25motorsailor.weebly.com
She was re-powered by the former owner with a 3 cylinder Westerbeke 35B freshwater (antifreeze)
cooled diesel of about 25hp. At the time, everything engine related was replaced with new except for
the 20 gallon stainless steel fuel tank and the throttle quadrant. This included the entire intake and
exhaust systems, prop, shaft, stuffing box, wiring, control cables, instrument panel, etc. Engine time is
only 294 hours. Typical motor cruise is 5 knots at 1/3 gallon/hour. She will do 8 knots while guzzling
fuel and leaving a big wake!
The boat definitely could use cosmetic attention, but everything is sound and functional. She can be
used as-is even for extended trips, with the looks improved along the way.
The hull and deck are sound with no delamination or blisters. The hull was painted by the former
owner. The deck and cockpit need refinishing, but the nonskid is is still functional. The pilot house has
the original glass windows front and sides! The cockpit canvas is old but functional, with added
windows. This boat has most of the original woodwork, including doors with skeleton-key locks that
still work. The wood tilt-out icebox has been removed (but is included). The pilothouse bench seat has
been replaced by two pedestal chairs. The interior cushions and curtains are dingy but servicable
Note that due to the installation of a propane locker and the top-loading fridge, there is now only berth
in the rear cabin.
The trailer is the original from the 1970s and is not pretty but is rugged and serviceable with a new
winch and oversize tires. It has become covered with drips from bottom paint over the years. It has
electric brakes, which still work but are unsuited for salt water.
The following items are included (many from the former owner):
Docklines
Boathook
First aid kit
Flare kit (out of date)
Older Sport Pilot autopilot
Older built-in marine VHF radio
Older fish-finder style depth sounder - works excellently
AM/FM /CD radio with 4 speakers - excellent
Life jackets
big fenders
Original Albin 25 handbook (not a reprint!)
Original installation manual for the sail rig.
Manuals for the Westerbeke diesel, GPS, autopilot, etc
Electra Magic recirculating head with pumpout on deck
Shore power cable
2 sets of keys
In addition, I have done many upgrades including the following:
15 lb Manson anchor with 30 ft of chain plus rode in addition to the original danforth.
Solar vents.
Battery charger
Automatic dual battery combiner relay
cockpit cushions (in small pieces)
removable cockpit table.
Second bilge pump for the keel.
Large Plastimo compass, properly compensated.
Standard Horizon CP300 Color moving map GPS for amazingly easy and safe navigation. It has NAM026 installed for coverage from the Great Lakes to the Canadian Maritimes.
Built-in Force 10 propane stove with 10 lb fiberglass propane tank in a vented locker under a cockpit
seat, plus electric remote.
(The original alcohol stove is included)
Hardtop for pilothouse of 1/2" thick starboard (solid polyethelene) with Bomar hatch for venting and
piloting.
80 Watt solar panel with regulator and real amp-hour meter.
Engel MT35 12V/120V ultra high efficiency top loading refrigerator (or freezer) with added (ugly!)
insulation.
Small swing-up stern platform with rope ladder and hand holds.
Drop-over bug net for forward hatch.
Container for 5 gallons of extra fuel.
New bright fluorescent lights for the cockpit/pilothouse and the cabin.

* Your assessment is very important for improving the work of artificial intelligence, which forms the content of this project