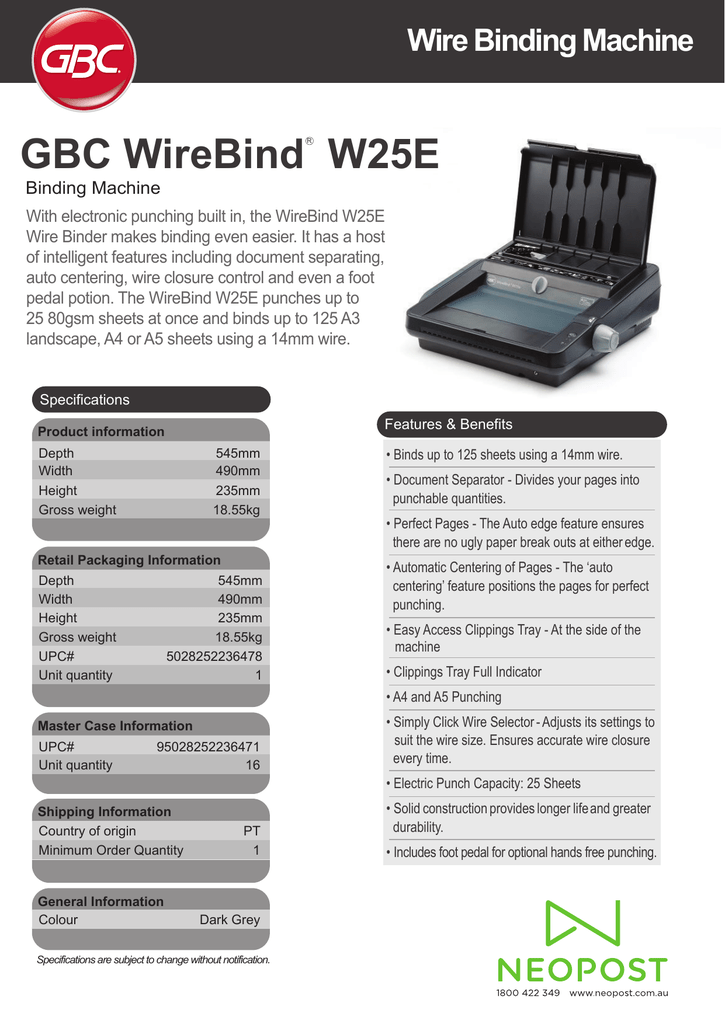 Wire Binding Machine
GBC WireBind W25E
R
R
R
Binding Machine
With electronic punching built in, the WireBind W25E
Wire Binder makes binding even easier. It has a host
of intelligent features including document separating,
auto centering, wire closure control and even a foot
pedal potion. The WireBind W25E punches up to
25 80gsm sheets at once and binds up to 125 A3
landscape, A4 or A5 sheets using a 14mm wire.
Specifications
Features & Benefits
Product information
Depth
Width
545mm
490mm
Height
Gross weight
235mm
18.55kg
Retail Packaging Information
545mm
490mm
235mm
18.55kg
5028252236478
1
Depth
Width
Height
Gross weight
UPC#
Unit quantity
• Binds up to 125 sheets using a 14mm wire.
• Document Separator - Divides your pages into
punchable quantities.
• Perfect Pages - The Auto edge feature ensures
there are no ugly paper break outs at either edge.
• Automatic Centering of Pages - The 'auto
centering' feature positions the pages for perfect
punching.
• Easy Access Clippings Tray - At the side of the
machine
• Clippings Tray Full Indicator
• A4 and A5 Punching
Master Case Information
UPC#
Unit quantity
95028252236471
16
Shipping Information
Country of origin
Minimum Order Quantity
General Information
Colour
PT
1
Dark Grey
Specifications are subject to change without notification.
• Simply Click Wire Selector - Adjusts its settings to
suit the wire size. Ensures accurate wire closure
every time.
• Electric Punch Capacity: 25 Sheets
• Solid construction provides longer life and greater
durability.
• Includes foot pedal for optional hands free punching.

* Your assessment is very important for improving the work of artificial intelligence, which forms the content of this project