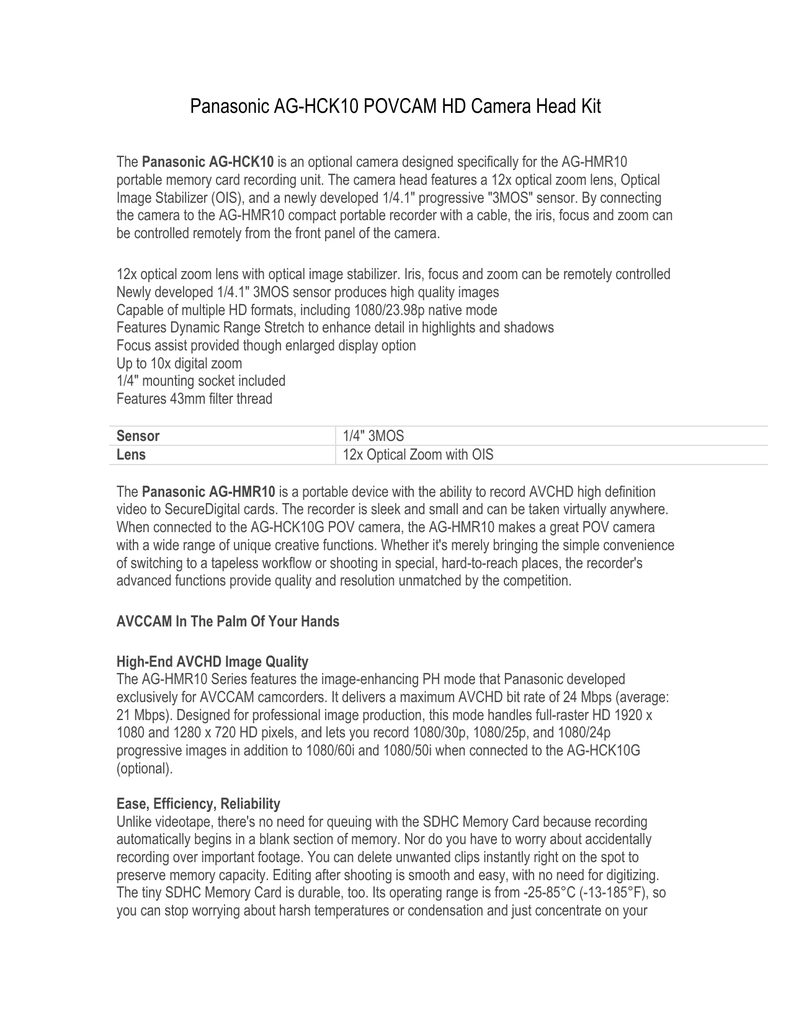 Panasonic AG-HCK10 POVCAM HD Camera Head Kit
The Panasonic AG-HCK10 is an optional camera designed specifically for the AG-HMR10
portable memory card recording unit. The camera head features a 12x optical zoom lens, Optical
Image Stabilizer (OIS), and a newly developed 1/4.1" progressive "3MOS" sensor. By connecting
the camera to the AG-HMR10 compact portable recorder with a cable, the iris, focus and zoom can
be controlled remotely from the front panel of the camera.
12x optical zoom lens with optical image stabilizer. Iris, focus and zoom can be remotely controlled
Newly developed 1/4.1" 3MOS sensor produces high quality images
Capable of multiple HD formats, including 1080/23.98p native mode
Features Dynamic Range Stretch to enhance detail in highlights and shadows
Focus assist provided though enlarged display option
Up to 10x digital zoom
1/4" mounting socket included
Features 43mm filter thread
Sensor
Lens
1/4" 3MOS
12x Optical Zoom with OIS
The Panasonic AG-HMR10 is a portable device with the ability to record AVCHD high definition
video to SecureDigital cards. The recorder is sleek and small and can be taken virtually anywhere.
When connected to the AG-HCK10G POV camera, the AG-HMR10 makes a great POV camera
with a wide range of unique creative functions. Whether it's merely bringing the simple convenience
of switching to a tapeless workflow or shooting in special, hard-to-reach places, the recorder's
advanced functions provide quality and resolution unmatched by the competition.
AVCCAM In The Palm Of Your Hands
High-End AVCHD Image Quality
The AG-HMR10 Series features the image-enhancing PH mode that Panasonic developed
exclusively for AVCCAM camcorders. It delivers a maximum AVCHD bit rate of 24 Mbps (average:
21 Mbps). Designed for professional image production, this mode handles full-raster HD 1920 x
1080 and 1280 x 720 HD pixels, and lets you record 1080/30p, 1080/25p, and 1080/24p
progressive images in addition to 1080/60i and 1080/50i when connected to the AG-HCK10G
(optional).
Ease, Efficiency, Reliability
Unlike videotape, there's no need for queuing with the SDHC Memory Card because recording
automatically begins in a blank section of memory. Nor do you have to worry about accidentally
recording over important footage. You can delete unwanted clips instantly right on the spot to
preserve memory capacity. Editing after shooting is smooth and easy, with no need for digitizing.
The tiny SDHC Memory Card is durable, too. Its operating range is from -25-85°C (-13-185°F), so
you can stop worrying about harsh temperatures or condensation and just concentrate on your
shooting. And of course, you never have to worry about problems with dropouts or clogged heads.
Shot Mark
To simplify shot selection, you can add a mark to the thumbnail images of each clip. You can then
display and play only the clips that have shot marks.
Pre-REC
The Pre-REC function helps to ensure you always get the shot you want by letting you
continuously store, and subsequently record, images and sounds for 3 seconds before the REC
button is pressed. 1
REC Check
Plays back the last 2 seconds of the most recently recorded clip for quick confirmation. 2
Last Clip Delete
Only the most recently recorded clip is deleted with this one-touch function. It can be assigned as a
User button function if desired.
Meta-data Recording
The date, camera operator, location, title and other information can be added to the image data.
LCD Reverse
The image displayed on the LCD monitor can be reversed vertically and horizontally to check the
angle and recorded image.
Index
Index flags can be added to any desired points in a clip during recording or playback. Up to 100
index flags can be added to each clip.
Image Control
Waveform Monitor Display
A horizontal analysis of the input signal's brightness level can be displayed on the monitor. This
lets you adjust the standard black and white levels while checking the Waveform Monitor (WFM),
making it easy to get highly accurate adjustments.
Simplified Vector Scope
The display can be switched from waveform monitor (WFM) to vector scope (VECTOR).
Convenient Playback Functions
Resume Playback
When the Stop key is pressed during playback, the stop position is stored in memory. Simply press
the Play key to start playing again from the stop position. This feature is especially appreciated
when reviewing long clips.
Repeat Playback
This function provides repeat clip playback. It is convenient for use in presentations and
demonstrations because playback is seamless, and there's no need for rewinding. There's also no
wear or tear on the recording media or degradation in the image quality.
Clip Operation
The AG-HMR10 Series allows fast forward, fast reverse, clip forward, clip reverse, and frame by
frame playback operation.
Convenient Recording Functions
Clip Operation
You can insert time and date information into the video signal. This could be convenient, for
example, when observing animals over an extended period, in certain academic uses, in
surveillance, court reporting, legal depositions or law enforcement applications.
TC/UB Recording
Provides a built-in SMPTE time-code generator.
Additional Features
HD-SDI Input/Output
HD-SDI input and HD/SD-SDI output (down-converting the image for SD-SDI output) are equipped.
Digital AV signals can be transmitted up to 100 m (328 ft) with a BNC cable. Line recording of highquality images from video cameras and switchers is also supported. When connected to a camerarecorder, the camera trigger can be interlocked to REC start and stop recording.
HDMI Output Terminal
The AG-HMR10 Series is equipped with an HDMI (High Definition Multimedia Interface) output
terminal for digital transferring of high-quality HD image and audio signals.
SD Down-conversion Output
Either HD-SDI or HDMI output can be used to down-convert and output HD images as SD images
while they are being recorded or played. When converting, a 16:9 to 4:3 aspect ratio side crop,
letterbox, or squeeze images can be selected. It enables a wide variety of applications, such as
viewing on an external monitor or SD dubbing.
USB 2.0 Terminal
The standard USB terminal (Type mini B) allows the AG-HMR10 Series to connect to a computer
in device mode. This lets a Windows PC/Mac installed with the provided AVCCAM Viewer software
to ingest, copy, and write HD video files, as well as transfer them to AVCHD-compatible nonlinear
editing software for HD image production.
Format
Resolution
LCD
Inputs/Outputs
Operating Temperature
Power Requirements
Power Consumption
Dimensions (WxHxD)
Weight
AVCHD
PH Mode: 21 Mbps (VBR, Max 24 Mbps)
HA Mode: 17 Mbps (VBR)
HG Mode: 13 Mbps (VBR)
HE Mode: 6 Mbps (VBR)
[59.94 Hz]
PH Mode: 1080/60i, 1080/30p (over 60i), 1080/24p (Native), 720/60p,
720/30p (over 60p) and 720/24p (Native)
HA, HG and HE Mode: 1080/60i only
[50 Hz]
PH Mode: 1080/50i, 1080/25p (over 50i), 720/50p and 720/25p (over 50p)
HA, HG and HE Mode: 1080/50i only
3.5" (210,000 Pixels)
HD-SDI: BNC (x1 Input, x1 Output)
AG-HCK10G Video/Audio: 20-Pin Dedicated Terminal
HDMI: HDMI (x1 Output)
Microphone: Stereo Mini (x1 Input)
Headphone: Stereo Mini (x1 Output)
Remote: Super Mini Jack, 2.5mm
USB: Type B Mini
0-40°C (32-104°F)
Battery: 7.2VDC
AC Adapter: 7.3 VDC
Without Camera: 6.7W
With Camera: 11.7W
3.8 x 2.1 x 5.2" (9.6 x 5.3 x 13.3cm)
Without Battery
1.3 lbs (0.6kg)
With Battery
1.5 lbs (0.7kg)
The Panasonic AG-C20003G is a 10' (3 m) cable designed to extend the use of the AG-HMR10
and AG-HCK10 Recorder/Camera system. The cable provides enough extension for virtually any
remote scenario, creating a versatile and cost-effective solution for a variety of shooting situations.