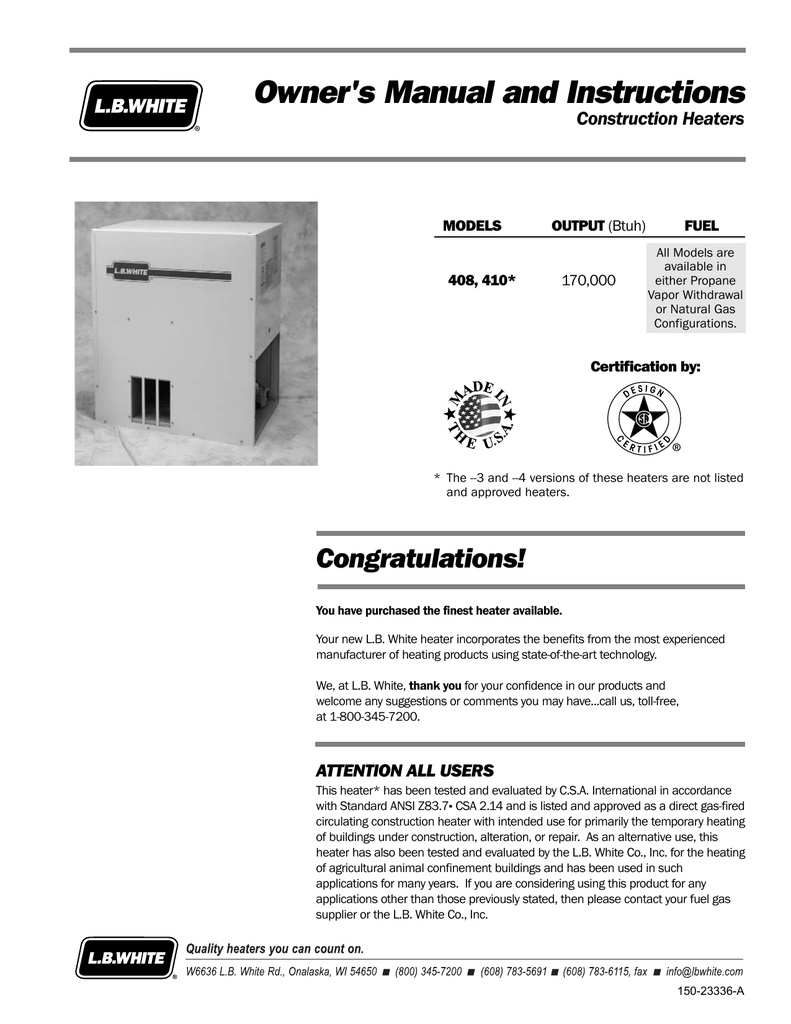 Owner's Manual and Instructions
Construction Heaters
MODELS
408, 410*
OUTPUT (Btuh)
170,000
FUEL
All Models are
available in
either Propane
Vapor Withdrawal
or Natural Gas
Configurations.
Certification by:
* The --3 and --4 versions of these heaters are not listed
and approved heaters.
Congratulations!
You have purchased the finest heater available.
Your new L.B. White heater incorporates the benefits from the most experienced
manufacturer of heating products using state-of-the-art technology.
We, at L.B. White, thank you for your confidence in our products and
welcome any suggestions or comments you may have...call us, toll-free,
at 1-800-345-7200.
ATTENTION ALL USERS
This heater* has been tested and evaluated by C.S.A. International in accordance
with Standard ANSI Z83.7 CSA 2.14 and is listed and approved as a direct gas-fired
circulating construction heater with intended use for primarily the temporary heating
of buildings under construction, alteration, or repair. As an alternative use, this
heater has also been tested and evaluated by the L.B. White Co., Inc. for the heating
of agricultural animal confinement buildings and has been used in such
applications for many years. If you are considering using this product for any
applications other than those previously stated, then please contact your fuel gas
supplier or the L.B. White Co., Inc.
z
150-23336-A
GENERAL HAZARD WARNING
■ Failure to comply with the precautions and instructions provided with this heater, can result
in:
— Death
— Serious bodily injury or burns
— Property damage or loss from fire or explosion
— Asphyxiation due to lack of adequate air supply or carbon monoxide poisoning
— Electrical shock
■ Read this Owner's Manual before installing or using this product.
■ Only properly-trained service people should repair or install this heater.
■ Save this Owner's Manual for future use and reference.
■ Owner's Manuals and replacement labels are available at no charge. For assistance, contact
L.B. White at 800-345-7200.
WARNING
■ Proper gas supply pressure must be provided to the inlet of the heater.
■ Refer to rating plate for proper gas supply pressure.
■ Gas pressure in excess of the maximum inlet pressure specified at the heater inlet can cause
fires or explosions.
■ Fires or explosions can lead to serious injury, death, building damage or loss of livestock.
■ Gas pressure below the minimum inlet pressure specified at the heater inlet may cause
improper combustion.
■ Improper combustion can lead to asphyxiation or carbon monoxide poisoning and therefore
serious injury or death to humans and livestock.
WARNING
Fire and Explosion Hazard
■ Keep solid combustibles a safe distance
away from the heater.
■ Solid combustibles include wood or paper
products, feathers, straw, and dust.
■ Do not use the heater in spaces which
contain or may contain volatile or airborne
combustibles.
■ Volatile or airborne combustibles include
gasoline, solvents, paint thinner, dust
particles or unknown chemicals.
■ Failure to follow these instructions may
result in a fire or explosion.
■ Fire or explosions can lead to property
damage, personal injury or loss of life.
2
WARNING
Fire and Explosion Hazard
■ Not for home or recreational vehicle use.
■ Installation of this heater in a home or
recreational vehicle may result in a fire or
explosion.
■ Fire or explosions can cause property
damage or loss of life.
FOR YOUR SAFETY
Do not store or use gasoline or other
flammable vapors and liquids in the vicinity
of this or any other appliance.
FOR YOUR SAFETY
If you smell gas:
1. Open windows.
2. Don't touch electrical switches.
3. Extinguish any open flame.
4. Immediately call your gas supplier.
Table of Contents
SECTION
PAGE
General Information . . . . . . . . . . . . . . . . . . . . . . . . . . . . . . . . . . . . . . . . . . . . . . . . . . . . . . . . . . . . . . . . . . .3
Heater Specifications . . . . . . . . . . . . . . . . . . . . . . . . . . . . . . . . . . . . . . . . . . . . . . . . . . . . . . . . . . . . . . . . .4
Safety Precautions . . . . . . . . . . . . . . . . . . . . . . . . . . . . . . . . . . . . . . . . . . . . . . . . . . . . . . . . . . . . . . . . . . . .5
Installation Instructions
General . . . . . . . . . . . . . . . . . . . . . . . . . . . . . . . . . . . . . . . . . . . . . . . . . . . . . . . . . . . . . . . . . . . . . . . . .7
Air Diverter Installation Instructions . . . . . . . . . . . . . . . . . . . . . . . . . . . . . . . . . . . . . . . . . . . . . . . . . .8
Hanging Installation Instructions . . . . . . . . . . . . . . . . . . . . . . . . . . . . . . . . . . . . . . . . . . . . . . . . . . . . .9
Sediment Trap Assembly Instructions . . . . . . . . . . . . . . . . . . . . . . . . . . . . . . . . . . . . . . . . . . . . . . . . .9
Thermostat Installation Instructions . . . . . . . . . . . . . . . . . . . . . . . . . . . . . . . . . . . . . . . . . . . . . . . . .10
Start-Up Instructions . . . . . . . . . . . . . . . . . . . . . . . . . . . . . . . . . . . . . . . . . . . . . . . . . . . . . . . . . . . . . . . . .10
Shut-Down Instructions . . . . . . . . . . . . . . . . . . . . . . . . . . . . . . . . . . . . . . . . . . . . . . . . . . . . . . . . . . . . . . .10
Cleaning Instructions . . . . . . . . . . . . . . . . . . . . . . . . . . . . . . . . . . . . . . . . . . . . . . . . . . . . . . . . . . . . . . . . .11
Maintenance Instructions . . . . . . . . . . . . . . . . . . . . . . . . . . . . . . . . . . . . . . . . . . . . . . . . . . . . . . . . . . . . .11
Electrical Connection and Ladder Diagram . . . . . . . . . . . . . . . . . . . . . . . . . . . . . . . . . . . . . . . . . . . . . . .12
Heater Component Function . . . . . . . . . . . . . . . . . . . . . . . . . . . . . . . . . . . . . . . . . . . . . . . . . . . . . . . . . . .13
Parts Identification
Parts Schematic . . . . . . . . . . . . . . . . . . . . . . . . . . . . . . . . . . . . . . . . . . . . . . . . . . . . . . . . . . . . . . . . .14
Parts List . . . . . . . . . . . . . . . . . . . . . . . . . . . . . . . . . . . . . . . . . . . . . . . . . . . . . . . . . . . . . . . . . . . . . . .15
Warranty Policy . . . . . . . . . . . . . . . . . . . . . . . . . . . . . . . . . . . . . . . . . . . . . . . . . . . . . . . . . . . . . . . . . . . . . .16
Replacement Parts and Service . . . . . . . . . . . . . . . . . . . . . . . . . . . . . . . . . . . . . . . . . . . . . . . . . . . . . . . .16
General Information
This Owner's Manual includes all options and accessories
commonly used on this heater. However, depending on the
configuration purchased, some options and accessories may
not be included.
When calling for technical service assistance, or for other
specific information, always have model number and serial
number available. This information is contained on the
dataplate. The dataplate is located on the burner end case
panel.
This manual will instruct you in the operation and care of
your unit. Have your qualified installer review this manual
with you so that you fully understand the heater and how it
functions.
The gas supply line installation, installation of the heater,
and repair and servicing of the heater requires continuing
expert training and knowledge of gas heaters and should not
be attempted by anyone who is not so qualified. See page 6
for definition of the necessary qualifications. A detailed
Installation and Service Guide is available, at no charge, to
qualified personnel by contacting the local L.B. White
distributor, dealer or the L.B. White Company.
Contact your local L.B. White distributor or the L.B. White Co.,
Inc. for assistance, or if you have any questions about the
use of the equipment or its application.
The L.B. White Co., Inc. has a policy of continuous product
improvement. It reserves the right to change specifications
and design without notice.
3
Heater Specifications
Model
SPECIFICATIONS
408
410
Propane
Gas
Natural
Gas
Maximum Input (BTUH)
170,000
Ventilation Air Required
to Support Combustion
700 CFM
Inlet Gas Supply
Pressure Acceptable
at the Inlet of the
Heater for Purpose
of Input Adjustment
MIN.
Burner Manifold Pressure
Fuel Consumption Per Hour
13.5 in. W.C.
MAX.
MAX.
11 in.
W.C.
7 in.
W.C.
10 in.
W.C.
4 in.
W.C.
7.87
lbs.
170
cu. ft.
Ball Bearing
1/5 H.P.
1100 RPM
Motor Characteristics
Electrical Supply
(Volts/Hz/Phase)
Amp Draw
(Starting Amps
Includes Igniter)
115/60/1
STARTING
6.5
CONTINUOUS
OPERATION
2.2
Dimensions (Inches)
LxWxH
Minimum Safe
Distances From
Nearest
Combustible
Materials
Net Weight (lbs.)
Shipping Weight (lbs.)
Minimum Operating
Temperature
4
24 x 19 x 30
TOP
SIDES
BACK
BLOWER
OUTLET
GAS
SUPPLY
1 ft.
1 ft.
1 ft.
6 ft.
Propane Gas Supply — 6 ft. (1.83 m)
Natural Gas Supply — N/A
110
129
-20º F.
Safety Precautions
WARNING
■
■
■
■
■
Asphyxiation Hazard
Company to determine combustion air ventilation
Do not use this heater for heating human living quarters.
requirements of the heater.
Do not use in unventilated areas.
■ Lack of proper ventilation air will lead to improper
combustion.
The flow of combustion and ventilation air must not be
obstructed.
■ Improper combustion can lead to carbon monoxide
poisoning in humans leading to serious injury or death.
Proper ventilation air must be provided to support the
Symptoms of carbon monoxide poisoning can include
combustion air requirements of the heater being used.
headaches, dizziness and difficulty in breathing.
Refer to the specification section of the heater's Owner's
■ Symptoms of improper combustion affecting livestock
Manual, heater dataplate, or contact the L.B. White
can be disease, lower feed conversion, or death.
FUEL GAS ODOR
Propane gas and natural gas have man-m
made odorants added specifically for detection of fuel gas leaks.
If a gas leak occurs, you should be able to smell the fuel gas.
THAT'S YOUR SIGNAL TO GO INTO IMMEDIATE ACTION!
■ Do not take any action that could ignite the fuel gas. Do
not operate any electrical switches. Do not pull any
power supply or extension cords. Do not light matches
or any other source of flame. Do not use your telephone.
■ Get everyone out of the building and away from the area
immediately.
■ Close all propane gas tank or cylinder fuel supply valves,
or the main fuel supply valve located at the meter if you
use natural gas.
■ Propane gas is heavier than air and may settle in low
areas. When you have reason to suspect a propane
leak, keep out of all low areas.
■ Natural gas is lighter than air and can collect around
rafters or ceilings.
■ Use your neighbor's phone and call your fuel gas
supplier and your fire department. Do not re-enter the
building or area.
■ Stay out of the building and away from the area until
declared safe by the firefighters and your fuel gas
supplier.
■ FINALLY, let the fuel gas service person and the
firefighters check for escaped gas. Have them air out
the building and area before you return. Properly trained
service people must repair the leak, check for further
leakages, and then relight the appliance for you.
ODOR FADING -- NO ODOR DETECTED
■ Some people cannot smell well. Some people cannot
smell the odor of the man-m
made chemical added to
propane or natural gas. You must determine if you can
smell the odorant in these fuel gases.
■ Learn to recognize the odor of propane gas and natural
gas. Local propane gas dealers and your local natural
gas supplier (utility) will be more than happy to give you
a "scratch and sniff" pamphlet. Use it to become
familiar with the fuel gas odor.
■ Smoking can decrease your ability to smell. Being
around an odor for a period of time can affect your
sensitivity to that particular odor. Odors present in
animal confinement buildings can mask fuel gas odor.
■ The odorant in propane gas and natural gas is colorless
and the intensity of its odor can fade under some
circumstances.
■ If there is an underground leak, the movement of gas
through the soil can filter the odorant.
■ Propane gas odor may differ in intensity at different
levels. Since propane gas is heavier than air, there may
be more odor at lower levels.
■ Always be sensitive to the slightest gas odor. If you
continue to detect any gas odor, no matter how small,
treat it as a serious leak. Immediately go into action as
discussed previously.
ATTENTION -- CRITICAL POINTS TO REMEMBER!
■ Propane gas and natural gas have a distinctive odor.
Learn to recognize these odors. (Reference "Fuel Gas
Odor" and "Odor Fading" sections above.
■ Even if you are not properly trained in the service and
repair of the heater, ALWAYS be consciously aware of the
odors of propane gas and natural gas.
■ If you have not been properly trained in repair and service
of propane gas and natural gas fueled heaters, then do
not attempt to light heater, perform service or repairs, or
make any adjustments to the heater on propane gas or
natural gas fuel system.
■ A periodic "sniff test" around the heater or at the
heater's joints; i.e. hose, connections, etc., is a good
safety practice under any conditions. If you smell even a
small amount of gas, CONTACT YOUR FUEL GAS
SUPPLIER IMMEDIATELY. DO NOT WAIT!
5
1. Do not attempt to install, repair, or service this heater
or the gas supply line unless you have continuing
expert training and knowledge of gas heaters.
Qualifications for service and installation of this
equipment are as follows:
a. To be a qualified gas heater service person, you
must have sufficient training and experience to
handle all aspects of gas-fired heater installation,
service and repair. This includes the task of
installation, troubleshooting, replacement of
defective parts and testing of the heater. You must
be able to place the heater into a continuing safe
and normal operating condition. You must
completely familiarize yourself with each model
heater by reading and complying with the safety
instructions, labels, Owner's Manual, etc., that is
provided with each heater.
b. To be a qualified gas installation person, you must
have sufficient training and experience to handle
all aspects of installing, repairing and altering gas
lines, including selecting and installing the proper
equipment, and selecting proper pipe and tank
size to be used. This must be done in accordance
with all local, state and national codes as well as
the manufacturer's requirements.
2. All installations and applications of L.B. White heaters
must meet all relevant local, state and national codes.
Included are propane gas, natural gas, electrical, and
safety codes. Your local fuel gas supplier, a local
licensed electrician, the local fire department or
similar government agencies, or your insurance agent
can help you determine code requirements.
Also refer to:
-- ANSI/NFPA 58, latest edition, Standard for
Storage and Handling of Liquefied Petroleum
Gas and/or:
-- ANSI Z223.1/NFPA 54, National Fuel Gas Code
-- ANSI/NFPA 70, National Electrical Code.
3. We cannot anticipate every use which may be made of
our heaters. Check with your local fire safety authority
if you have questions about applications.
4. Do not move, handle, or service heater while in
operation or connected to a power or fuel supply.
5. For safety, never operate this heater with any of its
safety devices that have been bypassed. Do not
operate this heater unless all of these features are
fully functioning.
6. Do not operate the heater with panels removed.
7.
6
Do not locate fuel gas containers or fuel supply hoses
anywhere near the blower outlet of the heater.
8. Forced-air heaters shall not be directed toward any
propane gas container within 20 feet (6.10 m).
9. Do not block air intakes or discharge outlets of the
heater. Doing so may cause improper combustion or
damage to heater components leading to property
damage or animal loss.
10. The hose assembly shall be visually inspected on an
annual basis. If it is evident there is excessive
abrasion or wear, or if the hose is cut, it must be
replaced prior to the heater being put into operation.
The hose assembly shall be protected from animals,
building materials, and contact with hot surfaces
during use. The hose assembly shall be that specified
by the manufacturer. See parts list.
11. Check for gas leaks and proper function upon heater
installation, periodically, and when relocating the
heater, its gas supply, or gas supply line.
12. This heater should be inspected for proper operation
by a qualified service person before building
repopulation, each use, and at least annually.
13. Always turn off the gas supply to the heater when the
heater is not in use.
14. This heater is equipped with a three-prong (grounding)
plug for your protection against shock hazard and
must be plugged directly into a properly grounded
three-prong receptacle. Failure to use a properly
grounded receptacle can result in electrical shock,
personal injury, or death.
15. If gas flow is interrupted and flame goes out, do not
relight the heater until you are sure that all gas that
may have accumulated has cleared away. In any
event, do not relight the heater for at least 5 minutes.
16. In a hanging type installation, rigid pipe or copper
tubing coupled directly to the heater may cause gas
leaks during movement, and therefore must not be
used. Use only gas hose assemblies that are rated
and approved for propane gas and natural gas in a
hanging type of installation.
17.
Installations not using the gas hose supplied with this
appliance must connect dimensionally using
American National Standard Wrought Steel and
Wrought Iron Pipe B36/10-1970. (Aluminum piping or
tubing shall not be used.) Copper tubing when used
for conveying natural gas, shall be internally tinned or
equivalently treated to resist sulphur.
18. If your unit utilizes propane vapor, the minimum
propane gas supply cylinder size should be a 100
pound propane gas supply cylinder. When using a
cylinder supply system, it should be arranged to
provide vapor withdrawal from operating cylinder.
19. When the heater is to be stored indoors, the
connection between the propane gas supply
cylinder(s) and the heater must be disconnected and
the cylinder(s) removed from the heater and stored in
accordance with Chapter 5 of the Standard for the
Storage and Handling of Liquefied Petroleum Gases,
ANSI/NFPA 58.
20. Propane gas supply cylinders have left-handed
threads. Always use a wrench to make the connection
to remove the P.O.L. fitting. Do not use pliers.
Installation Instructions
GENERAL
WARNING
Fire or explosion hazard.
Can cause property damage, severe injury or death.
1. Disconnect power supply before wiring to prevent
electrical shock or equipment damage.
2. To avoid dangerous accumulation of fuel gas, turn
off gas supply at the appliance service valve before
starting installation, and perform gas leak test after
completion of installation.
3. Do not force the gas control knob. Use only your
hand to turn the gas control knob. Never use any
tools. If the knob will not operate by hand, the
control should be replaced by a qualified service
technician. Force or attempted repair may result in
fire or explosion.
1. Read all safety precautions and follow L. B. White
recommendations when installing this heater. If
during the installation or relocating of heater, you
suspect that a part is damaged or defective, call a
qualified service agency for repair or replacement.
2. Make sure the heater is properly positioned before
use. Observe and obey all minimum safe distances of
the heater to the nearest combustible materials.
Minimum safe distances are given on the heater
nameplate and on page 4 of this manual.
3. The heater is approved for indoor use only.
4. The heater is not for use with ductwork.
5. The heater shall be installed so that it is not directly
exposed to water spray, rain, and dripping water.
6. Certified construction heaters include a gas hose and
single-stage regulator. The single-stage regulator is to
be used only in applications where temporary use of
the heater is required. Contact the L.B. White Co. or
your fuel gas supplier if you have questions.
7.
For permanent heater installations, two-stage gas
regulation is required. The heater's second-stage
regulator (with pressure relief valve) should be
installed outside of building. Any regulators inside the
buildings must be properly vented to the outside.
Local, state and national codes always apply to
regulator installation. Natural gas regulators with vent
limiting device may be mounted indoors without
venting to outdoors.
8. Insure that all accessories that ship within the heater
have been removed from inside of heater and
installed. This pertains to air diverters, hose,
regulators, etc.
9. Make certain that a sediment trap is installed at the
gas valve inlet to prevent foreign materials (pipe
compound, pipe chips and scale) from entering the
gas valve. Debris blown into the gas valve may cause
that valve to malfunction resulting in a serious gas
leak that could result in a possible fire or explosion
causing loss of products, building or even life. A
properly installed sediment trap will keep foreign
materials from entering the gas valve and protect the
safe functioning of that important safety component.
10. Any heater connected to a piping system must have an
accessible, approved manual shut off valve installed
within six feet (6 ft.) of the appliance it serves.
11. Check all connections for gas leaks using approved
gas leak detectors. Gas leak testing is performed as
follows:
WARNING
■
■
■
■
Fire and Explosion Hazard
Do not use open flame (matches, torches, candles,
etc.) in checking for gas leaks.
Use only approved leak detectors.
Failure to follow this warning can lead to fires or
explosions.
Fires or explosions can lead to property damage,
personal injury or loss of life.
-- Check all pipe connections, hose connections,
fittings and adapters upstream of the gas
control with approved gas leak detectors.
-- In the event a gas leak is detected, check the
components involved for cleanliness and
proper application of pipe compound before
further tightening.
-- Furthermore tighten the gas connections as
necessary to stop the leak.
-- After all connections are checked and any
leaks are stopped, turn on the main burner.
-- Stand clear while the main burner ignites to
prevent injury caused from hidden leaks that
could cause flashback.
-- With the main burner in operation, check all
connections, hose connections, fittings and
joints as well as the gas control valve inlet and
outlet connections with approved gas leak
detectors.
-- If a leak is detected, check the components
involved for cleanliness in the thread areas and
7
proper application of pipe compound before
further tightening.
-- Tighten the gas connection as necessary to
stop the leak.
-- If necessary, replace the parts or components
involved if the leak cannot be stopped.
-- Ensure all gas leaks have been identified and
repaired before proceeding.
12.
A qualified service agency must check for proper
operating gas pressure upon installation of the heater.
13. Light according to instructions on heater or within
owner's manual.
16. This heater can be configured for use with either
propane gas vapor withdrawal or natural gas. Consult
the dataplate, located on the case panel at the burner
end of the heater, for the gas configuration of the
specific heater. Do not use the heater in a propane
gas liquid withdrawal system or application. If you are
in doubt, contact the L.B. White Co., Inc.
17. Eventually, like all electrical/mechanical devices, the
thermostat can fail. Thermostat failure may result in
either an underheating or overheating condition which
may damage critical products and/or cause animal
injury or death. Critical products and/or animals
should be protected by a separate back-up control
system that limits high and low temperatures and also
activates appropriate alarms.
14. It is extremely important to use the proper size and
type of gas supply line to assure proper functioning of
the heater. Contact your fuel gas supplier for proper
line sizing and installation.
18. Take time to understand how to operate and maintain
the heater by using this Owner's Manual. Make sure
you know how to shut off the gas supply to the building
and also to the individual heater. Contact your fuel
gas supplier if you have any questions.
15. Make sure the heater has the proper gas regulator for
the application. A regulator must be connected to the
gas supply so that gas pressure at the inlet to the gas
valve is regulated within the range specified on the
dataplate at all times. Contact your gas supplier, or
the L.B. White Co., Inc. if you have any questions.
19. Any defects found in performing any of the service or
maintenance procedures must be eliminated and
defective parts replaced immediately. The heater
must be retested by properly qualified service
personnel before placing the heater back into use.
AIR DIVERTER
INSTALLATION INSTRUCTIONS
Optional Accessory.
Appearance of the outlet on heater may vary from model to model.
1. Optional air diverters can be installed in the heater
outlet to provide direction to the heated air as it exits
the heater. Installation options include installing the
diverters in such a way as to broadly distribute the air
in two 45 degree paths or to focus the air flow in one
45 degree direction. See Fig. 1.
FIG. 1 (Typical installation allowing two directions of air movement.)
NOTCHES IN MOUNTING TABS
TABS
OUTLET
SCREWS
2. The air diverter's tabs on each half will "pop" into the
blower outlet between the inside of the case assembly
and the blower housing outlet. If the notched tabs do
not "pop" into the blower outlet, loosen (do not
remove) the blower outlet screws. Doing this provides
a gap into which you can insert the tabs. Retighten
the screws after installation.
FORMED
OUTLET GUARD
DIVERTER
HALVES
Alternate Air Diverter Installations
8
HANGING INSTRUCTIONS
1. Assemble according to the illustration and tighten all
eyebolts securely. (See Fig. 2):
FIG. 3
NOTE: REGULATORS SHOULD ALWAYS BE MOUNTED OUTDOORS. IF
CIRCUMSTANCES FORCE INSTALLING THE REGULATOR INDOORS,
THE REGULATOR'S VENT MUST BE VENTED OUTDOORS USING VENT
LINE NO SMALLER THAN VENT OPENING.
EYEBOLT
CHAIN
VENT OF REGULATOR MUST
POINT DOWN AND REGULATOR
MUST BE VENTED OUTDOORS
MANUAL SHUT-OFF VALVE
CAN BE INSTALLED BEFORE
THE REGULATOR, UNDER
THE EAVE OF THE BUILDING,
OR AFTER THE REGULATOR
INSIDE THE BUILDING.
NUT
FLAT WASHER
CAGE NUT
CHA
IN O
CASE TOP
2. Be sure heater is securely fastened and is hanging
level. (Check crosswise and lengthwise.)
3. See Fig. 3 for typical indoor installation. In any animal
confinement building, consideration must be given to
making sure the heater is located away from the
livestock so that livestock cannot knock the heater,
tear it loose from its mounting, or damage the heater
or its gas supply line in any way. Make sure you
observe and obey minimum clearance distances to
combustible materials as stated in the specification
section of this owner's manual and on the heater
itself.
R CA
BLE
OPTIONAL INDOOR
REGULATOR
MOUNTING LOCATION
BLACK PIPE
THROUGH WALL
GAS HOSE
THERMOSTAT
CORD
VENT LINE
WALL
FIG. 2
HEATER
WALL OUTLET
AIR DIVERTER
YOKE
POWER CORD
THERMOSTAT
30.5CM
1 FT.
SEDIMENT
TRAP
SEE SPEC.
30.5CM
TABLE
SEDIMENT TRAP ASSEMBLY
Optional Accessory
Assemble the tee, nipples and cap together and tighten
securely. See Fig. 4. The sediment trap assembly must
always be mounted in a vertical position. Make sure pipe
thread compound that is resistant to both propane gas and
natural gas is used in making all connections. Check all
connections for gas leaks using approved gas leak
detectors.
FIG. 4
NIPPLE
HOSE ADAPTER
TO GAS CONTROL
VALVE INLET
TEE
NIPPLE
CAP
9
THERMOSTAT INSTALLATION
WARNING
Electrical Shock Hazard
2. To Connect the Direct Wired Thermostat Kit to the
Heater:
a. The installation and wiring of a thermostat must
be done by an electrician or someone properly
qualified.
■ Disconnect the electrical supply before connecting the
thermostat to the heater.
■ Failure to follow this warning can result in electrical
shock, leading to personal injury or death.
b. The thermostat may use 18 gauge, 3 wire cord to
handle the voltage being supplied to the
thermostat.
1. To Connect the Series Tap Plug Thermostat Kit:
c. The heater must be tested for proper operation
after the thermostat has been connected.
a. Connect the power cord of the heater to the
female side of the plug on the end of the
thermostat cord.
b. Plug the male side of the series tap plug on the
thermostat cord into a three-wire (grounded)
electrical outlet within the building.
Start-Up Instructions
Follow steps 1 - 8 on initial start-up after heater installation
by a qualified gas heater service person. For normal startup, simply turn thermostat above room temperature. The
heater will start.
1.
Open all manual fuel supply valves and check for gas
leaks using approved certified leak detectors.
2.
Remove the metal cover from the gas control
enclosure. (If Applicable)
3. The gas control valve incorporates a manual gas shut
off feature. Position the indicator on the shut off knob
to "pilot".
5.
Reinstall the metal cover back over the valve.
6.
Connect the heater's electrical cord to an approved
electrical outlet.
7.
Set thermostat to a point above room temperature.
The heater will light. Reset thermostat to desired
room temperature.
8.
Do not exceed input rating stamped on nameplate of
appliance, or manufacturer's recommended burner
orifice pressure for size orifice(s) used.
FIG. 6
GAS SHUT OFF KNOB
4. Fully depress the red pilot button located on the
control valve while applying flame to the pilot light.
Keep the button depressed for about 30 seconds to
allow the thermocouple to warm up so the pilot stays
lit after you release the pilot button. Once the pilot
stays lit, position the knob to "on".
ATTENTION
On new installations it may take a short period of time for the
gas to purge out any air in the pilot line before the pilot stays
lit.
ON
OFF
PILOT BUTTON
PILOT
Shut-Down Instructions
If the heater is to be shut down for cleaning, maintenance or
repair, follow steps 1 - 5. Otherwise, simply turn thermostat
to "off" or "no heat" for standard shut down.
1. Close all manual fuel supply valves.
2. With the heater lit, allow heater to burn off excess fuel
in gas supply hose.
10
3. Turn the indicator on the gas control to "off".
4. Turn thermostat to "off" or "no heat" position.
5. Disconnect the heater from the electrical supply.
Cleaning Instructions
WARNING
Fire, Burn, and Explosion Hazard
■ This heater contains electrical and mechanical components in the gas management, safety and airflow systems.
■ Such components may become inoperative or fail due to dust, dirt, wear, aging, or the corrosive atmosphere of an
animal confinement building.
■ Periodic cleaning and inspection as well as proper maintenance are essential to avoid serious injury or property
damage.
1. Before cleaning, shut off all gas supply valves and
disconnect electrical supply.
2. The heater should have dirt or dust removed
periodically:
a. After each use, give the heater a general cleaning
using compressed air or a soft brush on its interior
and exterior. At this time, dust off the motor case
to prevent the motor from over-heating and
shutting the heater down.
b. At least once a year, give the heater a thorough
cleaning. At this time, remove the fan and motor
assembly and brush or blow off the fan wheel,
giving attention to the individual fan blades.
Additionally, make sure the burner air inlet venturi
ports and the "throat" of the casting are free of
dust accumulation and the area between the heat
chamber top and inside case is also free of dust.
WARNING
This heater must not be washed. Use of a pressure
washer, water or liquid cleaning solution on this heater
can cause severe personal injury or property damage due
to water and/or cleaning solution:
A. In electrical components, connections and wires
causing electrical shock or component failure.
B. On gas control components causing corrosion which
can result in gas leaks and fire or explosion from the
leak.
The heater must be cleaning in accordance with the
manufacturer's instructions without being subjected to
liquid spray or wetting.
c. Observe and obey the Warning within these
Cleaning Instructions. This same Warning is also
supplied on the heater.
Maintenance Instructions
1. Have your gas supplier check all gas piping annually
for leaks or restrictions in gas lines. Also, at this time
have your gas supplier clean out the sediment trap of
any debris that may have accumulated.
2. The appliance area shall be kept clear and free from
combustible materials, gasoline, and other flammable
vapors and liquids.
3. Regulators can wear out and function improperly.
Have your gas supplier check the date codes on all
regulators installed and check delivery pressures to
the appliance to make sure that the regulator is
reliable.
4. Regulators must be periodically inspected to make
sure the regulator vents are not blocked. Debris,
insects, insect nests, snow, or ice on a regulator can
block vents and cause excess pressure at the
appliance.
11
Electrical Connection and Ladder Diagram
CAUTION
Always refer to the heater's electrical connection diagram when servicing to avoid wiring errors and heater malfunction.
Check for proper operation after servicing.
WARNING: THIS HEATER MAY START AT ANY TIME
AIR PROVING SWITCH
(NOT SUPPLIED ON SOME MODELS)
BLACK
OR RED
BLACK
BLACK OR RED
BLACK
BLACK
GAS
CONTROL WHITE
VALVE
HIGH LIMIT
SWITCH
BLACK
BLACK
THERMOSTAT
(OPTIONAL)
JUMPER
(REMOVE TO ADD
THERMOSTAT)
BLACK
MOTOR
WHITE
BLACK
WHITE POWER
GREEN CORD
GROUND
NOTE: IF AIR PROVING SWITCH IS NOT SUPPLIED, POWER IS SENT
DIRECTLY TO HIGH LIMIT SWITCH. SEE "DASHED" LINE.
ELECTRICAL CONNECTION DIAGRAM
NEUTRAL
GROUND
THERMOSTAT
MOTOR
AIR PROVING SWITCH
HIGH LIMIT
SWITCH
SOLENOID
ELECTRICAL LADDER DIAGRAM
IF ANY OF THE ORIGINAL WIRE AS SUPPLIED WITH THE APPLIANCE MUST BE
REPLACED, IT MUST BE REPLACED WITH WIRING MATERIAL HAVING A
TEMPERATURE RATING OF AT LEAST 302O F (150O C).
12
Heater Component Function
Air Proving Switch
Safety device used to insure that the proper air flow is being
achieved before the gas valve is opened. (115,000 and
170,000 Btuh Heaters)
Burner
Cast iron component used to channel gas and provide an
area at which the fuel may ignite.
Burner Orifice
Brass metering device used to feed gas to burner at a
specific rate.
Fan Housing
Chamber used for compressing air for efficient air
movement.
Fan Wheel
Component used in conjunction with the motor and fan
housing to pull the hot air from heater and blow it into room
for heating (also known as a "squirrel cage").
Gas Hose
Flexible connector used to convey gas from supply line in
building to heater.
Heat Chamber
Metal "fire box" within the appliance that provides an area
where burner flame mixes with combustion air thereby
providing heat.
High Limit Switch
Safety device wired into the control system which is used to
break an electrical circuit to the gas control valve in event of
overheat situation.
Motor
Electric device used to force preheated air through the
heater and to circulate heat within a certain area. Converts
electrical energy into mechanical energy.
Pilot Light Orifice
A metering device used to supply gas for the dual purpose of
igniting the main burner and heating the thermocouple.
Pilot Safety Control Valve
A gas control valve which is held open by electrical power
supplied by a pilot generator and which closes automatically
to shut off the flow of gas to the main burner when the pilot
flame is extinguished or becomes too small to light the main
burner.
Pilot Shield
A formed sheet metal piece that fits around the pilot
assembly to protect the the pilot flame against drafts.
Pilot Tube
Formed copper tube used to convey gas from the safety
control valve to the pilot light orifice. The tube is internally
"tinned" when natural gas is used to resist the effects of
sulphur in the fuel.
Regulator
The heart of any gas supply installation. Used to deliver a
working pressure to the appliance under varying conditions
in tank pressure.
Thermocouple
A thermoelectric device that converts heat energy directly
into electrical energy. Works in conjunction with the
electromagnet in the gas control valve thereby providing gas
supply for the pilot light.
Thermostat
Electrical device used as an automatic "on/off" switch which
will respond to changes in temperature in a certain area.
Can be wired so contacts in the thermostat open or close on
temperature increase or decrease.
13
Parts Identification
PARTS SCHEMATIC
29
28
27
26
30
33
25
31
19
24
18
32
20
23
17
34
22
35
15
36
8
21
1
16
14
7
4A
13
12
11
4
39
9
6
10
5
N
38
2
37
14
3
Y
PL
UP
S
.G.
AS
. G LY
P
.
L PP
SU
PARTS LIST
Item
1
2
3
4
4a
5
6
7
8
9
10
11
12
13
14
15
16
17
18
19
20
21
22
23
24
25
26
27
28
29
30
31
32
33
34
35
36
37
38
39
Description
Regulator, Single Stage (Propane Gas)
Regulator, Second Stage (Propane Gas)
Hose, 1/2 in. x 10 ft.
Adapter, 1/2 NPT x 1/2 NPS
Bracket, Gas Control Valve
Cover
Screw
Valve, Gas Control (Propane Gas)
Valve, Gas Control (Natural Gas)
Manifold
Orifice, Burner (Propane Gas)
Orifice, Burner (Natural Gas)
Thermocouple, 18 in.
Tube, Pilot
Cord, Power, 5 ft.
Orifice, Pilot (Propane Gas)
Orifice, Pilot (Natural Gas)
Screw, Pilot
Stud
Pilot Assembly with Orifice (Propane Gas)
Pilot Assembly with Orifice (Natural Gas)
Gasket
Shield, Pilot
Screw, Burner Mounting
Spacer
Burner
Bracket, Thermostat
Thermostat, with Bracket
Cover, Junction Box
Junction Box
Switch, High Limit
Chamber, Heat
Case Assembly (1)
Panel, Motor End
Panel, Burner End (1)
Motor
Mount, Motor
Switch, Air Proving
Wheel, Fan
Flapper, Sail
Housing, with Air Proving Switch and Flapper
Base
Bolt
Washer
Spacer
Part Number
09914
06665
20504
02894
23975
23972
09425
21615
21616
07826
21573
21574
03555
22204
01220
02689
02740
03070
07827
02729
02741
06974
20264
02688
02687
03453
05493
05568
03231
03230
05566
21602
02673
07332
07333
20554
03764
02680
02684
02441
05570
21586
07908
01589
07905
(1) Specify model number for dataplate when ordering.
WIRE SELECTION TABLE
DESCRIPTION
COLOR
LENGTH
Wire, High Limit to
Air Proving Switch
Black
60 in.
Wire, Gas Control
to High Limit
Black
41 in.
Wire, Gas Control
to Thermostat
White
28 in.
Wire, Air Proving Switch
to Thermostat
Black
55 in.
Wire, Motor
Black
52 in.
Wire, Motor
White
52 in.
PART NO.
20425
FASTENER SELECTION TABLE
DESCRIPTION
APPLICATION
Screw, #8 x 3/8
Case
PART NO.
07288
21592
21593
21591
21589
21590
15
Warranty Policy
EQUIPMENT
L.B. White Co., Inc. warrants that the component parts of its
heater are free from defects in material and workmanship,
when properly installed, operated, and maintained in
accordance with the Installation and Maintenance
Instructions, safety guides and labels contained with each
unit. If, within 12 months from the date of purchase by the
end user, any component is found to be defective,
L.B. White Co., Inc. will at its option, repair or replace the
defective part or heater, with a new part or heater, F.O.B.,
Onalaska, Wisconsin.
A warranty card on file at L.B. White will automatically qualify
a unit and its component parts for warranty consideration. If
a warranty card is not on file, a copy of the bill of sale will be
required to establish warranty qualification. If neither is
available, the warranty period will be 12 months from date of
shipment from L B. White.
PARTS
L.B. White Co., Inc. warrants that replacement parts
purchased from the company and used on the appropriate L.
B. White heater are free from defects both in material and
workmanship for 12 months from the date of purchase by
the end user. Warranty is automatic if a component is found
defective within 12 months of the date code marked on the
part. If the defect occurs more than 12 months later than
the date code but within 12 months from the date of
purchase by the end user, a copy of a bill of sale will be
required to establish warranty qualification.
The warranty set forth above is the exclusive warranty
provided by L.B. White, and all other warranties, including
any implied warranties or merchantability or fitness for a
particular purpose, are expressly disclaimed. In the event
any implied warranty is not hereby effectively disclaimed due
to operation of law, such implied warranty is limited in
Replacement Parts and Service
Contact your local L.B. White dealer for replacement parts
and service or call L.B. White Co., Inc. at 1-800-345-7200 for
assistance. Be sure that you have your heater model number
and configuration number when calling.
16
duration to the duration of the applicable warranty stated
above. The remedies set forth above are the sole and
exclusive remedies available hereunder. L.B. White will not
be liable for any incidental or consequential damages
directly or indirectly related to the sale, handling or use of the
heater, and in any event L.B. White's liability in connection
with the heater, including for claims based on negligence or
strict liability, is limited to the purchase price.
Some states do not allow limitations on how long an implied
warranty lasts, so the above limitation may not apply to you.
Some states do not allow the exclusion or limitation of
incidental or consequential damages, so the above limitation
or exclusion may not apply to you. This warranty gives you
specific legal rights, and you may also have other rights
which vary from state to state.