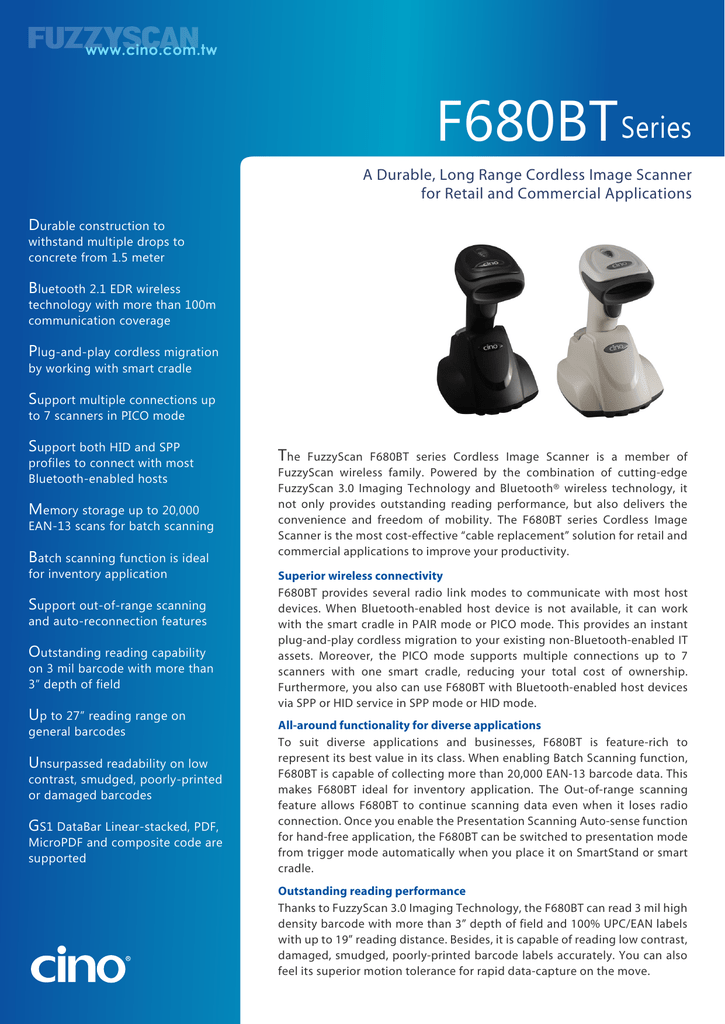 www.cino.com.tw
F680BT Series
A Durable, Long Range Cordless Image Scanner
for Retail and Commercial Applications
Durable construction to
withstand multiple drops to
concrete from 1.5 meter
Bluetooth 2.1 EDR wireless
technology with more than 100m
communication coverage
Plug-and-play cordless migration
by working with smart cradle
Support multiple connections up
to 7 scanners in PICO mode
Support both HID and SPP
profiles to connect with most
Bluetooth-enabled hosts
Memory storage up to 20,000
EAN-13 scans for batch scanning
Batch scanning function is ideal
for inventory application
Support out-of-range scanning
and auto-reconnection features
Outstanding reading capability
on 3 mil barcode with more than
3" depth of field
Up to 27" reading range on
general barcodes
Unsurpassed readability on low
contrast, smudged, poorly-printed
or damaged barcodes
GS1 DataBar Linear-stacked, PDF,
MicroPDF and composite code are
supported
The FuzzyScan F680BT series Cordless Image Scanner is a member of
FuzzyScan wireless family. Powered by the combination of cutting-edge
FuzzyScan 3.0 Imaging Technology and Bluetooth® wireless technology, it
not only provides outstanding reading performance, but also delivers the
convenience and freedom of mobility. The F680BT series Cordless Image
Scanner is the most cost-effective "cable replacement" solution for retail and
commercial applications to improve your productivity.
Superior wireless connectivity
F680BT provides several radio link modes to communicate with most host
devices. When Bluetooth-enabled host device is not available, it can work
with the smart cradle in PAIR mode or PICO mode. This provides an instant
plug-and-play cordless migration to your existing non-Bluetooth-enabled IT
assets. Moreover, the PICO mode supports multiple connections up to 7
scanners with one smart cradle, reducing your total cost of ownership.
Furthermore, you also can use F680BT with Bluetooth-enabled host devices
via SPP or HID service in SPP mode or HID mode.
All-around functionality for diverse applications
To suit diverse applications and businesses, F680BT is feature-rich to
represent its best value in its class. When enabling Batch Scanning function,
F680BT is capable of collecting more than 20,000 EAN-13 barcode data. This
makes F680BT ideal for inventory application. The Out-of-range scanning
feature allows F680BT to continue scanning data even when it loses radio
connection. Once you enable the Presentation Scanning Auto-sense function
for hand-free application, the F680BT can be switched to presentation mode
from trigger mode automatically when you place it on SmartStand or smart
cradle.
Outstanding reading performance
Thanks to FuzzyScan 3.0 Imaging Technology, the F680BT can read 3 mil high
density barcode with more than 3" depth of field and 100% UPC/EAN labels
with up to 19" reading distance. Besides, it is capable of reading low contrast,
damaged, smudged, poorly-printed barcode labels accurately. You can also
feel its superior motion tolerance for rapid data-capture on the move.
www.cino.com.tw
Specifications
Performance Characteristics
User Environment
Optical System
High performance Linear Imaging Engine
Drop Specifications
Withstand multiple 1.5m/5ft. drops to concrete
Print Contrast
15% minimum reflective difference
Environmental Sealing
IP41
Typical 3 mil (Code 39, PCS 0.9)
Operating Temperature
-10˚C to 50˚C (14˚F to 122˚F)
Up to 19 inches on 100% UPC/EAN symbols
Up to 27 inches on 20 mil Code 39
Storage Temperature
-40˚C to 70˚C (-40˚F to 158˚F)
Humidity
5% to 95% related humidity, non-condensing
Minimum Resolution
Working Distance
*1
Light Source
630nm visible red LED
Scan Rate
Dynamic scanning rate up to 500 scans per second
Reading Direction
Bi-directional (forward and backward)
Pitch/Skew/Tilt
± 65˚/65˚/55˚
Operating Modes
Trigger, Presentation
Configuration Setup
Bar code command
Windows utility - FuzzyScan PowerTool
Dimension
97.0 mm (L) x 65.0 mm (W) x 156 mm (D)
3.81 in. (L) x 2.55 in. (W) x 6.14 in. (D)
Data Editing
Condensed DataWizard via bar code command
Full-feature DataWizard via FuzzyScan PowerTool
Weight
198g (battery included)
Color
Light Gray or Black
User Interfaces
Blue link indicator and 2-color status indicator
Programmable beeper
Optional vibrator
Electrical Characteristics
Battery
3.7V, 2200mAH Li-ion rechargeable battery
Battery Charge Time
Scans per full Charge
Ambient Light Immunity 0 ~ 100,000 lux
ESD Protection
Functional after 15kV discharge
Physical Characteristics
Safety & Regulatory
EMC & Radio:
CE,FCC,BSMI,C-Tick,KC,NCC,VCCI,MIC
Safety *3
LED Eye Safety IEC62471, Exempt Group
Environmental
Compliant with RoHS directive
Approx. 4-5 hours per full charge
*2
Voltage & Current
(Scanner and Cradle)
More than 45,000 scans and transmissions
Voltage
5 ± 10% VDC
Current (Charging/ Non Charging)
Max.680 mA / 85mA with external power
Accessories
Smart Cradle
RF Standard
: Bluetooth v2.1 EDR
Battery charging : Fast charge
User Interfaces : 1 blue link indicator
2-color status indicator
Beeper, Paging/Reset button
Host Interface : PS/2 (DOS V) Keyboard Wedge,
TTL RS232 Serial, USB HID, USB COM
Charging Cradle
Battery charging : Fast charge
User Interface : 1 blue power indicator
Interface Cables
PS/2 (DOS V) Keyboard Wedge Cable
RS232 Serial Cable
USB Cable
Others
5VDC Power Supply Unit
Hand-Free SmartStand
Universal Holder
Communication Characteristics
RF Standard
Bluetooth v2.1 EDR
RF Frequency
Band 2.402~2.4830 GHz unlicensed ISM band
Radio Link Modes
PAIR mode, PICO mode, SPP mode, HID mode
Communication Range
More than 100 meters in open space when working
with smart cradle, line of sight
Supported Profiles
SPP, HID
Supported Symbologies
1D Linear
Code 39, Code 39 Full ASCII, Code 32, Code 39 Trioptic
Code 128, UCC/EAN-128, Codabar, Code 11, Code 93
Standard & Industrial 2 of 5, Interleaved & Matrix 2 of 5
German Postal Code, China Postal Code, IATA
UPC/EAN/JAN, UPC/EAN/JAN with Addendum
Telepen, MSI/Plessey & UK/Plessey
GS1 DataBar (formly RSS) Linear & Linear Stacked
Linear-stacked
PDF417, Micro PDF417, Codablock, Composite
(available for F688BT only)
1. The reading distances are measured under Cino's test environmental condition.
2. The number of scans per full charge is measured under factory preset test condition.
3. Don't stare into the LED beam.
Part number :YMAUG30010040R0. ©Copyright PC Worth Int' l Co., Ltd. - Cino Group, all rights reserved. Due to Cino's continuing product improvement program, specifications and
features herein are subject to change without notice. Cino is a registered trademark of PC Worth Int'l Co., Ltd. Any reproduction, duplication or other use of the contents of this catalog,
in part or in full, without the prior permission of PC Worth Int'l Co., Ltd. is strictly forbidden.