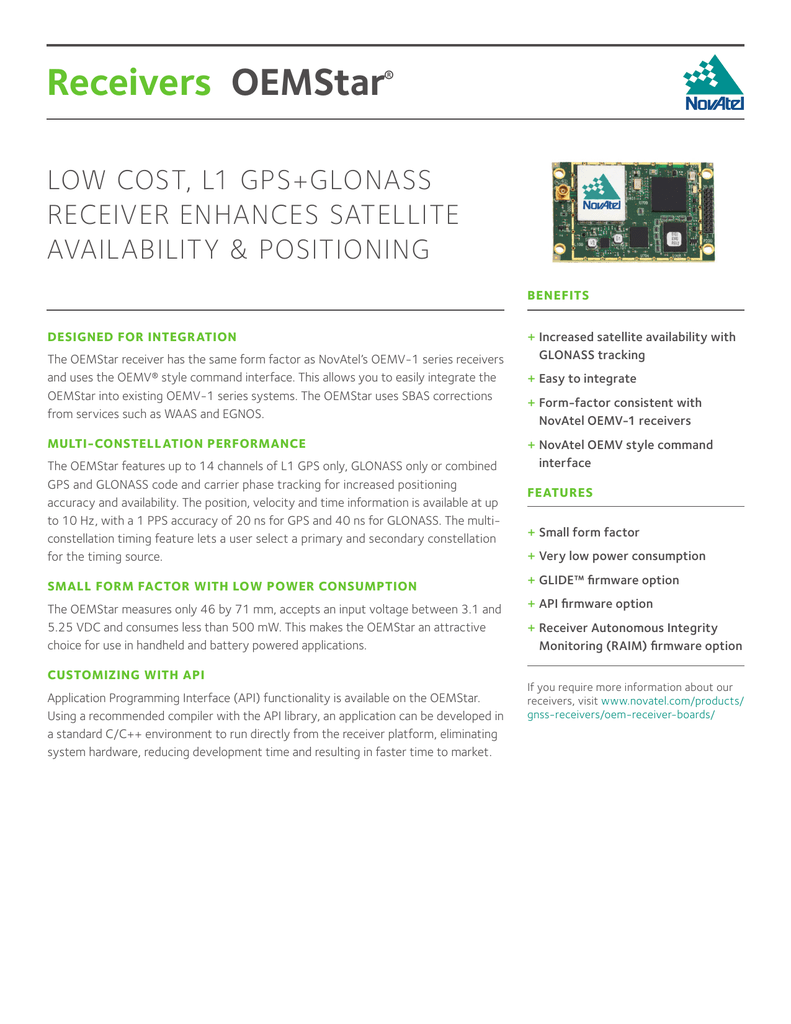 Receivers OEMStar®
LOW COST, L1 GPS+GLONASS
RECEIVER ENHANCES SATELLITE
AVAILABILITY & POSITIONING
BENEFITS
DESIGNED FOR INTEGRATION
The OEMStar receiver has the same form factor as NovAtel's OEMV-1 series receivers
and uses the OEMV® style command interface. This allows you to easily integrate the
OEMStar into existing OEMV-1 series systems. The OEMStar uses SBAS corrections
from services such as WAAS and EGNOS.
MULTI-CONSTELLATION PERFORMANCE
The OEMStar features up to 14 channels of L1 GPS only, GLONASS only or combined
GPS and GLONASS code and carrier phase tracking for increased positioning
accuracy and availability. The position, velocity and time information is available at up
to 10 Hz, with a 1 PPS accuracy of 20 ns for GPS and 40 ns for GLONASS. The multiconstellation timing feature lets a user select a primary and secondary constellation
for the timing source.
SMALL FORM FACTOR WITH LOW POWER CONSUMPTION
The OEMStar measures only 46 by 71 mm, accepts an input voltage between 3.1 and
5.25 VDC and consumes less than 500 mW. This makes the OEMStar an attractive
choice for use in handheld and battery powered applications.
CUSTOMIZING WITH API
Application Programming Interface (API) functionality is available on the OEMStar.
Using a recommended compiler with the API library, an application can be developed in
a standard C/C++ environment to run directly from the receiver platform, eliminating
system hardware, reducing development time and resulting in faster time to market.
++ Increased satellite availability with
GLONASS tracking
++ Easy to integrate
++ Form-factor consistent with
NovAtel OEMV-1 receivers
++ NovAtel OEMV style command
interface
FEATURES
++ Small form factor
++ Very low power consumption
++ GLIDE™ firmware option
++ API firmware option
++ Receiver Autonomous Integrity
Monitoring (RAIM) firmware option
If you require more information about our
receivers, visit www.novatel.com/products/
gnss-receivers/oem-receiver-boards/
OEMStar®
PERFORMANCE 1
PHYSICAL AND ELECTRICAL 8
NOVATEL CONNECT™
Channel Configuration
14 GPS L1
12 GPS L1 + 2 SBAS
10 GPS L1 + 4 GLO L1
8 GPS L1 + 6 GLO L1
8 GPS L1 + 4 GLO L1 + 2 SBAS
10 GPS L1 + 2 GLO L1 + 2 SBAS
7 GPS L1 + 7 GLO L1
14 GLO L1
Horizontal Position Accuracy (RMS)
Single point L1
1.5 m
SBAS2
0.7 m
DGPS
0.5 m
Measurement Precision (RMS)
GPS
GLO
L1 C/A code 5 cm
35 cm
L1 carrier phase 0.6 mm 1.5 mm
Maximum Data Rate
Measurements 10 Hz
Position 10 Hz
Time to First Fix
Cold start3
65 s
Hot start4
35 s
Signal Reacquisition
L1 < 1.0 s (typical)
Time Accuracy
GPS2,5
20 ns RMS
GLONASS5,6
40 ns RMS
Velocity Accuracy < 0.05 m/s RMS
Velocity Limit7 < 515 m/s
Dimensions 46 × 71 × 13 mm
Weight 18 g
Power
Input voltage +3.3 to 5.0 VDC ±5%
Power consumption9 0.36 W
Antenna LNA Power Output
Output voltage 5 V nominal
Maximum current 100 mA
Connectors
Main 20-pin dual row male header
Antenna input MCX female
NovAtel Connect is an intuitive configuration
and visualization tool suite allowing
comprehensive control of the OEMStar
product.
• Easy to use wizards guide you through
positioning mode configuration and raw
data collection
• Detailed graphical windows display
comprehensive status information
• Plan view and playback files allow you to
monitor the positioning and configuration
history
• Remotely control and monitor the
OEMStar over the internet
• Windows XP and Windows 7 platforms
COMMUNICATION PORTS
2 LV-TTL
1 USB 2.0
300 to 230,400 bps
For the most recent details of this product:
www.novatel.com/products/gnss-receivers/
oem-receiver-boards/oemstar/
ENVIRONMENTAL
Temperature
Operating Storage Humidity Vibration
Random Sine Shock -40°C to +85°C
-45°C to +90°C
95% non-condensing
MIL-STD 810G
IEC 60068-2-6 (5 g)
MIL-STD 810G
sales@novatel.com
1-800-NOVATEL (U.S. and Canada)
or 403-295-4900
China 0086-21-68882300
Europe 44-1993-848-736
FEATURES
SE Asia and Australia 61-400-883-601
• Auxiliary strobe signals, including
a configurable PPS output for time
synchronization and a mark input
• Outputs to drive external LEDs
• Common, field-upgradeable software
Version 6 Specifications subject to change without notice.
©2015 NovAtel Inc. All rights reserved.
NovAtel, OEMStar and OEMV are registered trademarks of
NovAtel Inc.
GLIDE, FlexPak-G2 and NovAtel Connect are trademarks of NovAtel
Inc.
Printed in Canada.
D13800 November 2015
FIRMWARE OPTIONS
• GLIDE
• API
• RAIM
OPTIONAL ACCESSORIES
• GPS-700 series antennas
• ANT series antennas
• RF cables–5, 10 and 30 m lengths
• Right angle RF connector
• Available in the FlexPak-G2™ enclosure
1. Typical values. Performance specifications subject to GPS system
characteristics, US DOD operational degradation, ionospheric and
tropospheric conditions, satellite geometry, baseline length, multipath
effects and the presence of intentional or unintentional interference
sources.
2. GPS only. Clock aligned to GPS system time.
3. Typical value. No almanac or ephemerides. No approximate position
or time.
4. Typical value. Almanac and recent ephemerides saved and approximate
position and time entered.
novatel.com
5. Time accuracy does not include biases due to RF or antenna delay.
6. GLONASS only. Clock aligned to GLONASS system time.
7. Export licensing restricts operation to a maximum of 515 metres per
second.
8. Physical size, mounting holes and connector location is identical
to OEMV-1/1G receivers. Some of the 20-pin connector signal
assignments have been modified.
9. Typical values for 14 channel GPS only operation. Power consumption
will vary depending upon features selected.

* Your assessment is very important for improving the work of artificial intelligence, which forms the content of this project