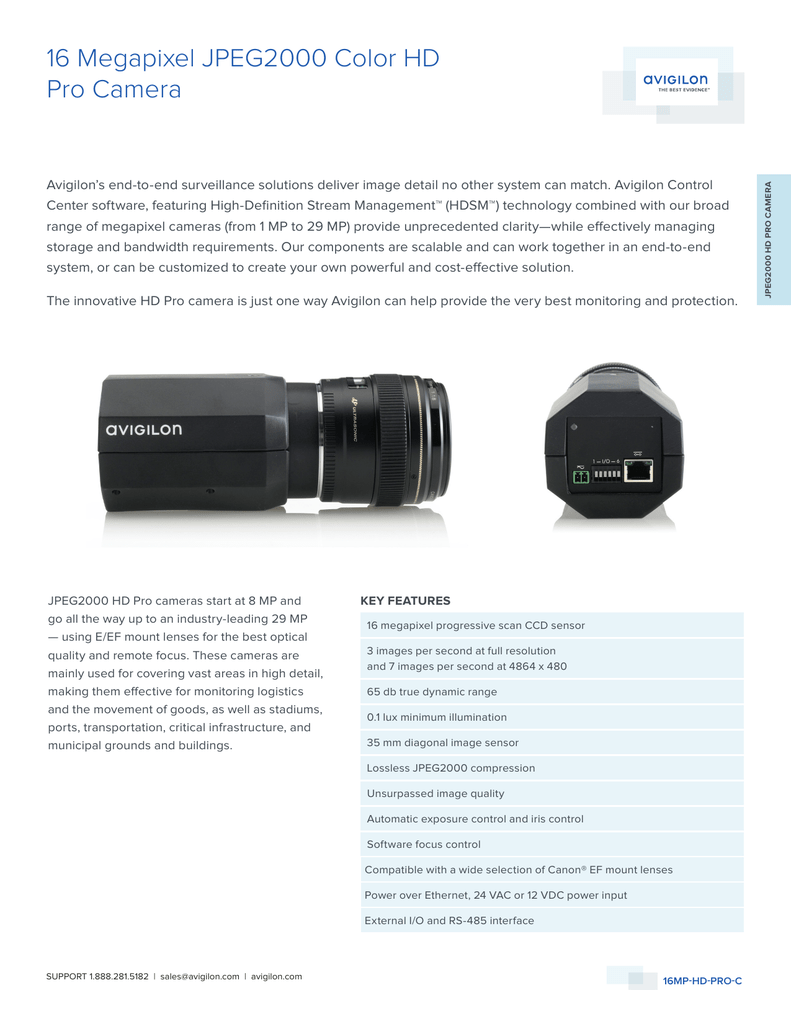 Avigilon's end-to-end surveillance solutions deliver image detail no other system can match. Avigilon Control
Center software, featuring High-Definition Stream Management™ (HDSM™) technology combined with our broad
range of megapixel cameras (from 1 MP to 29 MP) provide unprecedented clarity—while effectively managing
storage and bandwidth requirements. Our components are scalable and can work together in an end-to-end
system, or can be customized to create your own powerful and cost-effective solution.
The innovative HD Pro camera is just one way Avigilon can help provide the very best monitoring and protection.
JPEG2000 HD Pro cameras start at 8 MP and
go all the way up to an industry-leading 29 MP
— using E/EF mount lenses for the best optical
quality and remote focus. These cameras are
mainly used for covering vast areas in high detail,
making them effective for monitoring logistics
and the movement of goods, as well as stadiums,
ports, transportation, critical infrastructure, and
municipal grounds and buildings.
KEY FEATURES
16 megapixel progressive scan CCD sensor
3 images per second at full resolution
and 7 images per second at 4864 x 480
65 db true dynamic range
0.1 lux minimum illumination
35 mm diagonal image sensor
Lossless JPEG2000 compression
Unsurpassed image quality
Automatic exposure control and iris control
Software focus control
Compatible with a wide selection of Canon® EF mount lenses
Power over Ethernet, 24 VAC or 12 VDC power input
External I/O and RS-485 interface
SUPPORT 1.888.281.5182 | sales@avigilon.com | avigilon.com
16MP-HD-PRO-C
JPEG2000 HD PRO CAMERA
16 Megapixel JPEG2000 Color HD
Pro Camera
Specifications
CAMERA
NETWORK
MECHANICAL
ELECTRICAL
ENVIRONMENTAL
CERTIFICATIONS
ORDERING
INFORMATION
Image Sensor
35 mm progressive scan interline transfer CCD
Active Pixels
4864 (H) x 3248 (V)
Imaging Area
36.1 mm (H) x 24.0 mm (V); 1.422" (H) x 0.946" (V)
Minimum Illumination
0.1 lux (at F1.4)
Dynamic Range
65 dB
Lens Mount
EF (SLR-style bayonet)
Image Compression Method
JPEG2000
Image Rate
3 (at full resolution); 7 (at 4864 x 480)
Resolution Windowing
Down to 640 x 480 Window
Motion Detection
Selectable sensitivity and threshold
Electronic Shutter Control
Automatic, Manual (2 to 1/60000 sec)
Iris Control
Automatic, Manual
Focus Control
Automatic, Manual
Flicker Control
50 Hz, 60 Hz
White Balance
Automatic, Manual
Backlight Compensation
Automatic
Privacy Zones
Up to 4 zones
External I/O Terminals
Alarm In, Alarm Out, RS-485
Network
100BASE-TX
Cabling Type
CAT5
Connector
RJ-45
Security
SSL
Protocol
UDP, TCP, SOAP, DHCP, Zeroconf
Dimensions (LxWxH)
120 mm x 79 mm x 74 mm (4.7" x 3.1" x 2.9")
Weight
1.15 kg (2.5 lbs) without lens
Camera Mount
1/4" UNC-20 (top and bottom)
Power Source
VDC: 12-24 V
VAC: 24 V
PoE: IEEE802.3af Class 3 compliant
Power Consumption
9W
Power Connector
2-pin terminal block
Operating Temperature
-10 °C to +50 °C (14 °F to 122 °F)
Storage Temperature
-10 °C to +70 °C (14 °F to 158 °F)
Humidity
20 - 80% Relative humidity (non-condensing
Safety
UL 60950
CSA 60950
EN 60950-1
CE
ROHS
WEEE
Electromagnetic Emissions
FCC Part 15 Subpart B Class A
IC ICES-003 Class A
EN 55022 Class A
EN 61000-6-3
EN 61000-3-2
EN 61000-3-3
Eletromagnetic Immunity
EN 50130-4
EN 61000-4-2
EN 61000-4-3
EN 61000-4-4
EN 61000-4-5
EN 61000-4-6
EN 61000-4-11
16MP-HD-PRO-C
16 Megapixel JPEG2000 Color HD Pro Camera
Outline
Dimensions
MOUNTING POINT
1/4"-20 UNC
(TOP AND BOTTOM)
INCHES
MM
16MP-HD-PRO-C
Specifications subject to change without notice. ©2012 Avigilon Corporation. All rights reserved. Trademarks and registered trademarks are the property of their respective owners.

* Your assessment is very important for improving the work of artificial intelligence, which forms the content of this project