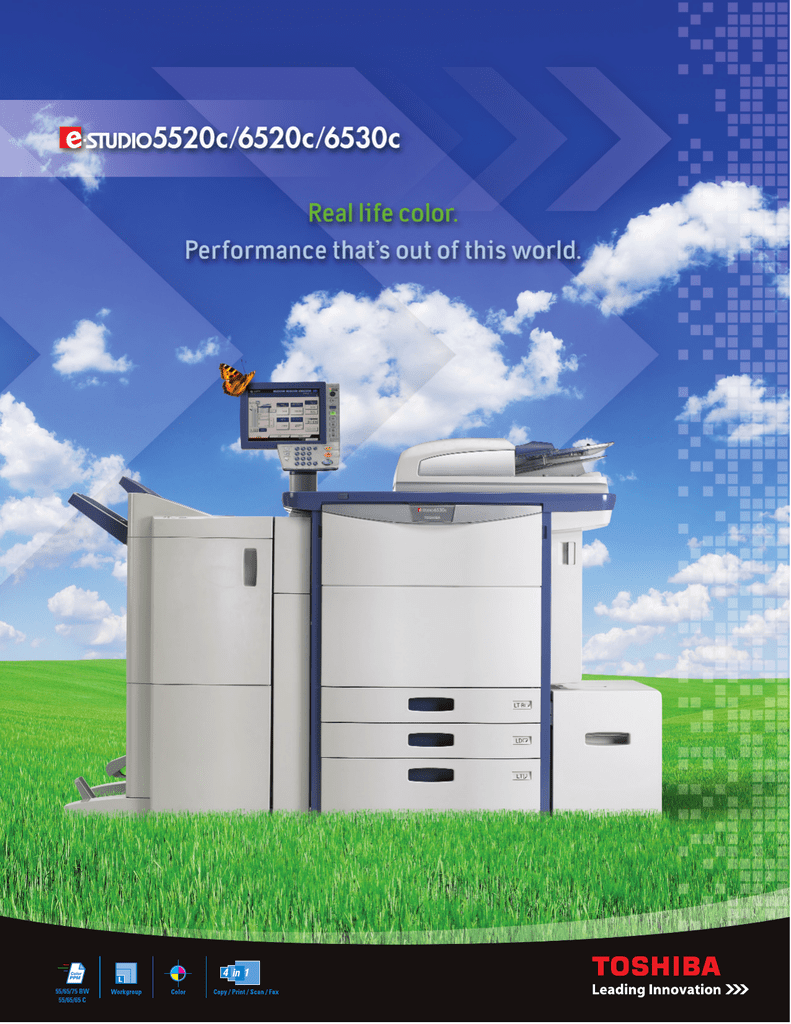 Color
PPM
55/65/75 BW
55/65/65 C
Powerful performance, lightning speed,
and the biggest, boldest color ever.
Brilliant color images are delivered at up to 65
pages per minute, with black and white up to
75 pages per minute. It's high volume output
and high quality, affordable color, all wrapped
up into one. The e-STUDIO5520c/6520c/6530c
Series. Only from Toshiba.
SPECIFICATIONS
Copying Process
Copying Type
Copy/Print Resolution
Copy/Print Speed
Warm-Up Time
First Copy Out Time
Duty Cycle
Multiple Copying
Acceptable Paper Size
and Weight
Memory (Min/Max)
Reduction/Enlargement
Bypass
Control Panel
Paper Supply
Duplex
Dimensions
PM Cycle
CMYK Toner Yield
Power Supply
Power Consumption
PRINT SPECIFICATIONS
PDL Support
Operating Systems
Protocol Support
Drivers
Connectivity
Device Management
Certification
4-Drum Electrostatic Photographic
Transfer System with Internal Transfer Belt
4-Beam Color Laser (8 bit)
600 x 600 dpi (10 bit)/1200 x 1200 dpi
e-STUDIO5520c – 55 PPM Color / 55 PPM B&W
e-STUDIO6520c – 65 PPM Color / 65 PPM B&W
e-STUDIO6530c – 65 PPM Color / 75 PPM B&W
Approx. 180 Seconds
e-STUDIO5520c–6.5 Seconds Color / 5.3 Seconds B&W
e-STUDIO6520c – 6.5 Seconds Color / 5.3 Seconds B&W
e-STUDIO6530c – 6.5 Seconds Color / 4.6 Seconds B&W
225K / 250K / 275K Copies
Up to 9999 Copies
Cassette: ST-R to 12" x 18" (17 lbs. Bond - 140 lbs. Index)
Bypass: ST-R to 13" x 19" (17 lbs. Bond - 110 lbs. Cover)
ST-R to 12" x 47" Banner (17 lbs. Bond - 110 lbs. Cover)
LCF: LT (17 lbs. Bond - 140 lbs. Index)
Page + Main Memory: 2 GB, PowerPC 1.2 GHz Processor
HD: 80+ GB
25% to 400%
100-Sheet Bypass (17 lbs. Bond - 110 lbs. Cover)
10.4 Color Super VGA Tiltable LCD Touch Panel
Up to 6,000-Sheet Input Capacity (Tandem Version + LCF)
4 Drawer Version: 4 x 540-Sheet Cassettes (2,160 Sheets)
Tandem Version: 2 x 540-Sheet Casettes + 2,320-Sheet LCF
100-Sheet Bypass
Optional 1 x 2,500-Sheet LCF
Standard Trayless Automatic Duplex Unit
(17 lbs. Bond - 140 lbs. Index)
Approx. 38.582" x 27.480" x 60.629" (W x D x H)
Weight Approx. 573 lbs.
225K / 250K / 275K
CMY: 26.5K, K: 73K
120 V, 20 Amps
Maximum 2.0 kW
PCL6 & PostScript 3
Netware 6.x, Windows 2000/XP,
Windows Server 2003, Vista, Citrix MetaFrame,
Macintosh, Linux, UNIX
IPX/SPX, TCP/IP, V4/V6 Dual Stack, Ethertalk, AppleTalk PAP,
NetBIOS Over TCP/IP, LPR/LPD, IPP, SMB, SNMP,
Netware, Port 9100, Bluetooth (HCRP)
Windows 2000, Server 2003, Vista, XP
Macintosh OS 10.1/10.2/10.3, 10.4, 10.5 (OS 10.4 PPD)
UNIX, AS400 via iData & Port 9100, SAP R/3
10/100/1000BaseTX Ethernet, 802.11b/g
Wireless LAN, USB, Bluetooth (HCRP)
TopAccess
WHQL, Novell
Corporate Office: 2 Musick, Irvine, CA 92618-1631/ Tel: 949/462-6000
East Coast: 959 Route 46 East, 5th Floor, Parsippany, NJ 07054 / Tel: 973/316-2700 Fax: 973/263-2393
Midwest: 8770 W. Bryn Mawr Ave., Suite 700, Chicago IL 60631 / Tel: 773/380-6000 Fax: 773/380-8077
South: 4855 Peachtree Industrial Blvd., Suite 210, Norcross, GA 30092 / Tel: 770/209-8540 Fax: 770/209-8556
West Coast: 142 Technology, Suite 150, Irvine, CA 92618 / Tel: 949/462-6262 Fax: 949/462-2700
Web Site: www.copiers.toshiba.com
©2008 Toshiba America Business Solutions, Inc., Electronic Imaging Division
Inv. Code ES5520c6520c6530c2
10.4" super VGA
control panel
USB direct
print from & scan to
Auto paper size detection
from every drawer
SCAN SPECIFICATIONS
Scan Resolution
Up to 600 dpi
Scan Speed
Up to 77 SPM Color / 77 SPM B&W
File Format
TIFF, PDF, JPEG, XPS
Authentication
LDAP, SMTP, Windows Domain
FACSIMILE SPECIFICATIONS
Compatibility
Super G3
Data Compression
MH / MR / MMR /JBIG
Transmission Speed
Approx. 3 Seconds Per Page
Fax Modem Speed
33.6 Kbps
Fax Memory
500 MB Transmission, 200 MB Reception (HDD)
Memory Transmission
100 Jobs, 1,000 Destinations Max.
400 Destinations /Job
Scan Speed
.7 Seconds Per Page, Maximum 50 SPM
E-FILING SPCIFICATIONS
Operation Method
Color Touch Screen Control Panel or Client PC
Number of Boxes
1 Public Box, 200 Private User Boxes
Capacity of Boxes
100 Folders Per Box, 400 Documents Per Folder
200 Pages Per Document
OPTIONS
MP2501 Large Capacity
2,500-Sheet Drawer, Letter
Feeder (LCF)
MJ1103 Multi-Position
Stationary Tray 250-Sheets
Finisher
Finishing Tray 3,000-Sheets
Staple Capacity: 50 Sheets
MJ1104 Saddle-Stitch
Stationary Tray 250-Sheets
Finisher
Finishing Tray 3,000-Sheets
Staple Capacity: 50 Sheets
Saddle Tray Stitcher Up to 50 Sets
MJ6102 Hole Punch Unit
(for MJ1103/MJ1104) 2- or 3-Hole Punch Capability
GA1310 EFI Controller
(not available at launch)
GD1270 Fax Board
GD1260 2nd Line Fax
GN1050 Wireless LAN Adapter
GN2010 Bluetooth Adapter
GN3010 Wireless Antenna
GP1070 Data Overwrite Kit
GP1080 IP SEC Enabler
GS1010 Meta Scan Enabler for e-CONNECT
GS1020 External Interface Enabler for Open Platform
KP2004 HID SmartCard Authentication
KP2005 MiFare SmartCard Authentication
Designs and specifications subject to change without notice. For best results and reliable performance, always use supplies
manufactured or designated by Toshiba. Not all options and accessories may be available at the time of product launch. Please
contact a local Authorized Toshiba Dealership for availability. Toner yields are estimates, based on 6% coverage, letter-size
page. Driver and connectivity feature support varies by client/network operating system.