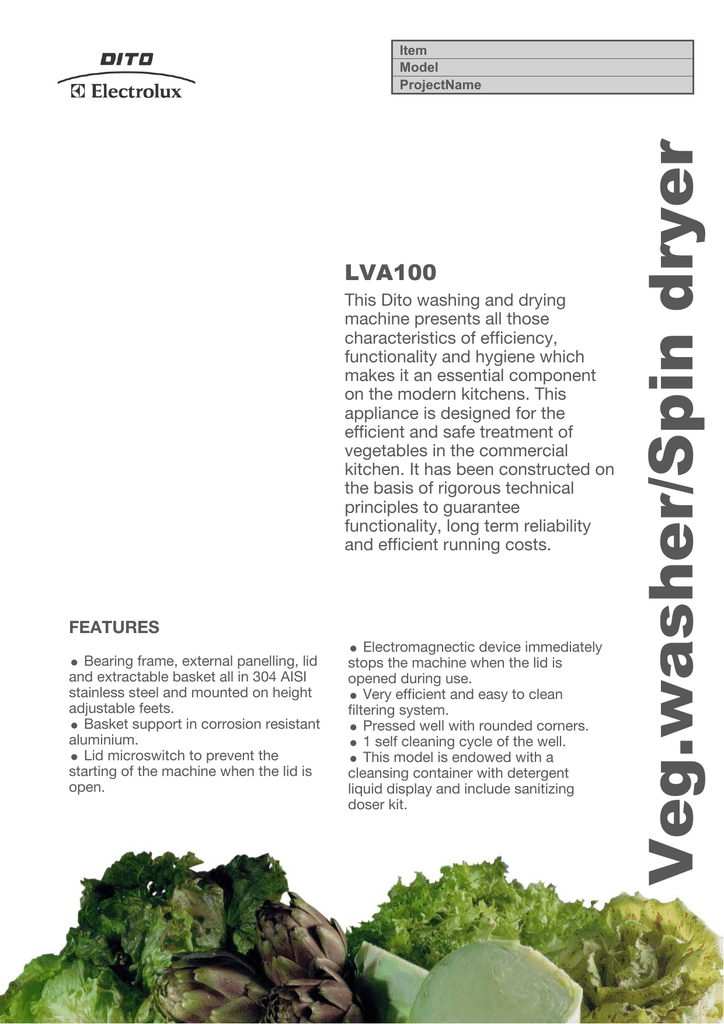 LVA100
This Dito washing and drying
machine presents all those
characteristics of efficiency,
functionality and hygiene which
makes it an essential component
on the modern kitchens. This
appliance is designed for the
efficient and safe treatment of
vegetables in the commercial
kitchen. It has been constructed on
the basis of rigorous technical
principles to guarantee
functionality, long term reliability
and efficient running costs.
FEATURES
Electromagnectic device immediately
stops the machine when the lid is
opened during use.
V Very efficient and easy to clean
filtering system.
V Pressed well with rounded corners.
V 1 self cleaning cycle of the well.
V This model is endowed with a
cleansing container with detergent
liquid display and include sanitizing
doser kit.
V
Bearing frame, external panelling, lid
and extractable basket all in 304 AISI
stainless steel and mounted on height
adjustable feets.
V Basket support in corrosion resistant
aluminium.
V Lid microswitch to prevent the
starting of the machine when the lid is
open.
V
Veg.washer/Spin dryer
Item
Model
ProjectName
Drainage solenoid valve for rapid
opening and closing to guarantee easy and
efficient well drainage.
V Water inlet solenoid valve for rapid fill of
the well.
V Manual and 3 automatic washing cycles
available.
V Cycle time can be set by the operator in
the model 660071.
V
Possibility to regulate the washing water
power according to the type of product to
be treated and reducing damaging in
delicate vegetable during washing / drying
operations.
V IPX5 water protection.
V
Specifications
MODEL
Well capacity - lt.
External dimensions - mm
width
depth
height
Loading capacity - kg.
light vegetables
heavy vegetables
Rotation speed - rpm
Power - kW
installed-electric
Net weight - kg.
Supply voltage
Programmable cycle times
LVA100B
660072
30
LVA100D
660071
30
700
700
1000
700
700
1000
2-3
6
270
2-3
6
300
0.9
82
230 V, 1N, 50
0.9
82
230 V, 1N, 50
✓
LVA100B
660072
1
LVA100D
660071
1
LVA100B
660072
✓
LVA100D
660071
✓
Included accessories
CODE
921014
DESCRIPTION
BASKET W/SMALL HOLES F.VEGETABLE
WASHER
Optional accessories
CODE
921014
DESCRIPTION
BASKET W/SMALL HOLES F.VEGETABLE
WASHER
Installation drawings
XXX
660072, 660071
MODEL
CWI - Cold water inlet
D - Water drain
EI - Electrical connection
LVA100B
660072
3/4"
40mm
230 V, 1N, 50
LVA100D
660071
3/4"
40mm
230 V, 1N, 50
AGCA010
www.dito-electrolux.com
Veg.washer/Spin dryer
The manufacturer reserves the right to modify and make improvements to the products without
giving prior warning. Dimensions, illustrations, technical data, weights, etc. are given as an
indication only.

* Your assessment is very important for improving the work of artificial intelligence, which forms the content of this project