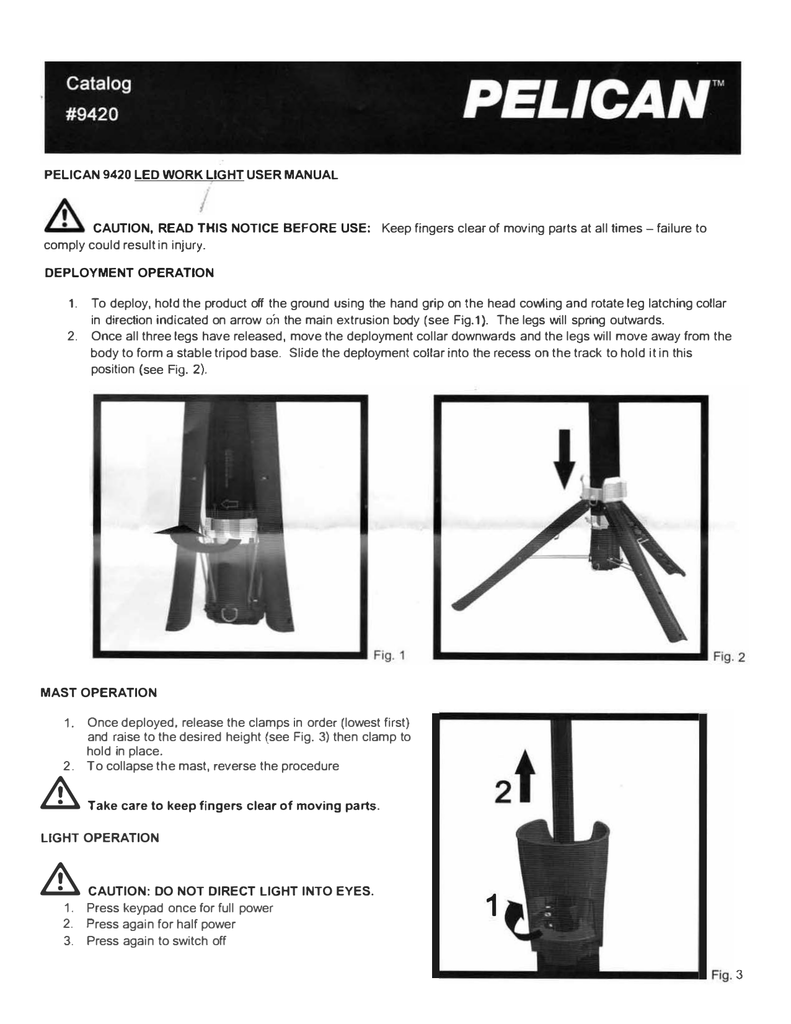 PELICAN 9420 LED WORK LIGHT USER MANUAL
CAUTION, READ THIS NOTICE BEFORE USE:
Keep fingers clear of moving parts at all times - failure to
comply could result in injury.
DEPLOYMENT OPERATION
1.
To deploy, hold the product off the ground using the hand grip on the head cowling and rotate leg latching collar
in direction indicated on arrow on the main extrusion body (see Fig.1). The legs will spring outwards.
2.
Once all three legs have released, move the deployment collar downwards and the legs will move away from the
body to form a stable tripod base. Slide the deployment collar into the recess on the track to hold it in this
position (see Fig. 2).
MAST OPERATION
1.
2.
&
Once deployed, release the clamps in order (lowest first)
and raise to the desired height (see Fig. 3) then clamp to
hold in place.
To collapse the mast, reverse the procedure
Take care to keep fingers clear of moving parts.
LIGHT OPERATION
&
CAUTION: DO NOT DIRECT LIGHT INTO EYES.
Press keypad once for full power
1.
2.
Press again for half power
3.
Press again to switch off
1
3
STORAGE OPERATION
1.
2.
To close, ensure light head is facing upwards and fully collapse the mast.
Pull the deployment collar upwards sharply (to dislocate it- see Fig. 4)and continue sliding the collar up until it
runs out of travel. The legs can then all be pushed inwards and will automatically latch in place.
PRODUCT SPECIFICATION:
Lamp type: 2 X Cree XML LEDs producing 1200 lumens at source
Battery type: 7.2V
Li
Ion removable, rechargeable battery
Burn time: 2 hours minimum
Charging time: less than 2 hours
BATTERY STATUS INDICATION
The on/ off switch includes an illuminated battery status indicator.
Green
=
50 - 100% capacity
Orange=
10 - 50% capacity
Red
0 - 10% capacity
=
CHARGING:
&
Light fully deployed - approx. 5ft or 1500mm
CAUTION: USE APPROVED CHARGER ONLY AND ALWAYS REMOVE BATTERY FROM CHARGER ONCE
IT IS FULLY CHARGED.
1.
Remove the battery from base of product by pressing the two yellow latches simultaneously and pulling it from
the housing.
2.
Plug the power supply into the mains socket (or 12V vehicle charger plug into cigarette lighter socket) and the
small plug into the jack into the side of the charger. Switch on AC mains/ vehicle power. Insert battery into the
charger (using the yellow tabs on the top of the battery pack to line up with the yellow charger latches to ensure
correct orientation, see Fig. 5.) secure it in place using the latches and observe the LED status. Do not force the
battery pack into place, it should locate easily. If there is resistance, there may be an obstruction!
Observe the following led indications:
Solid Red
=
Standby with power plugged in
Red Flashing
=
Rapid Charge
Solid Green
=
Charging Complete
Red/ Green Flashing
=
Fault
PRODUCT CARE:
To ensure maximum product life please observe the following points:
1.
Keep moving parts free of foreign objects.
2
Do not stand on product.
3
Avod use on extreme gradients.
4
Do not use If damaged
-
return to
point
of purchase.
LITHIUM ION REMOVABLE BATTERY PACK
&
Lithium Ion batteries can explode, leak or cause burns if not handled properly.
Please observe the following as a guide:
Only use Pelican aped battenes on the product.
Do not open battenes.
Do not dispose of in fire.
Do not heat above 140°F/60C.
Do not expose batteries to water or excessive humidity.
Insert batteries cory with regard to polarity(+ and-) marked on the battery and equipment
Always dispose of all batteries properly at an approved battery recycling centre.
RoHS Compliance: The Pelican 9420 product meets the RoHS guidelines for electronic components, and hardware.
This complies with the requirements of the EU directive for banned substances.

* Your assessment is very important for improving the work of artificial intelligence, which forms the content of this project