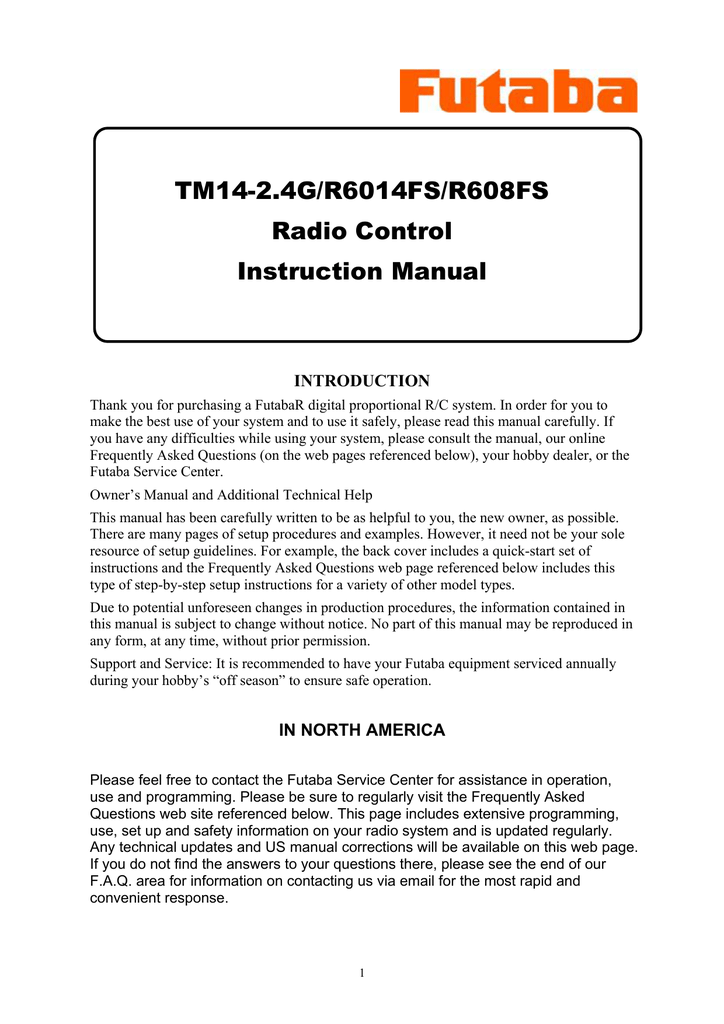 TM14-2.4G/R6014FS/R608FS
Radio Control
Instruction Manual
INTRODUCTION
Thank you for purchasing a FutabaR digital proportional R/C system. In order for you to
make the best use of your system and to use it safely, please read this manual carefully. If
you have any difficulties while using your system, please consult the manual, our online
Frequently Asked Questions (on the web pages referenced below), your hobby dealer, or the
Futaba Service Center.
Owner's Manual and Additional Technical Help
This manual has been carefully written to be as helpful to you, the new owner, as possible.
There are many pages of setup procedures and examples. However, it need not be your sole
resource of setup guidelines. For example, the back cover includes a quick-start set of
instructions and the Frequently Asked Questions web page referenced below includes this
type of step-by-step setup instructions for a variety of other model types.
Due to potential unforeseen changes in production procedures, the information contained in
this manual is subject to change without notice. No part of this manual may be reproduced in
any form, at any time, without prior permission.
Support and Service: It is recommended to have your Futaba equipment serviced annually
during your hobby's "off season" to ensure safe operation.
IN NORTH AMERICA
Please feel free to contact the Futaba Service Center for assistance in operation,
use and programming. Please be sure to regularly visit the Frequently Asked
Questions web site referenced below. This page includes extensive programming,
use, set up and safety information on your radio system and is updated regularly.
Any technical updates and US manual corrections will be available on this web page.
If you do not find the answers to your questions there, please see the end of our
F.A.Q. area for information on contacting us via email for the most rapid and
convenient response.
1
Futaba Service Center
3002 N. Apollo Drive Suite 1
Champaign, IL 61822
TEL(217)398-8970, FAX(217)398-7721
HOW TO ACCESS to FAQ:
http://www.futaba-rc.com/
OUTSIDE NORTH AMERICA
Please contact your Futaba importer in your region of the world to assist you with
any questions, problems or service needs.
Please recognize that all information in this manual, and all support availability, is
based upon the systems sold in North America only. Products purchased elsewhere
may vary. Always contact your region's support center for assistance.
The product is subject to regulations of the FCC and is restricted
under United States law to such purposes.
(See end of this manual for detail)
2
Physical Description
TM14-2.4G (Transmitter)
PIN ASSIGNMENT
Back side of the TM14
Ant.
10-pin connector for I/F to transmitter
Fig.1 TM14 communication port location
1. Plug the TM14-2.4G into your T12FG transmitter.
2. Turn the T12FG on and please check the LED on the TM14 become solid green
when it s normally operated.
3. Never point the anntena to the model when flying.
3
R6014FS/R608FS(Receiver)
Power requirement: 4.8V or 6.0V
Fail Safe function and Battery Fail Safe function.
Preparatin for operaion:
Set frequency SW 1sec PUSH for ID-match with the TM14 to be linked.
The LED on the receiver turns to solid green, then the R6014FS/R608FS is OK for use
with the TM14-2.4G. Once the link procedure is done not need to re-link.
Frequency Allocation
The TM14-2.4G/R6014FS/R608FS can operate on 36 available frequencies between
2405.376 MHz and 2479.104 MHz with 2.048 MHz separation between each frequency.
See the table below for the exact frequency assignments.
Channel
№
02
04
06
08
10
12
14
16
18
20
22
24
26
28
30
32
34
36
Table 1 :Frequency Channel
Frequency
Channel
Frequency
(MHz) №
(MHz)
2405.376
38
2442.240
2407.424
40
2444.288
2409.472
42
2446.336
2411.520
44
2448.384
2413.568
46
2450.432
2415.616
48
2452.480
2417.664
50
2454.528
2419.712
52
2456.576
2421.760
54
2458.624
2423.808
56
2460.672
2425.856
58
2462.720
2427.904
60
2464.768
2429.952
62
2466.816
2432.000
64
2468.864
2434.048
66
2470.912
2436.096
68
2472.960
2438.144
70
2475.008
2440.192
72
2477.056
74
2479.104
4
Specification
TM14-2.4G SPECIFICATIONS
1 Radio Characteristics
RF power output
100mW EIRP
Modulation
Direct-Sequence Spread-Spectrum
Frequency band
2405.376MHz - 2479.104MHz
Channel
36
Antenna
1/2λ Pencil type antenna 1.6dBi
2 Radio communication control
Error checking
CRC-CCITT
3 Terminal interface
Physical interface
10 pins
4 Power Supplying
Supply voltage
7.4V/3.3V DC
Current consumption
150 mA(Approx.)
5 Environmental
Operating temperature
-10 to +60 ℃
Storage temperature
-20 to +70 ℃
6 Miscellaneous
Indicator
2 color LED
R6014FS/R608FS SPECIFICATIONS
1 Radio Characteristics
Frequency band
2405.376MHz - 2479.104MHz
2 Radio communication control
Error checking
CRC-CCITT
3 Power Requirement
Supply voltage
4.8 or 6.0V DC
Current consumption
80 mA
5 Environmental
Operating temperature
-10 to +60 ℃
Storage temperature
-20 to +70 ℃
6 Miscellaneous
Indicator
2 color LED
Case
Plastic
5
INSTRUCTIONS MANUAL
FEDERAL COMMUNICATIONS COMMISSION
INTERFERENCE STATEMENT
This equipment has been tested and found to comply with the limits for a Class B digital
device, pursuant to Part 15 of the FCC Rules. These limits are designed to provide
reasonable protection against harmful interference in a residential installation. This
equipment generates, uses, and can radiate radio frequency energy and, if not installed
and used according to the instructions, may cause harmful interference to radio
communications. However, there is no guarantee that interference will not occur in a
particular installation. If this equipment does cause harmful interference to radio or
television reception, which it found by turning the equipment off and on, the user is
encouraged to try to correct the interference by one or more of the following measures:
-- Reorient or relocate the receiving antenna.
-- Increase the separation between the equipment and receiver.
-- Connect the equipment into an outlet other than the receiver's
-- Consult the dealer or an experienced radio/TV technician for assistance.
CAUTION:
To assure continued FCC compliance:
(1) Any changes or modifications not expressly approved by the grantee of this device
could void the user's authority to operate the equipment.
FCC Label Compliance Statement:
This device complies with Part 15 of the FCC Rules. Operation is subject to the
following two conditions: (1) this device may not cause harmful interference, and (2)
this device must accept any interference received, including interference that may
cause undesired operation.
Exposure to Radio Frequency Radiation
To comply with FCC RF exposure compliance requirements, a separation distance of at
least 20cm must be maintained between the antenna of this device and all persons. This
device must not be co-located or operating in conjunction with any other antenna or
transmitter.

* Your assessment is very important for improving the work of artificial intelligence, which forms the content of this project