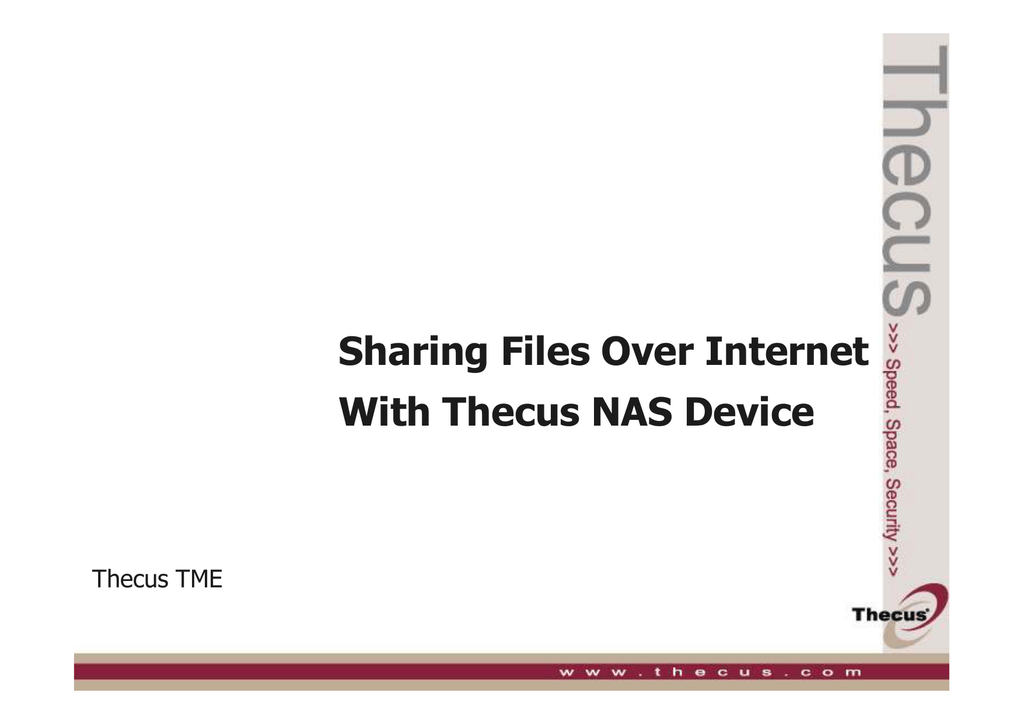 Sharing Files Over Internet
With Thecus NAS Device
Thecus TME
Thecus NAS Provides The Best Solution To Setup
FTP Server
The advantages are:
Setup is easy: Just click to enable the FTP server function on the
administration interface.
User access management is simple: Data is safely protected by allowing
only authorized users with password. Management is simple through
management utility provided.
Functions with stability and high security: Thecus NAS device is tested to
be an stable device and allows high security protection.
Low power consumption equipment: Thecus NAS device is designed to be
low power consumption.
Thecus NAS device can be setup as an FTP server to allow
friends or clients (remote users) to access to the storage via
FTP software. User can store files in NAS device, and other
remote users (with authorized user ID and password) are able
to have access to the network and retrieve files from NAS.
Equipment
Thecus N3200 (with Firmware 1.00.01)
PC
FTP Commander V 8.0 (a free FTP utility)
Cable/DSL Broadband Router – EDIMAX BR-6204Wg
(or any router that supports Dynamic DNS)
www.dyndns.org
DSL/Cable
Modem
Thecus NAS
Internet
Internet
Other PC
WAN 192.168.5.8
Edimax
BR-6204Wg
Router
WAN 192.168.5.1
Home PC
WAN 192.168.5.107
Procedures
Procedure III
Procedure II
Procedure I
• Download or upload files from
Thecus NAS device (FTP)
• Setting up FTP Configuration on
N3200
• Complete DDNS setup on BR-6204Wg router
Steps
1.SETUP DDNS ON BR-6204Wg
Without fixed IP, users will not be able to locate the
FTP server. (eg. It is impossible to locate a house
without an address.) To solve this issue, user will
need to create a hostname (address) points to the
server's IP on Internet. By doing so, the server will
have a fixed hostname (fixed address) so other users
can locate.
I. Apply for a DynDNS account
(1) Go to http://www.dyndns.org from home PC
(2) Follow instruction to apply an account
abcd
abcd
DynDNS account user
name & password
(3)Wait for email from DynDNS to confirm account setup
(4)Create a host.
Check Yes for Wildcard.
Check Host with IP address for Service Type.
Domain Name
118.166.141.201
Select this IP
For this example, DynDNS's account information is:
-
user name
: Example
-
password
: abcd
-
added host : 1234.dnsdojo.net (domain name)
II. Setup Virtual Server on BR-6204Wg router
Network is best to be firewall protected to prevent data in user
PC or network being accessed without proper authorization. To
allow transferring file in and out of the system, it requires
establishing Virtual Server.
(1) Go to BR-6204Wg setup screen on Home PC and on the lefthand side menu, select Port Forwarding > Virtual Server
Virtual Server Setup Page
(2) Complete the virtual server setup page, then press Add
ADD
Port: 21
(3) Virtual Server setup is completed.
Note: Routers from different manufacturers have different procedures to setup.
Follow instructions on the manual to complete router setup
III. Setup DDNS Function On BR-6204Wg Router
(1) Go to BR-6204Wg setup screen on Home PC and on the lefthand side menu, select WAN > DDNS
DDNS Setup Page
(2)Complete DDNS setup page
a. Enable DDNS
b. Register: DynDNS
c. Domain Name: 1234.dnsdojo.net
d. User Name: Example
e. Password: abcd
(3) Press Save to complete DDNS setup
2.SETTING UP FTP
CONFIGURATION ON N3200
(1) On the menu bar, go to Network and select FTP on the submenu.
(2) Select Enable to activate FTP Service and enter 21 for Port
(common FTP port is 20/21) on the NAS
(3) Select the same encoding as user's OS for FTP ENCODE in
order to properly view the files and directories on the server.
(4) Select Anonymous FTP Access mode (download,
upload/download or no anonymous access)
- Upload/Download: Allow anonymous FTP users to upload or
download files to/from public folders.
- Download: Allow anonymous FTP users to download files from
public folders.
- No access: Block anonymous FTP user access.
(5) Select Auto Rename in case a file is uploaded while a file with
identical file name already exists in the folder. It will rename
automatically to avoid overwrite or asking users to rename
manually.
(6) Select upload and download bandwidth.
(7) After completing the configuration, click Apply.
3. TO DOWNLOAD/UPLOAD
FILES FROM THECUS NAS
DEVICE (FTP)
(1) Start FTP Commander V8.0 on the remote PC (FTP utility)
(2) On the top menu bar, enter
- Name
: NAS (or the name used for the NAS device)
- FTP Server : 1234.dnsdojo.net (domain name applied from
Dyndns.org)
- FTP Port : 21
- User ID
: (user created on the NAS device)
- Password : (user's password)
(3) After connected to the network, Select files user would like to
retrieve and save to user's PC.
Conclusion
Thecus NAS device is an energy-saving device and
provides easy, stable, and secure utility to setup FTP
server at home or office. It is the most suitable
solution for users to exchange files without restriction.
With Thecus NAS device, a user is able to store files in
NAS and allows other remote users to have access to
the files over internet. Even away from the NAS or
network, users are still able to store, browse through
the NAS, and retrieve documents and files they need.
Simple and convenient for file exchange.

* Your assessment is very important for improving the work of artificial intelligence, which forms the content of this project