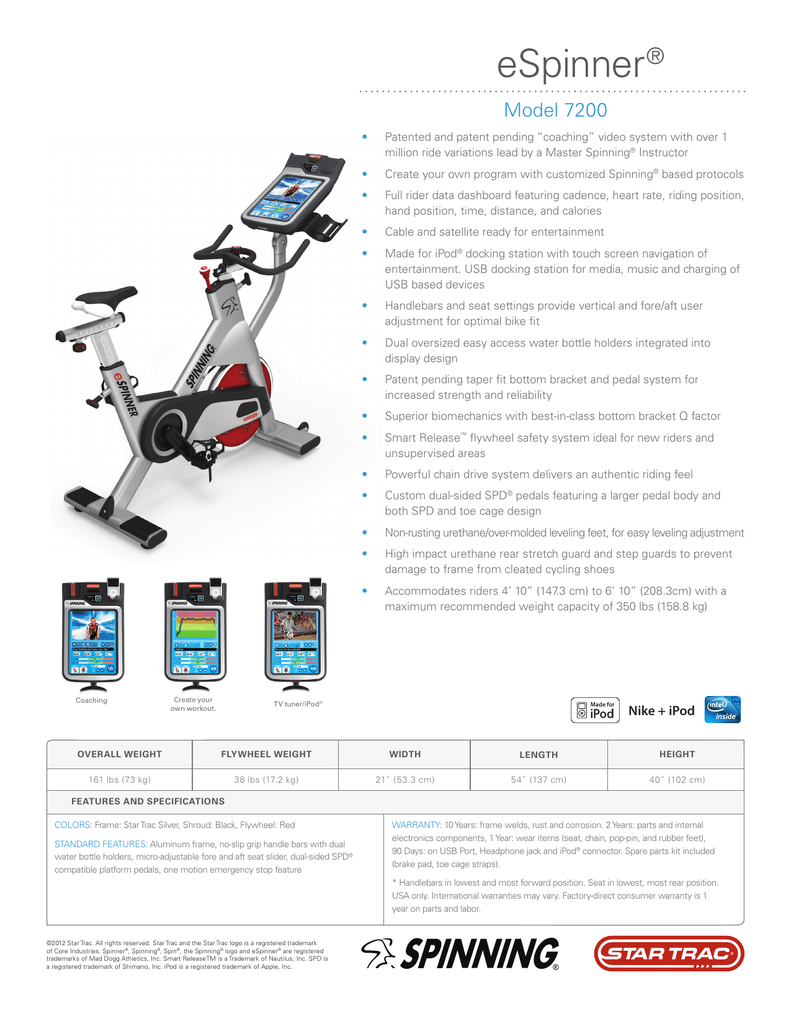 eSpinner®
Model 7200
Coaching
Create your
own workout.
•
Patented and patent pending "coaching" video system with over 1
million ride variations lead by a Master Spinning® Instructor
•
Create your own program with customized Spinning® based protocols
•
Full rider data dashboard featuring cadence, heart rate, riding position,
hand position, time, distance, and calories
•
Cable and satellite ready for entertainment
•
Made for iPod® docking station with touch screen navigation of
entertainment. USB docking station for media, music and charging of
USB based devices
•
Handlebars and seat settings provide vertical and fore/aft user
adjustment for optimal bike fit
•
Dual oversized easy access water bottle holders integrated into
display design
•
Patent pending taper fit bottom bracket and pedal system for
increased strength and reliability
•
Superior biomechanics with best-in-class bottom bracket Q factor
•
Smart Release™ flywheel safety system ideal for new riders and
unsupervised areas
•
Powerful chain drive system delivers an authentic riding feel
•
Custom dual-sided SPD® pedals featuring a larger pedal body and
both SPD and toe cage design
•
Non-rusting urethane/over-molded leveling feet, for easy leveling adjustment
•
High impact urethane rear stretch guard and step guards to prevent
damage to frame from cleated cycling shoes
•
Accommodates riders 4' 10" (147.3 cm) to 6' 10" (208.3cm) with a
maximum recommended weight capacity of 350 lbs (158.8 kg)
TV tuner/iPod®
Nike + iPod
OVERALL WEIGHT
FLYWHEEL WEIGHT
WIDTH
LENGTH
HEIGHT
161 lbs (73 kg)
38 lbs (17.2 kg)
21˝ (53.3 cm)
54˝ (137 cm)
40˝ (102 cm)
FEATURES AND SPECIFICATIONS
COLORS: Frame: Star Trac Silver, Shroud: Black, Flywheel: Red
Standard features: Aluminum frame, no-slip grip handle bars with dual
water bottle holders, micro-adjustable fore and aft seat slider, dual-sided SPD®
compatible platform pedals, one motion emergency stop feature
WARRANTY: 10 Years: frame welds, rust and corrosion. 2 Years: parts and internal
electronics components, 1 Year: wear items (seat, chain, pop-pin, and rubber feet),
90 Days: on USB Port, Headphone jack and iPod® connector. Spare parts kit included
(brake pad, toe cage straps).
* Handlebars in lowest and most forward position. Seat in lowest, most rear position.
USA only. International warranties may vary. Factory-direct consumer warranty is 1
year on parts and labor.
©2012 Star Trac. All rights reserved. Star Trac and the Star Trac logo is a registered trademark
of Core Industries. Spinner®, Spinning®, Spin®, the Spinning® logo and eSpinner® are registered
trademarks of Mad Dogg Athletics, Inc. Smart ReleaseTM is a Trademark of Nautilus, Inc. SPD is
a registered trademark of Shimano, Inc. iPod is a registered trademark of Apple, Inc.

* Your assessment is very important for improving the work of artificial intelligence, which forms the content of this project