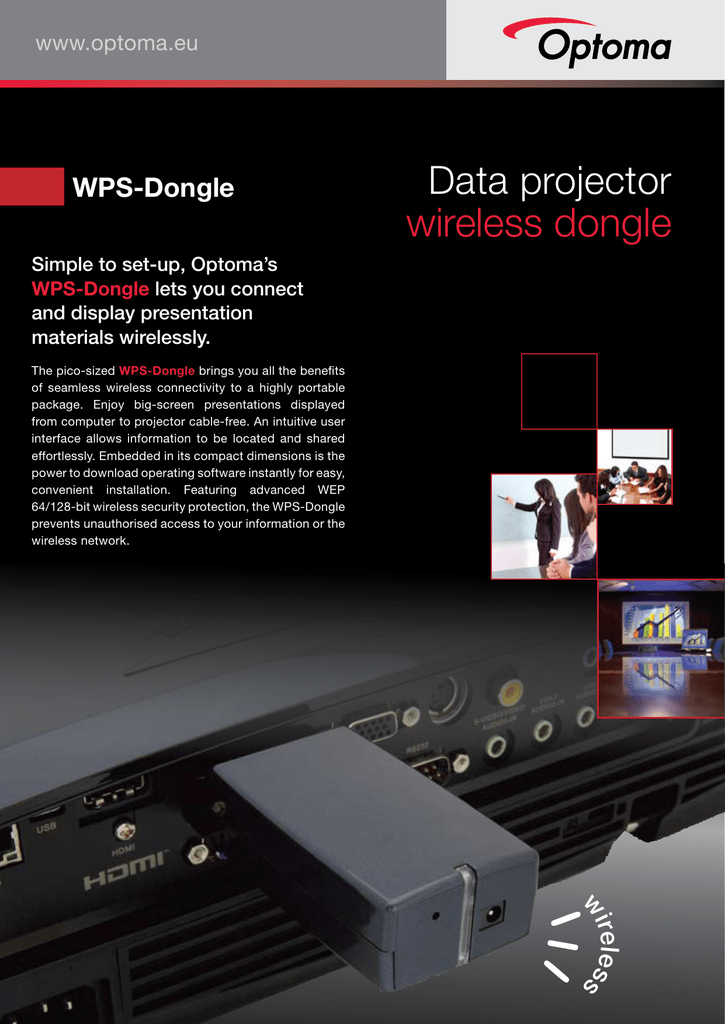 www.optoma.eu
WPS-Dongle
Data projector
wireless dongle
Simple to set-up, Optoma's
WPS-Dongle lets you connect
and display presentation
materials wirelessly.
The pico-sized WPS-Dongle brings you all the benefits
of seamless wireless connectivity to a highly portable
package. Enjoy big-screen presentations displayed
from computer to projector cable-free. An intuitive user
interface allows information to be located and shared
effortlessly. Embedded in its compact dimensions is the
power to download operating software instantly for easy,
convenient installation. Featuring advanced WEP
64/128-bit wireless security protection, the WPS-Dongle
prevents unauthorised access to your information or the
wireless network.
reless
wi
WPS-Dongle
Product Highlights
Specifications
Network WLAN capabilities:
Model name
Range (Typical)
Compliance
Data transfer rate
IP configuration
Frequency
Native output resolution
Supported projector resolutions
Screen refresh rate
Colour
Dimensions L x W x H (mm)
Weight
Power
Presentation materials streamed wirelessly.
Convenient:
Switch between presentations with just a few mouse-clicks.
Rapid installation:
Direct software installation to your computer.
Screen display:
Multiple display of up to 4 different images to one screen.
Security:
Each session protected by password.
Wireless WEP 64/128 encryption:
Ensure your valuable files remain secure..
Protocols:
Static-IP and DHCP servers supported.
Easy configuration:
Operating humidity
Storage humidity
SYSTEM REQUIREMENTS
Operating system Microsoft
CPU
RAM
WLAN adaptor
Other
Part Number
EAN Number
WPS-Dongle
Up to 30m indoor, 50m outdoor without obstacle
IEEE 802.11b/g
Up to 54 Mbps
Manual: Static IP address
2.4GHZ
SVGA (800 x 600) / XGA (1024 x 768)
SVGA (800 x 600) / XGA (1024 x 768) / WXGA (1280 x 768)
65Hz
16-bit colour depth
90 x 38 x 22
53g
Powered through VGA [EX542/EX612/EX615/EX762]
External Power adaptor 6V DC input 0.8A (for all other
Optoma SVGA/XGA/WXGA projectors)
≤90%
≤80%
Windows 2000, XP, Vista or Windows 7
Intel Pentium III-800 MHZ (or greater)
256MB of RAM required, 512MB or more recommended
A supported WLAN adapter for a WLAN connection (Any
NDIS-compliant 802.11b or 802.11g Wi-Fi device)
Minimum 10MB of available hard-Disk space
75.99F36G001.EU
5060059044481
User-friendly web-based interface.
Optoma Europe Ltd.
42 Caxton Way, Watford Business Park, Watford, Hertfordshire, UK. WD18 8QZ
www.optoma.eu
© 2009 Optoma Europe Ltd. Specifications are subject to change without notice. Optoma is a registered trademark of Optoma Europe Ltd.
All other product names and company names used herein are for identifications purposes only and may be trademarks or registered trademarks of their respective owners.

* Your assessment is very important for improving the work of artificial intelligence, which forms the content of this project