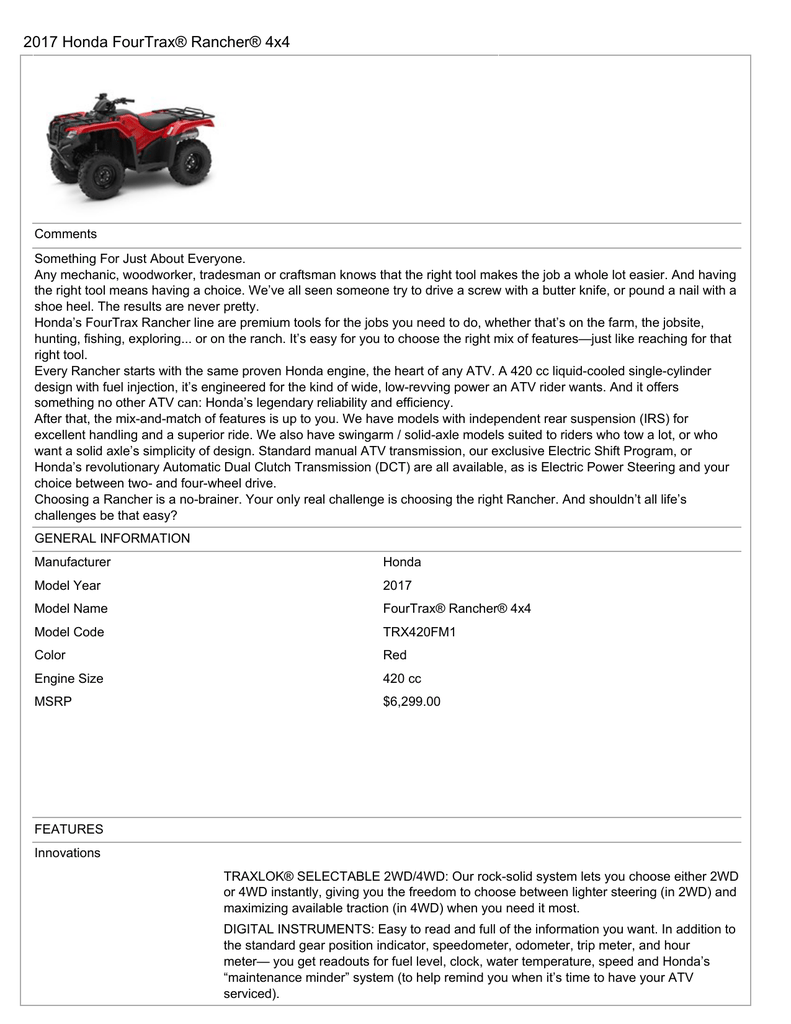 2017 Honda FourTrax® Rancher® 4x4
Comments
Something For Just About Everyone.
Any mechanic, woodworker, tradesman or craftsman knows that the right tool makes the job a whole lot easier. And having
the right tool means having a choice. We've all seen someone try to drive a screw with a butter knife, or pound a nail with a
shoe heel. The results are never pretty.
Honda's FourTrax Rancher line are premium tools for the jobs you need to do, whether that's on the farm, the jobsite,
hunting, fishing, exploring... or on the ranch. It's easy for you to choose the right mix of features—just like reaching for that
right tool.
Every Rancher starts with the same proven Honda engine, the heart of any ATV. A 420 cc liquid-cooled single-cylinder
design with fuel injection, it's engineered for the kind of wide, low-revving power an ATV rider wants. And it offers
something no other ATV can: Honda's legendary reliability and efficiency.
After that, the mix-and-match of features is up to you. We have models with independent rear suspension (IRS) for
excellent handling and a superior ride. We also have swingarm / solid-axle models suited to riders who tow a lot, or who
want a solid axle's simplicity of design. Standard manual ATV transmission, our exclusive Electric Shift Program, or
Honda's revolutionary Automatic Dual Clutch Transmission (DCT) are all available, as is Electric Power Steering and your
choice between two- and four-wheel drive.
Choosing a Rancher is a no-brainer. Your only real challenge is choosing the right Rancher. And shouldn't all life's
challenges be that easy?
GENERAL INFORMATION
Manufacturer
Honda
Model Year
2017
Model Name
FourTrax® Rancher® 4x4
Model Code
TRX420FM1
Color
Red
Engine Size
420 cc
MSRP
$6,299.00
FEATURES
Innovations
TRAXLOK® SELECTABLE 2WD/4WD: Our rock-solid system lets you choose either 2WD
or 4WD instantly, giving you the freedom to choose between lighter steering (in 2WD) and
maximizing available traction (in 4WD) when you need it most.
DIGITAL INSTRUMENTS: Easy to read and full of the information you want. In addition to
the standard gear position indicator, speedometer, odometer, trip meter, and hour
meter— you get readouts for fuel level, clock, water temperature, speed and Honda's
"maintenance minder" system (to help remind you when it's time to have your ATV
serviced).
REVERSE LEVER: The Rancher's reverse lever is simple, easy and intuitive to use.
IN-TANK FUEL PUMP: The Rancher incorporates an in-tank fuel pump for cooler pump
operation, and long pump life.
SEMI-DRY-SUMP ENGINE DESIGN: Compact and lighter-weight, the Rancher's
overhead-valve, semi-dry-sump design creates an engine that's shorter from top to
bottom. That returns two big benefits: it enhances handling by lowering the engine's
center of gravity, and it also allows for better ground clearance.
LONGITUDINAL ENGINE LAYOUT: By orienting the crankshaft front to back in the
chassis in our ATV and side-by-side engines, we route the flow of power straight to the
wheels without any unnecessary right-angle detours, reducing powertrain friction and
putting more grunt to the ground.
COMFORTABLE SEAT: A plush seat and open rider triangle (Bars/Seat/Pegs) teams up
with the suspension to really treat you right. Superior ergonomics have always been a
Honda priority, and the Rancher is no exception. With thick, soft foam, it's exceptionally
comfortable.
PROGRAMMED FUEL INJECTION: Being able to count on crisp performance and
starting under any conditions is a must for anyone who depends on their ATV. Thanks to
Honda's Programmed Fuel Injection (PGM-FI)—featuring a 34mm throttle body, 12-hole
Denso injector, and an oxygen sensor that allows the fuel mapping to instantaneously
adjust to any riding condition—the Rancher not only ensures trouble-free operation in the
cold and at varying altitudes, it reduces emissions and enhances fuel efficiency.
SWINGARM REAR SUSPENSION: On select Rancher models, the rear swingarm
incorporates an enclosed, solid-axle design for strength and rigidity. When you need to
tow a heavy load, the swingarm eliminates rear suspension squat as the load is placed on
the axle itself, not on the rear shock.
SHAFT DRIVE: Clean, efficient, proven, low-maintenance. Shaft drive is the perfect
choice for a machine like this, and for riders who pile on the miles. You never have to
worry about lubrication or adjustment out on the trail. And an added plus: it helps keep
your ATV cleaner, too.
SPECIFICATIONS
BRAKES/WHEELS/TIRES
Brakes
Front - 190 mm dual hydraulic discRear - 160 mm sealed mechanical drum
Tires
Front - 24 x 8-12Rear - 24 x 10-11
DIMENSIONS
Length
82.8 in.
Height
46.2 in.
Width
47.4 in.
Weight
608 lbs.
Ground Clearance
7.2 in.
Wheelbase
49.9 in.
Turning Radius
9.2 ft.
Seat Height
33.7 in.
DRIVETRAIN
Transmission
5-speed with reverse
Drive System
4x4
Drive
Direct front & rear driveshaft
ENGINE
Engine
Fuel-injected OHV, wet-sump, longitudinally-mounted, 1-cylinder, 4-stroke
Displacement
420 cc
Bore x Stroke
86.5 x 71.5 mm
Compression Ratio
9.9:1
Fuel Capacity
3.9 gal. including 1.3 gal. reserve
Ignition
Full-transistorized type with electronic advance
Starting
Electric with optional auxiliary recoil
Clutch
Automatic
Cooling
Liquid
Fuel System
Keihin® 34 mm throttle-body fuel-injection system
OPERATIONAL
Suspension
Front - Independent double-wishbone; 6.69 in. travelRear - Swingarm with single shock;
6.69 in. travel
OTHER
Additional Colors
Honda Phantom Camo®, Olive
Legal Notice: Manufacturer Name, Logo and Model Information are Registered Trademarks of the Manufacturer.
Specifications and other information are subject to change without notice. No representation of accuracy is made.
Image is believed to be in the public domain or used with permission.
*Price, if shown, is Manufacturer's Suggested Retail Price (MSRP) and does not include government fees, taxes, dealer
vehicle freight/preparation, dealer document preparation charges or any finance charges (if applicable). MSRP and/or final
actual sales price will vary depending on options or accessories selected.