Gregg Catalogue Page G077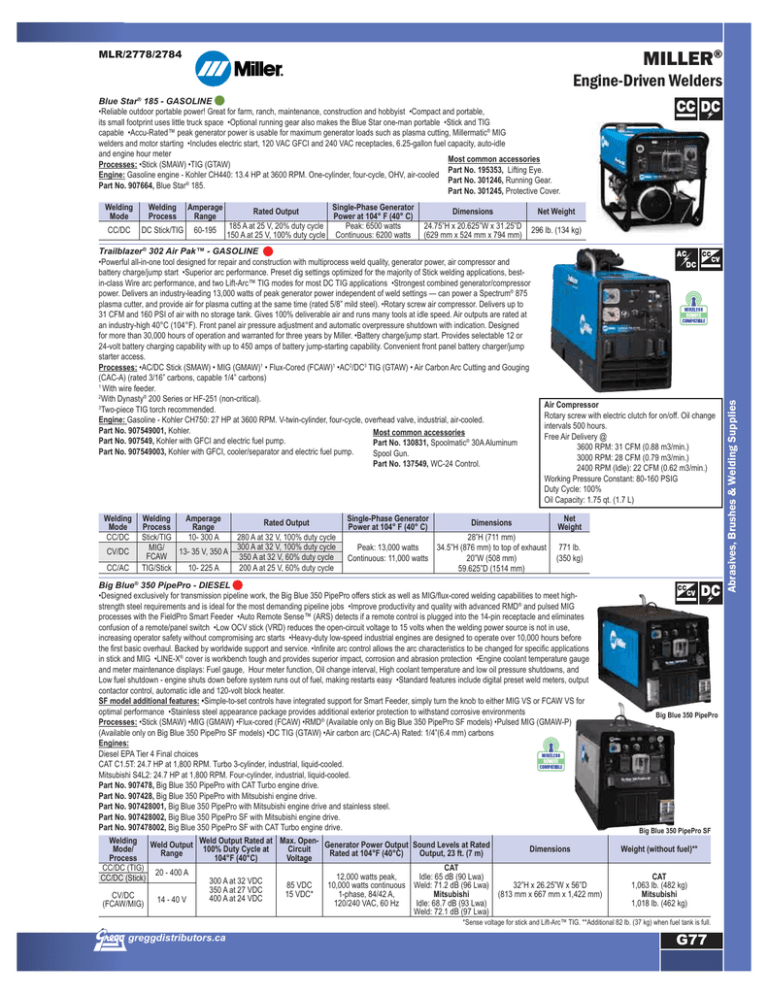 MILLER®
MLR/2778/2784
Engine-Driven Welders
Welding
Mode
Welding
Process
Amperage
Range
CC/DC
DC Stick/TIG
60-195
Single-Phase Generator
Power at 104° F (40° C)
185 A at 25 V, 20% duty cycle
Peak: 6500 watts
150 A at 25 V, 100% duty cycle Continuous: 6200 watts
Rated Output
Dimensions
Net Weight
24.75"H x 20.625"W x 31.25"D
(629 mm x 524 mm x 794 mm)
296 lb. (134 kg)
Trailblazer® 302 Air Pak™ - GASOLINE
•Powerful all-in-one tool designed for repair and construction with multiprocess weld quality, generator power, air compressor and
battery charge/jump start •Superior arc performance. Preset dig settings optimized for the majority of Stick welding applications, bestin-class Wire arc performance, and two Lift-Arc™ TIG modes for most DC TIG applications •Strongest combined generator/compressor
power. Delivers an industry-leading 13,000 watts of peak generator power independent of weld settings — can power a Spectrum® 875
plasma cutter, and provide air for plasma cutting at the same time (rated 5/8" mild steel). •Rotary screw air compressor. Delivers up to
31 CFM and 160 PSI of air with no storage tank. Gives 100% deliverable air and runs many tools at idle speed. Air outputs are rated at
an industry-high 40°C (104°F). Front panel air pressure adjustment and automatic overpressure shutdown with indication. Designed
for more than 30,000 hours of operation and warranted for three years by Miller. •Battery charge/jump start. Provides selectable 12 or
24-volt battery charging capability with up to 450 amps of battery jump-starting capability. Convenient front panel battery charger/jump
starter access.
Processes: •AC/DC Stick (SMAW) • MIG (GMAW)1 • Flux-Cored (FCAW)1 •AC2/DC3 TIG (GTAW) • Air Carbon Arc Cutting and Gouging
(CAC-A) (rated 3/16" carbons, capable 1/4" carbons)
1
With wire feeder.
2
With Dynasty® 200 Series or HF-251 (non-critical).
3
Two-piece TIG torch recommended.
Engine: Gasoline - Kohler CH750: 27 HP at 3600 RPM. V-twin-cylinder, four-cycle, overhead valve, industrial, air-cooled.
Part No. 907549001, Kohler.
Most common accessories
Part No. 907549, Kohler with GFCI and electric fuel pump.
Part No. 130831, Spoolmatic® 30A Aluminum
Part No. 907549003, Kohler with GFCI, cooler/separator and electric fuel pump.
Spool Gun.
Part No. 137549, WC-24 Control.
Welding
Mode
CC/DC
CV/DC
CC/AC
Welding
Amperage
Process
Range
Stick/TIG
10- 300 A
MIG/
FCAW 13- 35 V, 350 A
TIG/Stick
10- 225 A
Rated Output
280 A at 32 V, 100% duty cycle
300 A at 32 V, 100% duty cycle
350 A at 32 V, 60% duty cycle
200 A at 25 V, 60% duty cycle
Single-Phase Generator
Power at 104° F (40° C)
Air Compressor
Rotary screw with electric clutch for on/off. Oil change
intervals 500 hours.
Free Air Delivery @
3600 RPM: 31 CFM (0.88 m3/min.)
3000 RPM: 28 CFM (0.79 m3/min.)
2400 RPM (Idle): 22 CFM (0.62 m3/min.)
Working Pressure Constant: 80-160 PSIG
Duty Cycle: 100%
Oil Capacity: 1.75 qt. (1.7 L)
Dimensions
28"H (711 mm)
Peak: 13,000 watts
34.5"H (876 mm) to top of exhaust
Continuous: 11,000 watts
20"W (508 mm)
59.625"D (1514 mm)
Net
Weight
771 lb.
(350 kg)
Big Blue® 350 PipePro - DIESEL
•Designed exclusively for transmission pipeline work, the Big Blue 350 PipePro offers stick as well as MIG/flux-cored welding capabilities to meet highstrength steel requirements and is ideal for the most demanding pipeline jobs •Improve productivity and quality with advanced RMD® and pulsed MIG
processes with the FieldPro Smart Feeder •Auto Remote Sense™ (ARS) detects if a remote control is plugged into the 14-pin receptacle and eliminates
confusion of a remote/panel switch •Low OCV stick (VRD) reduces the open-circuit voltage to 15 volts when the welding power source is not in use,
increasing operator safety without compromising arc starts •Heavy-duty low-speed industrial engines are designed to operate over 10,000 hours before
the first basic overhaul. Backed by worldwide support and service. •Infinite arc control allows the arc characteristics to be changed for specific applications
in stick and MIG •LINE-X® cover is workbench tough and provides superior impact, corrosion and abrasion protection •Engine coolant temperature gauge
and meter maintenance displays: Fuel gauge, Hour meter function, Oil change interval, High coolant temperature and low oil pressure shutdowns, and
Low fuel shutdown - engine shuts down before system runs out of fuel, making restarts easy •Standard features include digital preset weld meters, output
contactor control, automatic idle and 120-volt block heater.
SF model additional features: •Simple-to-set controls have integrated support for Smart Feeder, simply turn the knob to either MIG VS or FCAW VS for
optimal performance •Stainless steel appearance package provides additional exterior protection to withstand corrosive environments
Processes: •Stick (SMAW) •MIG (GMAW) •Flux-cored (FCAW) •RMD® (Available only on Big Blue 350 PipePro SF models) •Pulsed MIG (GMAW-P)
(Available only on Big Blue 350 PipePro SF models) •DC TIG (GTAW) •Air carbon arc (CAC-A) Rated: 1/4"(6.4 mm) carbons
Engines:
Diesel EPA Tier 4 Final choices
CAT C1.5T: 24.7 HP at 1,800 RPM. Turbo 3-cylinder, industrial, liquid-cooled.
Mitsubishi S4L2: 24.7 HP at 1,800 RPM. Four-cylinder, industrial, liquid-cooled.
Part No. 907478, Big Blue 350 PipePro with CAT Turbo engine drive.
Part No. 907428, Big Blue 350 PipePro with Mitsubishi engine drive.
Part No. 907428001, Big Blue 350 PipePro with Mitsubishi engine drive and stainless steel.
Part No. 907428002, Big Blue 350 PipePro SF with Mitsubishi engine drive.
Part No. 907478002, Big Blue 350 PipePro SF with CAT Turbo engine drive.
Welding
Output Rated at Max. Open- Generator Power Output Sound Levels at Rated
Weld Output Weld
Mode/
100% Duty Cycle at
Circuit
Dimensions
Range
Rated at 104°F (40°C)
Output, 23 ft. (7 m)
Process
104°F (40°C)
Voltage
CC/DC (TIG)
CC/DC (Stick)
20 - 400 A
CV/DC
(FCAW/MIG)
14 - 40 V
300 A at 32 VDC
350 A at 27 VDC
400 A at 24 VDC
85 VDC
15 VDC*
CAT
12,000 watts peak,
Idle: 65 dB (90 Lwa)
10,000 watts continuous Weld: 71.2 dB (96 Lwa)
1-phase, 84/42 A,
Mitsubishi
120/240 VAC, 60 Hz
Idle: 68.7 dB (93 Lwa)
Weld: 72.1 dB (97 Lwa)
32"H x 26.25"W x 56"D
(813 mm x 667 mm x 1,422 mm)
Big Blue 350 PipePro
Big Blue 350 PipePro SF
Weight (without fuel)**
CAT
1,063 lb. (482 kg)
Mitsubishi
1,018 lb. (462 kg)
*Sense voltage for stick and Lift-Arc™ TIG. **Additional 82 lb. (37 kg) when fuel tank is full.
greggdistributors.ca
G77
Abrasives, Brushes & Welding Supplies
Blue Star® 185 - GASOLINE
•Reliable outdoor portable power! Great for farm, ranch, maintenance, construction and hobbyist •Compact and portable,
its small footprint uses little truck space •Optional running gear also makes the Blue Star one-man portable •Stick and TIG
capable •Accu-Rated™ peak generator power is usable for maximum generator loads such as plasma cutting, Millermatic® MIG
welders and motor starting •Includes electric start, 120 VAC GFCI and 240 VAC receptacles, 6.25-gallon fuel capacity, auto-idle
and engine hour meter
Most common accessories
Processes: •Stick (SMAW) •TIG (GTAW)
Part No. 195353, Lifting Eye.
Engine: Gasoline engine - Kohler CH440: 13.4 HP at 3600 RPM. One-cylinder, four-cycle, OHV, air-cooled
Part No. 301246, Running Gear.
Part No. 907664, Blue Star® 185.
Part No. 301245, Protective Cover.

* Your assessment is very important for improving the work of artificial intelligence, which forms the content of this project