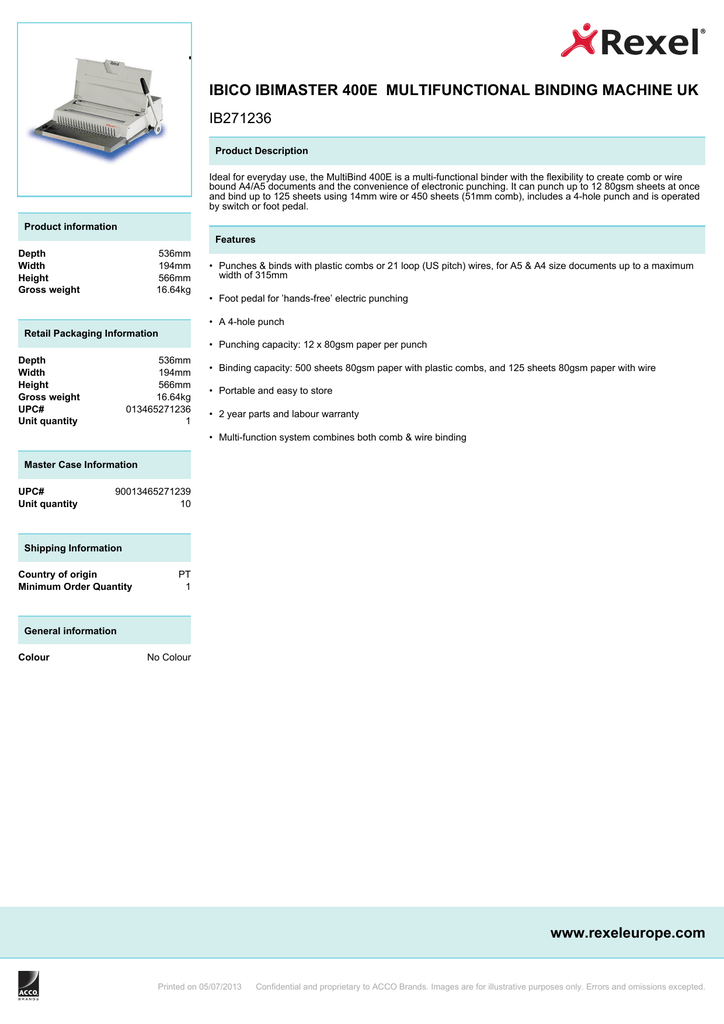 IBICO IBIMASTER 400E MULTIFUNCTIONAL BINDING MACHINE UK
IB271236
Product Description
Ideal for everyday use, the MultiBind 400E is a multi-functional binder with the flexibility to create comb or wire
bound A4/A5 documents and the convenience of electronic punching. It can punch up to 12 80gsm sheets at once
and bind up to 125 sheets using 14mm wire or 450 sheets (51mm comb), includes a 4-hole punch and is operated
by switch or foot pedal.
Product information
Features
Depth
Width
Height
Gross weight
536mm
194mm
566mm
16.64kg
• Punches & binds with plastic combs or 21 loop (US pitch) wires, for A5 & A4 size documents up to a maximum
width of 315mm
• Foot pedal for 'hands-free' electric punching
• A 4-hole punch
Retail Packaging Information
• Punching capacity: 12 x 80gsm paper per punch
Depth
Width
Height
Gross weight
UPC#
Unit quantity
536mm
194mm
566mm
16.64kg
013465271236
1
• Binding capacity: 500 sheets 80gsm paper with plastic combs, and 125 sheets 80gsm paper with wire
• Portable and easy to store
• 2 year parts and labour warranty
• Multi-function system combines both comb & wire binding
Master Case Information
UPC#
Unit quantity
90013465271239
10
Shipping Information
Country of origin
Minimum Order Quantity
PT
1
General information
Colour
No Colour
www.rexeleurope.com
Printed on 05/07/2013
Confidential and proprietary to ACCO Brands. Images are for illustrative purposes only. Errors and omissions excepted.

* Your assessment is very important for improving the work of artificial intelligence, which forms the content of this project