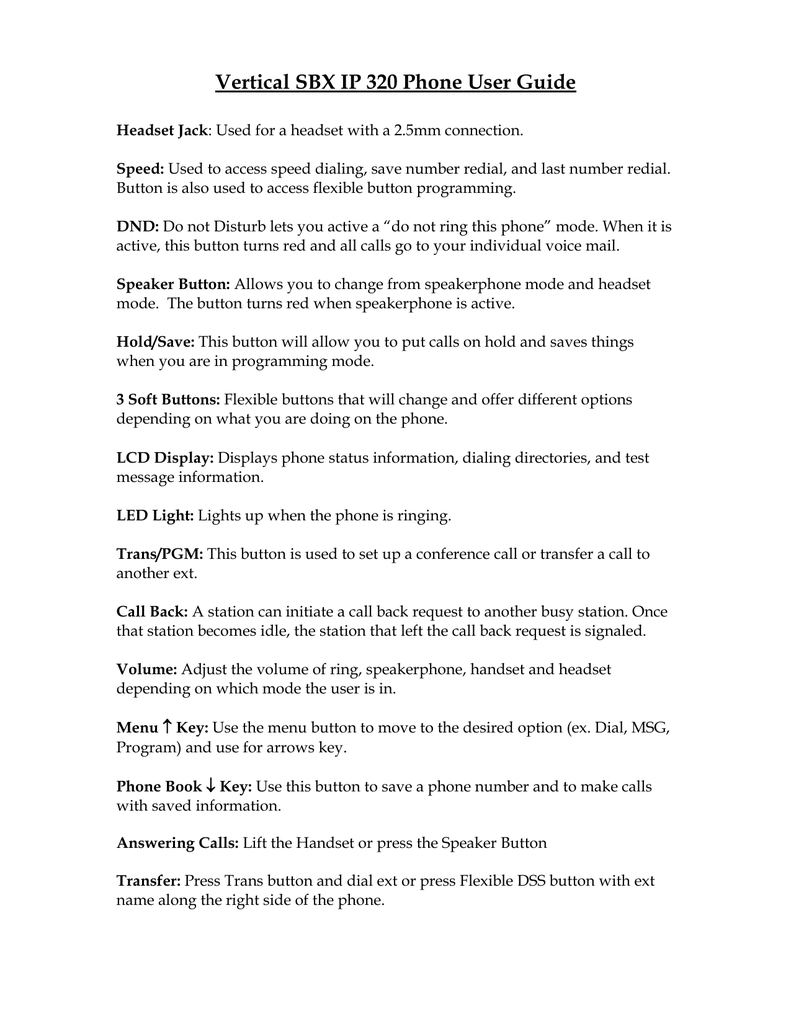 Vertical SBX IP 320 Phone User Guide
Headset Jack: Used for a headset with a 2.5mm connection.
Speed: Used to access speed dialing, save number redial, and last number redial.
Button is also used to access flexible button programming.
DND: Do not Disturb lets you active a "do not ring this phone" mode. When it is
active, this button turns red and all calls go to your individual voice mail.
Speaker Button: Allows you to change from speakerphone mode and headset
mode. The button turns red when speakerphone is active.
Hold/Save: This button will allow you to put calls on hold and saves things
when you are in programming mode.
3 Soft Buttons: Flexible buttons that will change and offer different options
depending on what you are doing on the phone.
LCD Display: Displays phone status information, dialing directories, and test
message information.
LED Light: Lights up when the phone is ringing.
Trans/PGM: This button is used to set up a conference call or transfer a call to
another ext.
Call Back: A station can initiate a call back request to another busy station. Once
that station becomes idle, the station that left the call back request is signaled.
Volume: Adjust the volume of ring, speakerphone, handset and headset
depending on which mode the user is in.
Menu ↑ Key: Use the menu button to move to the desired option (ex. Dial, MSG,
Program) and use for arrows key.
Phone Book ↓ Key: Use this button to save a phone number and to make calls
with saved information.
Answering Calls: Lift the Handset or press the Speaker Button
Transfer: Press Trans button and dial ext or press Flexible DSS button with ext
name along the right side of the phone.
Transfer to Voice Mail: While on a call press TRANS/PGM button then press
CALLBK button then dial ext #. Call will bypass ringing phone and go directly to
voice mail.
Transfer to Outside Number: If this service is activated with Service Provider (ie
Qwest, Integra, XO etc.) you can transfer calls to outside numbers, such as cell
phones. Do this while on a call by press the Flash button and then dialing 9 + the
number you are calling.
Hold: To place a call on hold press the HOLD/SAVE button and it will place a
call on hold on a line.
Park: To park a call press the TRANS/PGM button and choose a park location
601-608. To pick up the parked call from any station dial the park location 601608.
Conferencing: Dial the first number, press the CONF button, dial the next
number of the next party then press the CONF button twice to add them in.
Continue to follow these steps until all party's are added into the conference call.
Setting Up Voice Mail: Press the TRANS/PGM and dial "61", then press # to
start recording. The first time should give you a voice prompt to help you set up
your default voice mail greeting.
Checking Voice Mail: Check your new messages by dialing 557 this will bring
you to your voice mail menu. To delete a message and hear the next message,
press 1. To save a message and listen to the next message, press 2. To hear
current voice message, press 3.
Call Log: If you have the Caller Id feature through your service provider your
phone system will keep a log of all calls that ring or are dialed on your phone.
Press the Call Log button. The screen will display choices of Received Call and
Dialed Call if you use your down arrow key and scroll down it will display Lost
Call. Choose which option you wish to view by highlighting the option using the
arrow keys and selecting the OK button underneath the word Ok on the screen.
Next use the arrow or navigation keys to scroll through the list. If you wish to
call a number in the Call Log press the Answer option and the phone will dial
the number.

* Your assessment is very important for improving the work of artificial intelligence, which forms the content of this project