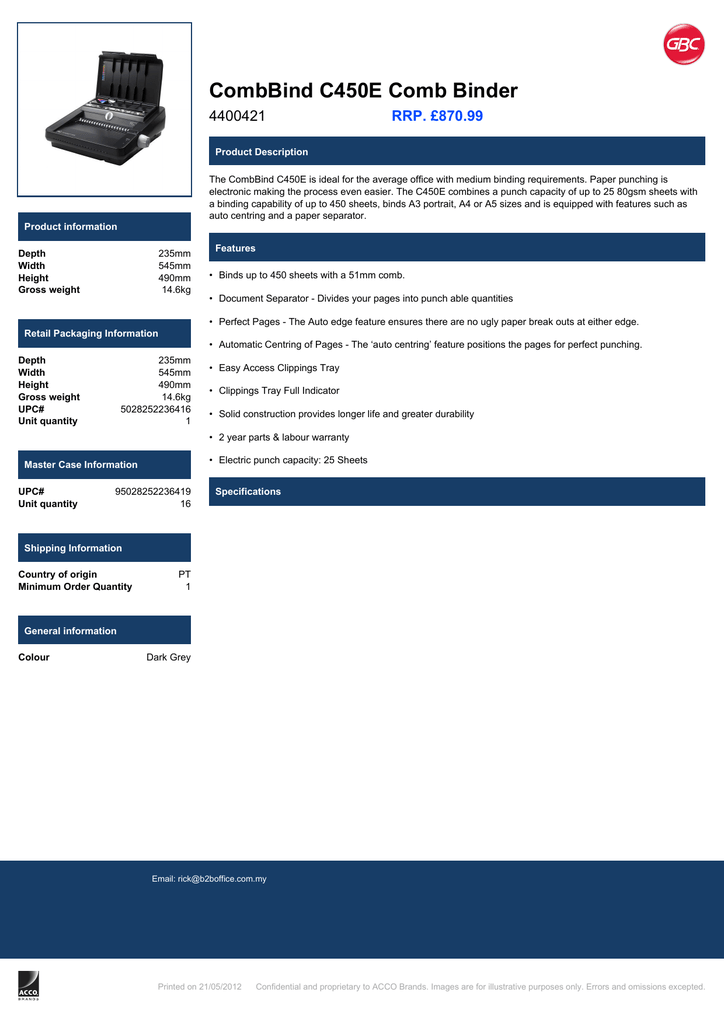 CombBind C450E Comb Binder
4400421
RRP. £870.99
Product Description
The CombBind C450E is ideal for the average office with medium binding requirements. Paper punching is
electronic making the process even easier. The C450E combines a punch capacity of up to 25 80gsm sheets with
a binding capability of up to 450 sheets, binds A3 portrait, A4 or A5 sizes and is equipped with features such as
auto centring and a paper separator.
Product information
Depth
Width
Height
Gross weight
235mm
545mm
490mm
14.6kg
Features
• Binds up to 450 sheets with a 51mm comb.
• Document Separator - Divides your pages into punch able quantities
• Perfect Pages - The Auto edge feature ensures there are no ugly paper break outs at either edge.
Retail Packaging Information
• Automatic Centring of Pages - The 'auto centring' feature positions the pages for perfect punching.
Depth
Width
Height
Gross weight
UPC#
Unit quantity
235mm
545mm
490mm
14.6kg
5028252236416
1
• Easy Access Clippings Tray
• Clippings Tray Full Indicator
• Solid construction provides longer life and greater durability
• 2 year parts & labour warranty
• Electric punch capacity: 25 Sheets
Master Case Information
UPC#
Unit quantity
95028252236419
16
Specifications
• Period of Warranty 2 years
Shipping Information
Country of origin
Minimum Order Quantity
PT
1
General information
Colour
Dark Grey
Email: [email protected]
Printed on 21/05/2012
Confidential and proprietary to ACCO Brands. Images are for illustrative purposes only. Errors and omissions excepted.

* Your assessment is very important for improving the work of artificial intelligence, which forms the content of this project