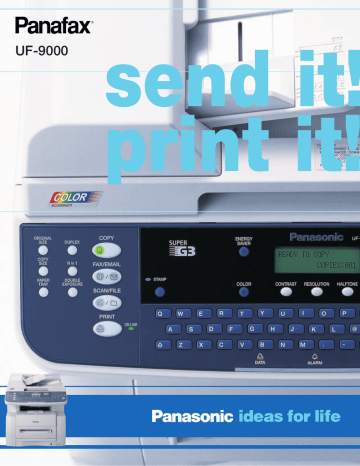 UF-9000
send it!
print it!
Send it, print it,
scan it or copy it.
Stable, reliable
performance
assured
every time
A Super G3 fax with JBIG compression
for enhanced faxing efficiency, the UF-9000
is also the ultimate all-round document
management tool for corporate offices.
In addition to its 50-sheet automatic document
feeder, the UF-9000 is equipped with a color
flatbed scanner that allows you to easily scan
magazines or books and convert them into a
TIFF/JPEG or PDF file.
The UF-9000 also comes standard with Ethernet
network connectivity, as well as a USB Interface,
so it can be used as a high-speed 19-ppm network
printer with features like duplex printing and 2-in-1
or 4-in-1 printing.
For security, a built-in User Authentication*1
function prevents unauthorized access for Faxing,
Scanning and/or Copying.
From faxing and copying to printing and color
scanning, the UF-9000 is virtually all you need.
*1 Requires Active Directly environment.
send it!
Network Color Scanner
print it!
Network Printer
Super G3 Fax and Email
Super G3 Fax / Email
Directory Search
In addition to its Super G3 Fax capability,
the UF-9000 is equipped with a Scan-toEmail function that lets you convert
documents to TIFF, JPEG or PDF and send
them as email attachments to PCs.
The Directory Search feature allows you to
enter multiple letters via the QWERTY
keyboard. This is especially useful when
you are looking for a name in a large
database, such as an LDAP (Lightweight
Directory Access Protocol) server*3 or the
optional 1,000 station Auto-Dialer*4.
Maximum 1,000-Station Auto-Dialer
For quick dialing, you can store up to 200 phone numbers/email
addresses from the QWERTY keyboard, or program the Auto-Dialer and
import a listing from an existing PC file*2 using the standard Address
Book Editor Software. Auto-Dialer capacity can be expanded to a
maximum of 1,000 stations with the optional Hard Disk Drive Unit.
*3 LDAP server is required on the network.
*4 Optional Hard Disk Drive Unit is required.
Auto Archive
Incoming or outgoing fax data can automatically be forwarded from the
UF-9000 via email to any specified PC (supervisor) for electronic
archiving, enabling the system administrator to monitor all
transmitted/received fax data.
*2 CSV/Comma-Delimited text file.
Quick Name Search
Quick Name Search maximizes the auto-dialer's large memory capacity by
providing quick, easy access to stored names and
numbers. Simply key in the first letter of the
recipient's name on the QWERTY keyboard and
press it repeatedly to scroll through the listings that
appear on the display. When you find the name
you're looking for, just select it. It's that simple!
Select the
initial letter...
Scroll to
search
through the
list...
And send.
Network Color Scanner
Network Scanner
You can scan and send documents in either color or monochrome to a
PC or an FTP server as a PDF or TIFF/JPEG data. The flatbed scanner
also allows you to scan a variety of media such as books as well as
smaller items like ID and insurance cards.
Internet Fax
(TIFF)
Results of the investigation
29
Results of the investigation
23
19
12
35
35
30
25
20
Results of the investigation
15
10
red
blue
yellow
white
29
Results of the investigation
23
19
pink
5
35
12
0
1994
1995
1996
1997
1998
1999
2000
2001
2002
30
2003
35
25
red
blue
yellow
Green
20
pink
15
blue
red
white
yellow
10
pink
5
0
0
5
10
15
20
25
30
35
red
blue
yellow
Green
pink
0
TIFF
5
10
15
20
25
30
35
The
Internet
PDF
UF-9000
Email Client
Color: JPEG, PDF
Black & White: TIFF, PDF
Document Workflow with Document Management
System Software
Panasonic Document Management System Software allows efficient
document management, flexible editing and convenient sharing at the
user's fingertips. Users can manage and edit documents right from their
desktop with a simple
"drag and drop"
operation.
Standard Network Printer
High Resolution of 1,200 dpi
equivalent x 600 dpi
In addition to standard 600 x 600 dpi print
resolution, you can increase print resolution to
1,200 dpi equivalent x 600 dpi (in PCL/PS
mode) by adding an optional printer controller.
This gives crisp, clean prints with superior
legibility and halftone gradations — even with
very tiny characters or complex images.
Standard Duplex and 2-in-1/
4-in-1 Printing
For added productivity, the
UF-9000 comes standard with
an automatic duplex printing
unit that enables users to easily
print on both sides of the
paper. For added cost savings,
double-sided printing can also
be used with 2-in-1/4-in-1
printing to greatly reduce your
paper expenses and save on
filing space.
Built-in Network Printing Capability
The UF-9000 comes standard with a built-in
Ethernet LAN interface, so users can set it up
as a network printer that can be
used by any PC on the LAN. In
addition, the unit's standard USB
interface allows direct connection
to a dedicated PC.
Easy Print Driver Installation,
User-Friendly Graphical
Interface.
Mailbox Print/
Secure Mailbox Print*5
Security is a topic of concern in today's
office environments. Security print for up to
100 users is available. Simply print directly
to the Security Print Mailbox*5 and the
UF-9000 stores the print file until the user
retrieves it at the machine by entering a
mailbox ID and password. This is especially
useful when generating sensitive or
confidential documents. Mailbox Print allows
print jobs to be stored without a password for
convenience.
*5 Optional Hard Disk Drive Unit is required.
Advanced Digital Copier
50-sheet ADF
Digital SkyShot
Why wait? With the 50-page Automatic
Document Feeder (ADF), you can fax, copy,
scan and email multi-page documents at the
touch of a button and be on your way.
Panasonic's Digital SkyShot is especially
convenient for copying small-sized originals
like checks or ID cards. Users can even
reproduce documents with unusual shapes —
round, oval, etc. — without generating any
unnecessary black areas simply by making a
copy with the platen cover open.
Double Exposure for Double
Savings
By selecting the Double Exposure key located
on the control panel, users can make quality
copies of small double-sided documents on a
single sheet of paper without the black borders
— even if the platen cover is open. This is
especially convenient for copying small
double-sided originals such as ID and
insurance cards, checks, and receipts.
Scanning Area
First Pass-Image#1
Scanning Area
Second Pass-Image#2
Print
Preventing Data Leakage
User
Authentication*6
The UF-9000 also supports network-based User Authentication in a Windows Server™
environment. Users must be authenticated before they can use the machine for
copying, faxing and/or scanning. Additionally, the UF-9000 also supports sending
documents via a RightFax® Server*6,*7. The combination of User Authentication and
your RightFax Server can help to prevent unauthorized fax transmissions.
User Friendly
Easy Front Operation
Everything is easily managed from
the front of the unit: paper loading,
fax, copy and printer output.
*6 Requires Active Directly environment.
*7 Requires RightFax® Ver.8.0 or later.
Network Accounting Manager Software*8
Panasonic's Network Accounting Manager Software gathers the UF-9000's copy, print,
scan and fax history. This data is presented in an easy-to-use web-based interface. This
data can be used to track cost as well as usage of the unit. This data can also be
exported in CSV (comma-separated value) or XML (eXtensible Markup Language)
format. When used in combination with the Job Tracking function*6, the Network
Accounting Manager lets you track faxes and scans including images of sent items.
*8 Optional Hard Disk Drive Unit and Image Memory are required.
Extended Reliability
Maintenance Support
The Check & Call function automatically reports
low toner status and certain mechanical problems
to a service center while the Remote Diagnostic
System enables expert technicians to quickly troubleshoot and
provide solutions via a telephone line or the Internet.
Printer/Network Printer
Options
PCL Printer Controller Module
DA-PC190
Flash Memory
Expansion Board
DA-EM600F
4MB Flash Memory
UE-410047F
8MB Flash Memory
UE-410048F
PS/PCL Multi-Page Description
Language Controller Module
DA-MC190
Hard Disk Drive Unit
Hard Disk Drive Unit
(40GB) DA-HD19
Image Memory
Image Memory
(16MB)
DA-SM16B
(64MB)
DA-SM64B
(128MB) DA-SM28B
Handset Kit
UE-403171
Software
Accounting Software
DA-WA10
Consumables
Toner Cartridge
UG-5540
550-sheet
2nd Paper
Feed Module
DA-DS188
Stand
DA1D190
The all-in-one design includes
the toner, developer and drum
for easy replacement.
UF-9000 Specifications
General
Type
Warm-up time (from sleep mode)
Power Requirements
Power Consumption
Maximum:
Power saver mode:
Sleep mode:
Dimensions (W x D x H)*1
Digital Copier
Desktop
Approximately 15 seconds
AC 120V, 50/60 Hz
900 Wh
20 Wh
12 Wh
18.2" x 19.9" x 20.6" (462 x 506 x 523 mm)
(Excluding optional equipment)
Weight*1 (Excluding consumable
Approximately 48.5 lb (22 kg)
Original Size
Resolution
Zoom
First Copy Time
Multi Copy Speed
Copy size
Exposure Controller
Sort Memory
Standard:
Optional:
supplies and optional equipment)
Fax
Compatibility
Modem Speed
Coding Scheme
Transmission Speed*2
Number of Memory Job Files
Document Size
Maximum*3:
Letter/Legal*5/Invoice
600 x 600 dpi
50% — 200%
Approximately 10 seconds
Up to 19 cpm*6 (Letter)
Letter/Legal/Invoice*7
Text, Text/Photo, Photo
16MB
16 MB/64MB/128MB (Maximum 144MB)
12GB (with optional HDD)
Printer
ITU-T Group 3, ECM
33.6 - 2.4 kbps with automatic fallback
MH/MR/MMR/JBIG
Approximately 2.7 seconds
50
8.5" x 78.7" (216 mm x 2,000 mm)
(with operator's assistance)
Minimum:
5.8" x 5.0" (148 mm x 128 mm)
Effective Scanning Width
8.34" (212 mm)
Automatic Document Feeder 50 sheets (20 lb)
Scanning Speed
Approximately 2.7 sec./page (Letter)
Scanning Resolution
Standard:
203 dots/inch x 98 lines/inch (8 dots/mm x 3.85 lines/mm)
Fine:
203 dots/inch x 196 lines/inch (8 dots/mm x 7.7 lines/mm)
Super Fine:
406 dots/inch x 391 lines/inch (16 dots/mm x 15.4 lines/mm)
600 dpi:
600 dpi x 600 dpi
Recording Method
Monochrome laser printing on plain paper
Recording Paper Size
Letter/Legal
Effective Recording Width
8.15" (207 mm)
Paper Feed
Standard Tray:
250 sheets
Optional Paper Feed: 550 sheets
Image Memory Capacity
Standard*4:
2MB (120 pages)
Optional:
Base memory plus 4MB (320 pages)/ 8MB (640 pages)
Number of Auto Dialers
Standard:
200
Maximum:
1,000 with optional Hard Disk Drive Unit
Network Printer Interface
Local Printer Interface
Printing Speed*6
Paper Size
Printing Resolution
Printer Memory
Printer Language
Standard:
Option:
Compatible Operating
Systems
Ethernet 10Base-T/100Base-TX
USB 1.1
Up to 19 ppm
Letter/Legal/Invoice*7/Envelope*7
Maximum: 1,200 dpi equivalent*8 x 600 dpi
20MB
Microsoft® Windows® and Windows NT® are registered trademarks of
Microsoft Corporation.
Adobe®, PostScript®, PostScript® 3™, PDF and PostScript logo® are
trademarks of Adobe Systems, Inc.
PCL is either a trademark or a registered trademark of Hewlett-Packard
Company.
Dimensions
20.6"
(523 mm)
26.1"
(663 mm)
Scanner
Network Scanner Interface
Scanning Size
Scanning Resolution
Color:
Black & White:
Scanning Speed*6
Color:
Black & White:
Coding Scheme
Color:
Black & White:
Data Format
Color:
Black & White:
Compatibility
Communication Protocol
Network Connectivity
Data Format*10
Unit of Panasonic Corporation of North America
Two Panasonic Way, Secaucus, NJ 07094
For a local dealer, please call 1-800-742-8086
http://www.panasonic.com/office
Design and specifications are subject to change without notice. Not all
options may be available at the time of notification.
Panasonic Printing System for Windows®
PCL 6 Emulation*8, Adobe® PostScript®3™*9
Windows® XP/Server 2003/2000/Me/98, Windows NT® 4.0
MAC OS 8.6-10.3 (PS only)*9
Ethernet 10Base-T/100Base-TX
Letter/Legal*5/Invoice
19.9"(506 mm)
75 x 75 dpi, 150 x 150 dpi,
300 x 300 dpi
150 x 150 dpi,
300 x 300 dpi, 600 x 600 dpi
18.2"
(462 mm)
Approximately 11 seconds (Letter)
Approximately 2.7 seconds (Letter)
JPEG
JBIG/MMR/MR/MH
As an ENERGY STAR® partner, Panasonic has
determined that this product meets the ENERGY
STAR® guidelines for energy efficiency.
ISO 9001 Quality Management System
JPEG, PDF
TIFF, PDF
Scan-to-Email / Internet Fax
Panasonic Digital Document Company
Notes
*1 Dimensions and weights are approximate.
*2 Transmission time applies to memory transmission of text data using only
ITU-T Image No. 1 between the same models at maximum modem speed.
Transmission time may vary in actual usage. Usually public telephone
lines can only support communication speeds of 28.8 kbps or lower. Via
PBX, transmission speed may fall back to a lower speed.
*3 Standard/Fine resolution mode.
*4 Based on ITU-T Image No. 1 scanned in Standard resolution mode.
*5 From ADF only.
*6 Speeds are contingent upon applications, machine configuration and
status. Individual speeds may vary.
*7 Bypass only.
*8 PS/PCL Multi-Page Description Language Controller Module or PCL
Printer Controller Module is required.
*9 PS/PCL Multi-Page Description Language Controller Module is required.
*10 Internet Fax only supports TIFF format.
IETF RFC 3965, ITU-T T.37
TCP/IP, SMTP, POP3, MIME, DHCP, LDAP, SNMP/MIB
Ethernet 10Base-T/100Base-TX
TIFF-FX (Profile S/F/J), PDF, JPEG
Our business processes which produce document, information and network
products, from manufacturing to marketing, conform to ISO 9001 Quality
Management Systems standard. Design, development, manufacture, installation,
repair and maintenance
of document,
information and network
products, their
associated devices and
consumables. In
addition, the plants
outside Japan have
acquired ISO 9001
certification.

* Your assessment is very important for improving the work of artificial intelligence, which forms the content of this project