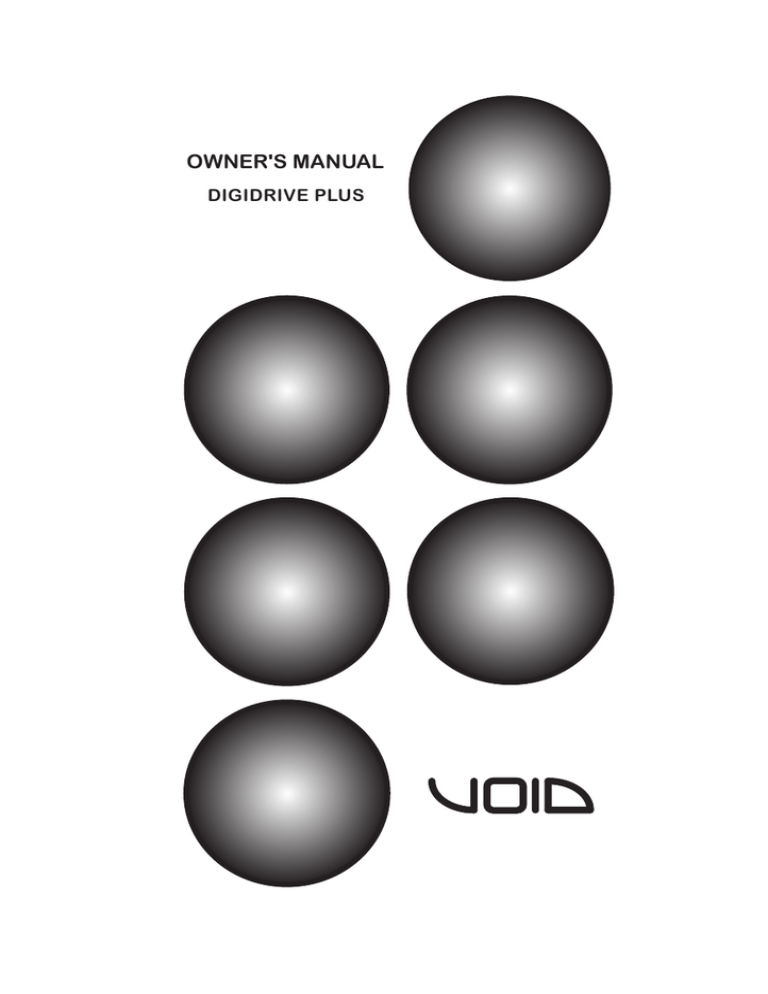 OWNER'S MANUAL
DIGIDRIVE PLUS
Digidrive
OWNER'S MANUAL
DIGIDRIVE PLUS
Digidrive
Page 2 Reference Manual
Digidrive
Page 3 Reference Manual
Digidrive
Page 4 Reference Manual
Digidrive
Page 5 Reference Manual
Digidrive
Page 6 Reference Manual
Digidrive
Page 7 Reference Manual
Digidrive
Page 8 Reference Manual
Digidrive
Page 9 Reference Manual
Digidrive
The
First press exit, then press the Ent/Sys button. Srcoll along one page by using the right menu button and use the rotary encoder to select a program to save to. Press the right cursor button to name the program, then press the Ent/Sys button twice to save the program.
Page 10 Reference Manual
Digidrive
Page 11 Reference Manual
Digidrive
Page 12 Reference Manual
Digidrive
Page 13 Reference Manual
Digidrive
Page 14 Reference Manual
Digidrive
Service
This unit has very sophisticated circuitry and should only be serviced by a fully trained technician.
No user serviceable parts inside
Refer servicing to a qualified technician
Worldwide Service
Service may be obtained from your local authorised service centre. To obtain service, simply present your sales receipt as proof of purchase along with the defective unit to an authorised service centre. They will handle the necessary paperwork and repair.
Remember to transport your unit in the original factory packaging.
1. When sending a Digidrive to an authorised service centre for service, please write a detailed description of the fault and list any other equipment used in conjunction with the faulty product. Send the fault description with the faulty product, do not send it separately.
2. Ensure safe transportation of your unit to the authorised service centre. Ship it in the original factory packaging if possible.
3. Do not ship the unit in any kind of rack. Ignoring this warning may result in extensive damage to the unit and the equipment rack. Accessories are not needed. Do not send the instruction manual, cables or any other hardware.
4. Before returning your faulty product for repair, please remember to get a return authorisation number from the dealer whom you purchased your product from.
Failure to do so could delay the repair of your product.
Warranty Registration
Please take time to fill out the warranty registration form at the back of this manual and return it to Void Acoustics.
Environmental
WEEE Mark
If you want to dispose of this product, do not mix with general
household waste. There are separate collection systems for used
electronic products in accordance with legislation under the WEEE
Directive (Directive 2002/96/EC) and is effective only within the
European Union.
This product is Rohs compliant
Page 15
P b
Reference Manual
Digidrive
LIMITED WARRANTY
THE WARRANTY
For a period of three (3) years from the date of delivery to the original purchaser (as shown on the original invoice or sales receipt), Void Acoustics (hereinafter "Void") warrants to the
ORIGINAL OWNER of each new Digidrive (provided it was purchased at an Authorised Void
Dealer) that it is free of defects in materials and workmanship and that each product will meet or exceed all factory published specifications for each respective model. Void agrees to repair or replace (at its discretion) all defective parts at no charge for labour or materials; subject to following provisions:
WARRANTY VIOLATIONS
Void shall take no responsibility for repair or replacement as specified under this warranty, if the damaged product has been subject to misuse, accident, neglect or failure to comply with normal maintenance procedures; or if the serial number has been defaced, altered or removed. Nor will Void accept responsibility for, or resulting from, improper alterations or unauthorised parts or repairs. This warranty does not cover any damage to speakers or any other consequential damage resulting from breach of any written or implied warranty.
VOID WARRANTY PROVISIONS
Void will remedy any defect, regardless of the reason for failure (except as excluded) by repair, or replacement. Void will remedy the defect and ship the product within a reasonable time after receipt of the defective product at an Void Authorised Service Centre.
TO OBTAIN WARRANTY SERVICE
In the event that a Void product requires service, the Owner must contact Void or an
Authorised Void Service Centre to receive an R.A.N. (Return Authorisation Number) and instructions on how to return the product to the Void Authorised Service Centre, or to the factory. Void (or its Authorised Service Centre) will initiate corrective repairs upon receipt of the returned product. Please save the original carton and all the packing materials in case shipping is required. All products being returned to the factory or service centre for repairs must be shipped prepaid.
If the repairs made by Void or the Void Authorised Service Centre are not satisfactory, the
Owner is instructed to give written notice to Void. If the defect or malfunction remains after a reasonable amount of attempts by Void to remedy the defect or malfunction, the Owner shall then have the option to elect either a refund or replacement of said Void product free of charge. The refund shall be an amount equal to but not greater than the actual purchase price, not including any taxes, interest, insurance, closing costs and other finance charges
(minus reasonable depreciation on the product). If a refund is necessary, the Owner must make the defective or malfunctioning product available to Void free and clear of all liens or other restrictions.
MODIFICATIONS OF EQUIPMENT
Void reserves the right to modify or change equipment (in whole or part) at any time prior to delivery thereof, in order to include therein electrical or mechanical improvements deemed appropriate by Void, but without incurring any liability to modify or change any equipment previously delivered, or to supply new equipment in accordance with any earlier specifications.
DISCLAIMER OF CONSEQUENTIAL AND INCIDENTAL DAMAGES
YOU, THE OWNER, ARE NOT ENTITLED TO RECOVER FROM VOID ANY INCIDENTAL
DAMAGES RESULTING FROM ANY DEFECT IN THE VOID PRODUCT. THIS INCLUDES
ANY DAMAGE TO ANOTHER PRODUCT OR PRODUCTS RESULTING FROM SUCH A
DEFECT.
WARRANTY ALTERATIONS
No person has the authority to enlarge, amend, or modify this Warranty. This Warranty is not extended by the length of time which the Owner is deprived of the use of product. Repairs and replacement parts provided pursuant to the Warranty shall carry only the non-expired portion of the Warranty.
THIS STATEMENT OF WARRANTY SUPERSEDES ALL OTHERS CONTAINED IN THIS
MANUAL
Page 16 Reference Manual
Void Acoustics
Unit 10B
Dawkins Road Ind Est
Poole
Dorset
BH15 4JD
UK
* Your assessment is very important for improving the work of artificial intelligence, which forms the content of this project