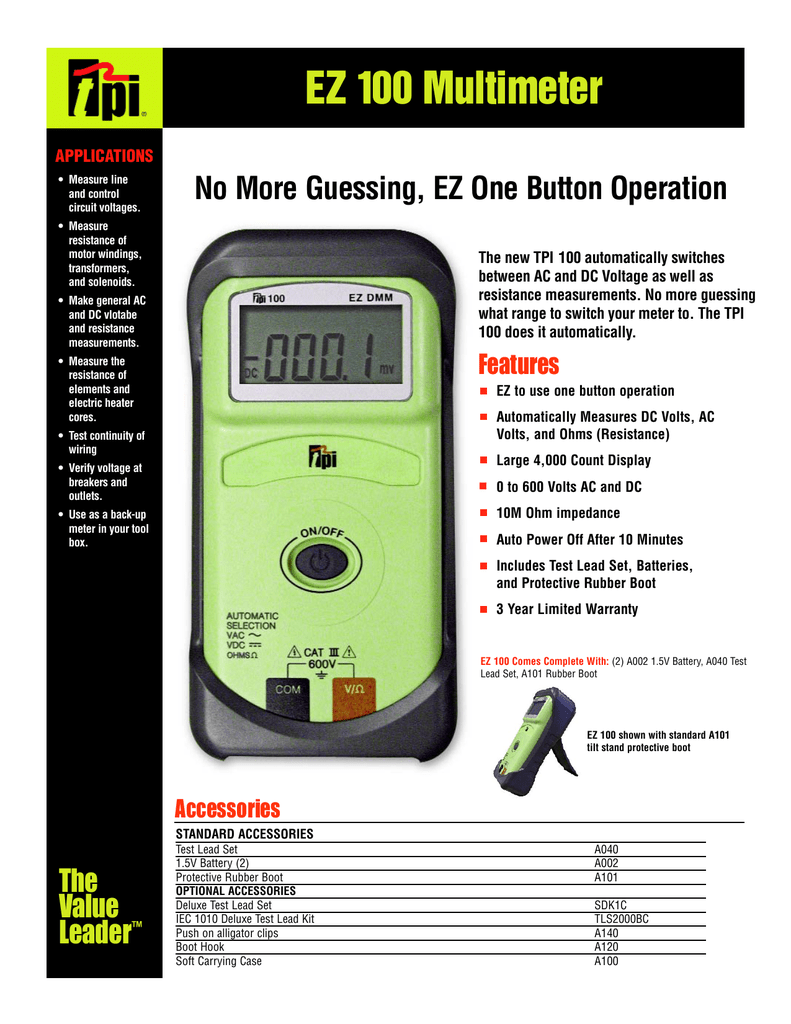 EZ 100 Multimeter
APPLICATIONS
• Measure line
and control
circuit voltages.
No More Guessing, EZ One Button Operation
• Measure
resistance of
motor windings,
transformers,
and solenoids.
The new TPI 100 automatically switches
between AC and DC Voltage as well as
resistance measurements. No more guessing
what range to switch your meter to. The TPI
100 does it automatically.
• Make general AC
and DC vlotabe
and resistance
measurements.
Features
• Measure the
resistance of
elements and
electric heater
cores.
EZ to use one button operation
Automatically Measures DC Volts, AC
Volts, and Ohms (Resistance)
• Test continuity of
wiring
Large 4,000 Count Display
• Verify voltage at
breakers and
outlets.
0 to 600 Volts AC and DC
10M Ohm impedance
• Use as a back-up
meter in your tool
box.
Auto Power Off After 10 Minutes
Includes Test Lead Set, Batteries,
and Protective Rubber Boot
3 Year Limited Warranty
EZ 100 Comes Complete With: (2) A002 1.5V Battery, A040 Test
Lead Set, A101 Rubber Boot
EZ 100 shown with standard A101
tilt stand protective boot
Accessories
STANDARD ACCESSORIES
The
Value
Leader™
Test Lead Set
1.5V Battery (2)
Protective Rubber Boot
OPTIONAL ACCESSORIES
Deluxe Test Lead Set
IEC 1010 Deluxe Test Lead Kit
Push on alligator clips
Boot Hook
Soft Carrying Case
A040
A002
A101
SDK1C
TLS2000BC
A140
A120
A100
EZ 100 Specifications
TPI offers a
complete
line of…
CO, Combustibles &
Combustion (CEA)
Function
Range
Resolution
DCV
1.5V to 4V
40.00V
400.0V
600V
1.7V to 4V
40.00V
400.0V
600V
400.0
4.000k
40.0k
400.0k
4.000M
40.00M
0.001V
0.01V
±(0.5% + 4)
0.1V
0.1V
±(0.8% +4)
0.001V
0.01V
±(0.8% +4)
0.1V
1V
±(1.2% +4)
0.1
0.001k
0.01k
±(0.8% +4)
0.1k
0.001M
0.01M
±(2.0% +4)
CAT II 1,000-V / CATIII 600V
(2) 1.5 Volt "AA" Batteries
560 hrs. Alkaline
33mm x 86mm x 187 (1.3" x 3.4" x 7.4")
340g (12oz)
ACV
Refrigerant Leak
Detectors
Digital Manometers
OHM
Temperature
Contact & IR
Instruments
IAQ: Air Flow &
Humidity
Handheld
Oscilloscopes
Digital Multimeters
& Clamp-on Meters
Safety
Power Supply
Battery Life
Size
Weight
Accuracy
Accessories & Kits
Distributed By:
Test Products
International, Inc.
Headquarters:
9615 SW Allen Blvd.
Beaverton, OR 97005
USA
503-520-9197
Fax: 503-520-1225
e-mail:
info@tpi-thevalueleader.com
Test Products
International, Ltd.
342 Bronte St. South
Unit #9
Milton, Ontario L9T
5B7
Canada
905-693-8558
Fax: 905-693-0888
e-mail:
info@tpicanada.com
Test Products
International UK Ltd.
Longley House,
East Park
Crawley, West Sussex
RH10 6AP England
Tel:
+44 (0)1293 561212
Fax:
+44 (0)1293813465
contactus@tpieurope.com
To learn about the entire
line of TPI products visit:
www.tpi-thevalueleader.com
L 100-0306
Copyright © 2006 Test Products International, Inc.

* Your assessment is very important for improving the work of artificial intelligence, which forms the content of this project