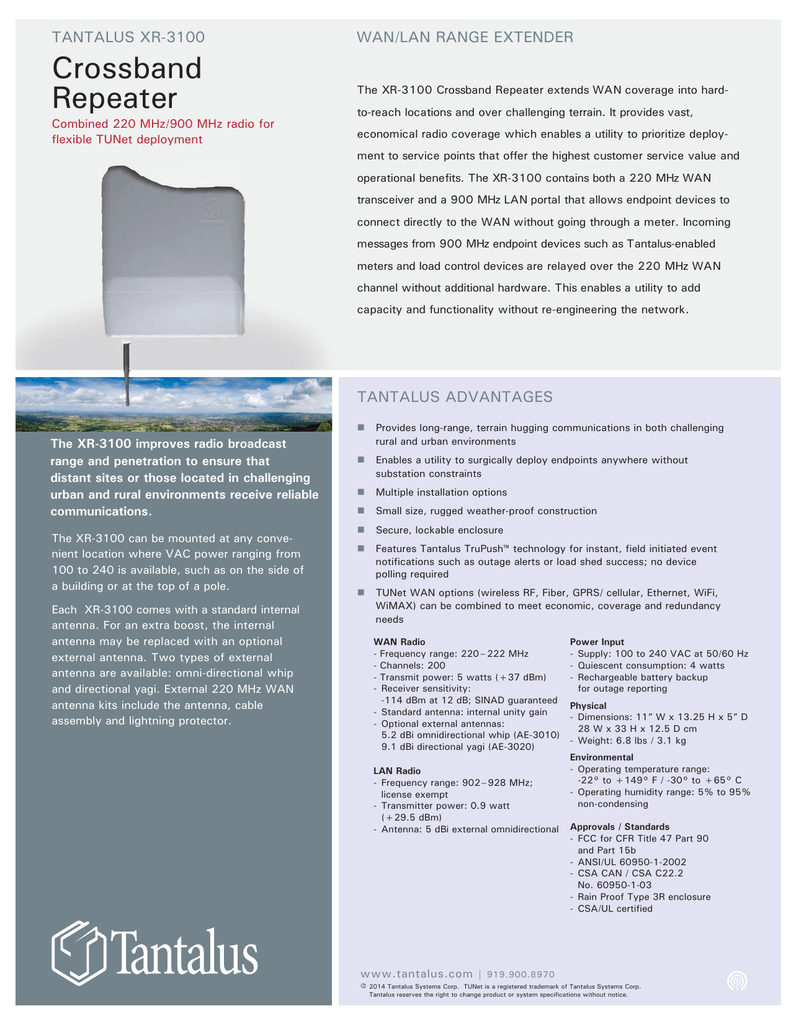 TANTALUS XR-3100
Crossband
Repeater
Combined 220 MHz/900 MHz radio for
flexible TUNet deployment
WAN/LAN RANGE EXTENDER
The XR-3100 Crossband Repeater extends WAN coverage into hardto-reach locations and over challenging terrain. It provides vast,
economical radio coverage which enables a utility to prioritize deployment to service points that offer the highest customer service value and
operational benefits. The XR-3100 contains both a 220 MHz WAN
transceiver and a 900 MHz LAN portal that allows endpoint devices to
connect directly to the WAN without going through a meter. Incoming
messages from 900 MHz endpoint devices such as Tantalus-enabled
meters and load control devices are relayed over the 220 MHz WAN
channel without additional hardware. This enables a utility to add
capacity and functionality without re-engineering the network.
TANTALUS ADVANTAGES
The XR-3100 improves radio broadcast
range and penetration to ensure that
distant sites or those located in challenging
urban and rural environments receive reliable
communications.
The XR-3100 can be mounted at any convenient location where VAC power ranging from
100 to 240 is available, such as on the side of
a building or at the top of a pole.
Each XR-3100 comes with a standard internal
antenna. For an extra boost, the internal
antenna may be replaced with an optional
external antenna. Two types of external
antenna are available: omni-directional whip
and directional yagi. External 220 MHz WAN
antenna kits include the antenna, cable
assembly and lightning protector.
"
Provides long-range, terrain hugging communications in both challenging
rural and urban environments
"
Enables a utility to surgically deploy endpoints anywhere without
substation constraints
"
Multiple installation options
"
Small size, rugged weather-proof construction
"
Secure, lockable enclosure
"Features Tantalus TruPush™ technology for instant, field initiated event
notifications such as outage alerts or load shed success; no device
polling required
"
TUNet WAN options (wireless RF, Fiber, GPRS/ cellular, Ethernet, WiFi,
WiMAX) can be combined to meet economic, coverage and redundancy
needs
WAN Radio
- Frequency range: 220–222 MHz
- Channels: 200
- Transmit power: 5 watts (+37 dBm)
- Receiver sensitivity:
-114 dBm at 12 dB; SINAD guaranteed
- Standard antenna: internal unity gain
- Optional external antennas:
5.2 dBi omnidirectional whip (AE-3010)
9.1 dBi directional yagi (AE-3020)
LAN Radio
- Frequency range: 902– 928 MHz;
license exempt
- Transmitter power: 0.9 watt
(+29.5 dBm)
- Antenna: 5 dBi external omnidirectional
www.tantalus.com |
Power Input
- Supply: 100 to 240 VAC at 50/60 Hz
- Quiescent consumption: 4 watts
- Rechargeable battery backup
for outage reporting
Physical
- Dimensions: 11" W x 13.25 H x 5" D
28 W x 33 H x 12.5 D cm
- Weight: 6.8 lbs / 3.1 kg
Environmental
- Operating temperature range:
-22° to +149° F / -30° to +65° C
- Operating humidity range: 5% to 95%
non-condensing
Approvals / Standards
- FCC for CFR Title 47 Part 90
and Part 15b
- ANSI/UL 60950-1-2002
- CSA CAN / CSA C22.2
No. 60950-1-03
- Rain Proof Type 3R enclosure
- CSA/UL certified
919.900.8970
2014 Tantalus Systems Corp. TUNet is a registered trademark of Tantalus Systems Corp.
© Tantalus
reserves the right to change product or system specifications without notice.

* Your assessment is very important for improving the work of artificial intelligence, which forms the content of this project