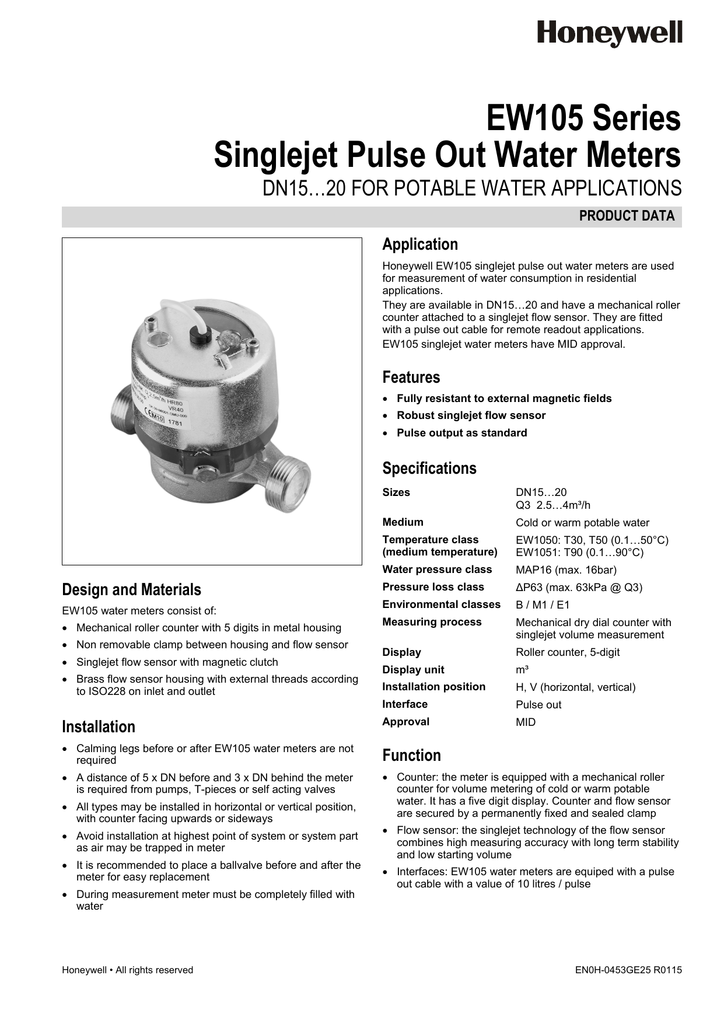 EW105 Series
Singlejet Pulse Out Water Meters
DN15…20 FOR POTABLE WATER APPLICATIONS
PRODUCT DATA
Application
Honeywell EW105 singlejet pulse out water meters are used
for measurement of water consumption in residential
applications.
They are available in DN15…20 and have a mechanical roller
counter attached to a singlejet flow sensor. They are fitted
with a pulse out cable for remote readout applications.
EW105 singlejet water meters have MID approval.
Features
 Fully resistant to external magnetic fields
 Robust singlejet flow sensor
 Pulse output as standard
Specifications
Sizes
DN15…20
Q3 2.5…4m³/h
Medium
Cold or warm potable water
Temperature class
(medium temperature)
EW1050: T30, T50 (0.1…50°C)
EW1051: T90 (0.1…90°C)
Water pressure class
MAP16 (max. 16bar)
Design and Materials
Pressure loss class
∆P63 (max. 63kPa @ Q3)
EW105 water meters consist of:
Environmental classes
B / M1 / E1
 Mechanical roller counter with 5 digits in metal housing
Measuring process
Mechanical dry dial counter with
singlejet volume measurement
Display
Roller counter, 5-digit
Display unit
m³
Installation position
H, V (horizontal, vertical)
Interface
Pulse out
Installation
Approval
MID
 Calming legs before or after EW105 water meters are not
required
Function
 A distance of 5 x DN before and 3 x DN behind the meter
is required from pumps, T-pieces or self acting valves
 Counter: the meter is equipped with a mechanical roller
counter for volume metering of cold or warm potable
water. It has a five digit display. Counter and flow sensor
are secured by a permanently fixed and sealed clamp
 Non removable clamp between housing and flow sensor
 Singlejet flow sensor with magnetic clutch
 Brass flow sensor housing with external threads according
to ISO228 on inlet and outlet
 All types may be installed in horizontal or vertical position,
with counter facing upwards or sideways
 Avoid installation at highest point of system or system part
as air may be trapped in meter
 It is recommended to place a ballvalve before and after the
meter for easy replacement
 During measurement meter must be completely filled with
water
Honeywell • All rights reserved
 Flow sensor: the singlejet technology of the flow sensor
combines high measuring accuracy with long term stability
and low starting volume
 Interfaces: EW105 water meters are equiped with a pulse
out cable with a value of 10 litres / pulse
EN0H-0453GE25 R0115
EW105 SERIES SINGLEJET PULSE OUT WATER METERS
Dimensions and Ordering Information
Fig. 1
Table 1. Flow Data, Dimensions and OS-Numbers
DN size
15
20
15
EW1050…
Flow rates according to MID
20
EW1051…
Minimum (Q1)
l/h
25 / 50
40 / 80
31.25 / 62.5
50 / 100
Transition (Q2)
l/h
40 / 80
64 / 128
50 / 100
80 / 160
Pemanent (Q3)
m³/h
2.5
4
2.5
4
Overload (Q4)
m³/h
3.125
5
3.125
5
horizontal
vertical
R100
R50
R100
R50
R80
R40
R80
R40
l/h
8
15
8
15
T30
T30
T90
T90
l/pulse
10
10
10
10
Length L
mm
110
130
110
130
Height H
mm
Dynamic range (Q3/Q1)
Additional data
Starting flow rate
Temperature class
Pulse value
Dimensions
68.5
Counter Ø D
mm
Meter thread G
Inch
G3/4
G1
G3/4
G1
kg
0.65
0.75
0.65
0.75
EW1050AP1200
EW1050AP2000
EW1051AP1200
EW1051AP2000
Weight
72
Order specification
OS-No.
Accessories
Set of two union nuts, two sealings and two externally threaded brass
tailpieces (one pack per meter required) – sealable with locking wire
For DN15, 1/2" x 3/4"
EWA1500035
For DN20, 3/4" x 1"
EWA1500042
Environmental and Combustion Controls
Honeywell GmbH
Hardhofweg
74821 Mosbach, Germany
Phone: +49 (6261) 810
Fax: +49 (6261) 81393
www.honeywell.com
EN0H-0453GE25 R0115
January 2015 (Rev. B)
© 2015 Honeywell International Inc.
Subject to change • All rights reserved
Created for and on behalf of the Environmental and Combustion
Controls Division of Honeywell Technologies Sàrl, Z.A. La Pièce 16,
1180 Rolle, Switzerland or its Authorized Representative.

* Your assessment is very important for improving the work of artificial intelligence, which forms the content of this project