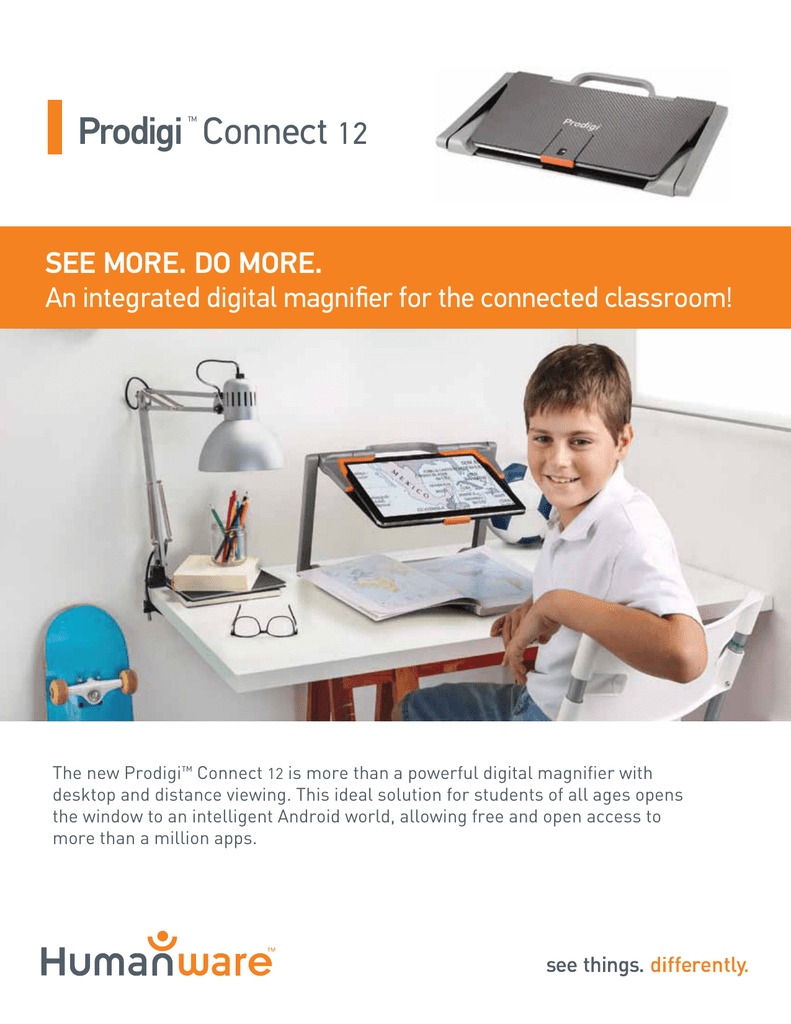 Prodigi Connect 12
TM
SEE MORE. DO MORE.
An integrated digital magnifier for the connected classroom!
The new Prodigi™ Connect 12 is more than a powerful digital magnifier with
desktop and distance viewing. This ideal solution for students of all ages opens
the window to an intelligent Android world, allowing free and open access to
more than a million apps.
THE BIG PICTURE
The newest addition to the remarkable prodigi family
Smarter and more connected than all other low-vision products,
HumanWare's new Prodigi Connect 12 is the evolution of the most
advanced digital magnifier product line. This is the solution for
low-vision users looking to enlarge print and images with the added
benefit of instant connectivity in the classroom.
Lightweight and extremely portable
12.2-inch full HD touchscreen with
direct access to object or document
being viewed
Open Android platform provides
access to 1,500,000 apps and native
synchronization with Google world
Google Docs, Drive, Gmail, Google+,
Hangouts, Chrome (all preinstalled)
Powerful, wireless camera for distant
viewing. Up to 40x magnification in
full HD with integrated capture function
Smartboard connectivity
(Promethean, TeamViewer, VNC)
Long-lasting battery – up to 12 hours
of use!
Bookshare, BARD, Pyxyma, and many
other content providers
TONS OF PRODIGI FEATURES
Intelligence and convenience
in one powerful tool
Augmenting the Prodigi family's renowned
attributes with a set of new features
makes the Prodigi Connect 12 a powerful
tool for low-vision users, whether they're
at school, at work, at home or on the go.
Read any text from clipboard in
Diamond Edge
Save distance image for viewing within
the gallery and read with Prodigi
features in perfect Diamond Edge
New software button banner for easy
and quick interface
Toggle to Android in one button push
Perfect Diamond Edge Text™ with
extreme capture and processing speed
3 efficient reading modes to read manually
or with auto scroll: Page, Column and
line modes
Use speech if needed, to reduce eye fatigue
Free automatic updates keeping you
to fix the latest current version
Save documents to Gallery, and organize
in customizable folders or export
to Android
Capture a full page to read with Prodigi
or use Live mode for 1-24x magnification
16 color schemes to personalize the
contrast to your preferences
Diamond Edge Text
TM
READY TO CONNECT
Start seeing the world in a new way
The Prodigi Connect 12 is packed with all
you need to get started seeing your world
with renewed clarity:
Foldable stand and tablet, installed and
pre-assembled
Ready to use apps: Dropbox, Google Apps,
and more!
USB cable and international switching
power charger
Compatible with Bluetooth keyboard
Laptop style carrying case with various
pouches and shoulder strap
For more information contact us today.
Indigo Logix, LLC
sales@indigologix.com
615-822-3465
Plus, you can add the optional
rechargeable Sony distance
camera, including mini-USB
cable, 12-inch gooseneck style
table-clip, and Prodigi app with
built-in image capturing for
up to 40x distance viewing
and capture!

* Your assessment is very important for improving the work of artificial intelligence, which forms the content of this project