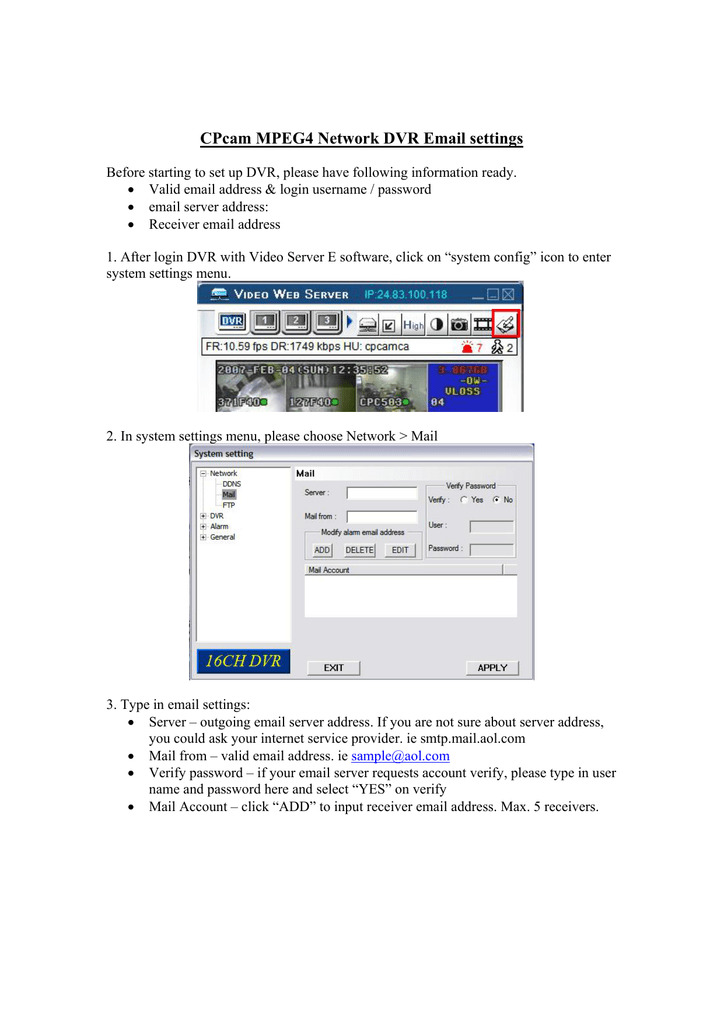 CPcam MPEG4 Network DVR Email settings
Before starting to set up DVR, please have following information ready.
• Valid email address & login username / password
• email server address:
• Receiver email address
1. After login DVR with Video Server E software, click on "system config" icon to enter
system settings menu.
2. In system settings menu, please choose Network > Mail
3. Type in email settings:
• Server – outgoing email server address. If you are not sure about server address,
you could ask your internet service provider. ie smtp.mail.aol.com
• Mail from – valid email address. ie sample@aol.com
• Verify password – if your email server requests account verify, please type in user
name and password here and select "YES" on verify
• Mail Account – click "ADD" to input receiver email address. Max. 5 receivers.
4.Go to Alarm menu, and enable Alarm Trigger. Then, check Email for Alarm Method.
5. Make sure the motion detection is ON.
6. After the setup is done, DVR is able to email snapshot picture to receiver's email when
DVR detect motion.

* Your assessment is very important for improving the work of artificial intelligence, which forms the content of this project