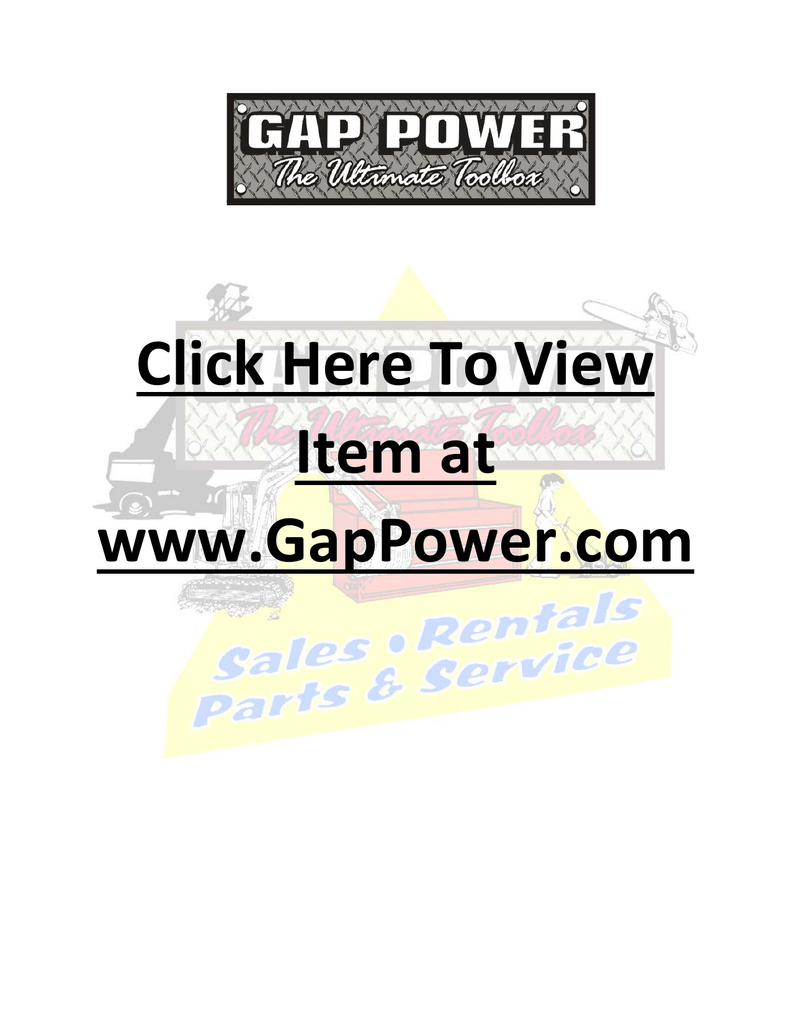 Click Here To View
Item at
www.GapPower.com
Gap Power
5399 Linclon Highway Gap, PA 17527
Phone (717) 442-8970
Professional Use
TS 410 STIHL Cutquik®
TS 410 Cutquik®
Series 4238
Professional Use
There are no easy jobs in the construction and deconstruction business, but when it comes to cutting performance there is
one easy choice: the TS 410 STIHL Cutquik® cut-off machine with a 12" cutting wheel. Featuring the X2 air filtration system
and an anti-vibration system, this cut-off machine is comfortable to use and easy to maintain. Thanks to patented
advancements, the TS 410 keeps working longer than the legendary TS 400 — helping you stay on schedule.
(Abrasive wheel included. Diamond wheel (shown) is sold separately.)
Standard Features
● X2 low-maintenance air filtration system
● Anti-vibration system reduces vibration up to 43% over
previous models
● Powerful and fuel-efficient, low-emission engine
● Emissions reduced up to 44% compared to previous
models
● Lightweight and well balanced compact top handle
design
● Semi-automatic belt tensioner
● Reversible cutting arm for inboard or outboard cutting
Specifications
Optional Features
● TS Rental Kit
● Leather Chaps
● Portable Water Tank
● Metal TS Case
● Roller Wheel Kit
● Mounting Kit and Cart
*Weight includes water attachment and guard.
DISPLACEMENT
66.7 cc (4.07 cu. in.)
ENGINE POWER
3.2 kW (4.4 bhp)
WEIGHT*
9.4 kg (20.7 lbs.)
FUEL TANK CAPACITY
710 cc (24 oz.)
ENGINE SPEED
9,000 rpm (Elec. Gov.)
MAX SPINDLE SPEED
5,350 rpm
ARBOR SIZE
20 mm
MAXIMUM WHEEL SIZE
300 mm (12")
MAXIMUM CUTTING DEPTH
100 mm (3.9")
IMPORTANT INFORMATION
WARNING! Never use carbide-tipped, wood cutting or circular saw blades on cut-off machines. They can cause severe personal injury or death from reactive
forces, blade contact or thrown tips. Never cut wood of any type.
Note: STIHL recommends use of fuel with no more than 10% Ethanol content. Using fuel with greater than 10% Ethanol content may cause damage to your
equipment and may void your STIHL warranty. Learn More…
Note: STIHL engine products with the Caring for Nature logo are cleaner than EPA Standards for exhaust emissions.
WARNING! Improper use of any power tool may cause serious or fatal injury. Read, understand and follow carefully the operating and safety instructions in
your instruction manual before using such products.
STIHL products sold through U.S. STIHL dealers are for distribution in the United States only.

* Your assessment is very important for improving the work of artificial intelligence, which forms the content of this project