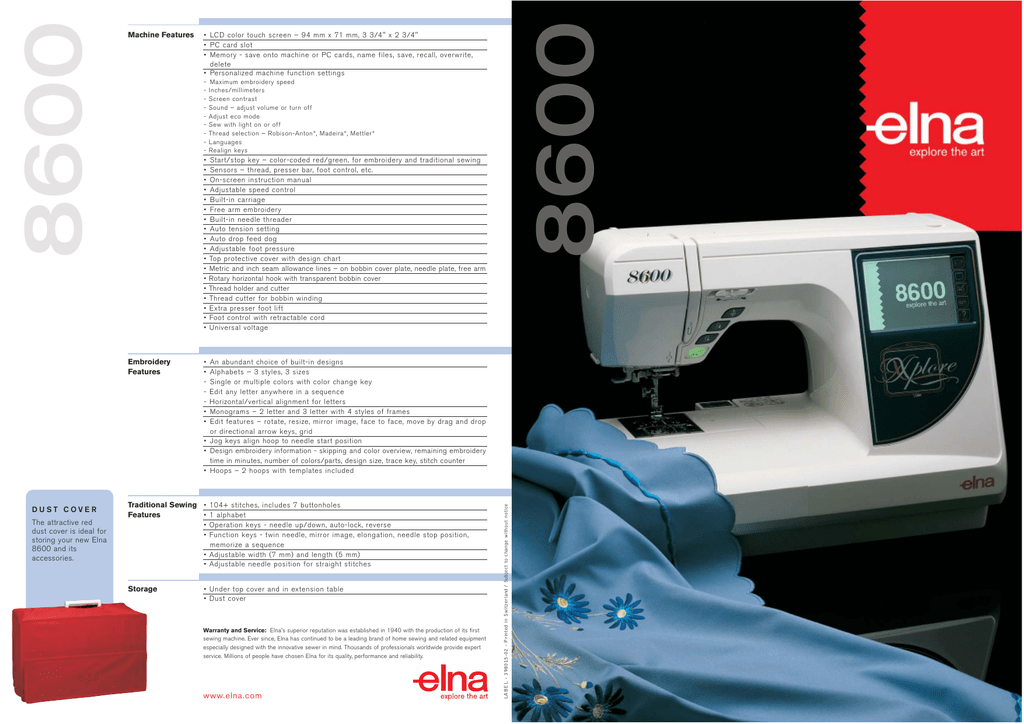 Embroidery
Features
DUST COVE R
The attractive red
dust cover is ideal for
storing your new Elna
8600 and its
accessories.
-
Maximum embroidery speed
Inches/millimeters
Screen contrast
Sound – adjust volume or turn off
Adjust eco mode
Sew with light on or off
Thread selection – Robison-Anton ®, Madeira ®, Mettler ®
Languages
Realign keys
•
•
•
•
•
•
•
•
•
•
•
•
•
•
•
•
•
•
Start/stop key – color-coded red/green, for embroidery and traditional sewing
Sensors – thread, presser bar, foot control, etc.
On-screen instruction manual
Adjustable speed control
Built-in carriage
Free arm embroidery
Built-in needle threader
Auto tension setting
Auto drop feed dog
Adjustable foot pressure
Top protective cover with design chart
Metric and inch seam allowance lines – on bobbin cover plate, needle plate, free arm
Rotary horizontal hook with transparent bobbin cover
Thread holder and cutter
Thread cutter for bobbin winding
Extra presser foot lift
Foot control with retractable cord
Universal voltage
•
•
•
•
An abundant choice of built-in designs
Alphabets – 3 styles, 3 sizes
Single or multiple colors with color change key
Edit any letter anywhere in a sequence
Horizontal/vertical alignment for letters
Monograms – 2 letter and 3 letter with 4 styles of frames
Edit features – rotate, resize, mirror image, face to face, move by drag and drop
or directional arrow keys, grid
• Jog keys align hoop to needle start position
• Design embroidery information - skipping and color overview, remaining embroidery
time in minutes, number of colors/parts, design size, trace key, stitch counter
• Hoops – 2 hoops with templates included
Traditional Sewing • 104+ stitches, includes 7 buttonholes
Features
• 1 alphabet
• Operation keys - needle up/down, auto-lock, reverse
• Function keys - twin needle, mirror image, elongation, needle stop position,
memorize a sequence
• Adjustable width (7 mm) and length (5 mm)
• Adjustable needle position for straight stitches
Storage
8600
• LCD color touch screen – 94 mm x 71 mm, 3 3/4" x 2 3/4"
• PC card slot
• Memory - save onto machine or PC cards, name files, save, recall, overwrite,
delete
• Personalized machine function settings
• Under top cover and in extension table
• Dust cover
Warranty and Service: Elna's superior reputation was established in 1940 with the production of its first
sewing machine. Ever since, Elna has continued to be a leading brand of home sewing and related equipment
especially designed with the innovative sewer in mind. Thousands of professionals worldwide provide expert
service. Millions of people have chosen Elna for its quality, performance and reliability.
www.elna.com
LABEL - 398015-02 - Printed in Switzerland / Subject to change without notice
8600
Machine Features
This machine does it all – from just-for-fun creations to elegant embroidery.
With the Xplore computerized sewing and embroidery machine, one minute
you'll be sewing an apron for gardening, the next you'll be embellishing it with
embroidery. And there's also a wonderful selection of quilting and heirloom
stitches available, if that's where your interest lies. As always, Elna provides you
the latest in technology; now it's up to you to set aside the time to enjoy it.
8600
How to spend your
leisure time...
... with Elna and the Xplore 8600!
Your leisure time should be just that – leisure time.
The skilled experts at Elna have designed the Xplore with you in mind.
Check out these features that will prove to be invaluable.
Now it's up to you.
Don't you love using the start / stop key when
embroidering ? You'll find it just as valuable
for traditional sewing. Simply unplug the foot
control and press the key.
For the next time.
Unlimited memory capacity. Save to the
machine or to an optional card. Now you
can better organize your files by assigning
a name. The names are then automatically
alphabetized – so convenient.
Easy to navigate.
The large, color LCD touch screen
guides you through. Whether it's
information, instructions or advisory
messages, everything is simple
and clear, right in plain sight.
The tools you need.
Need help laying out your embroidery ?
Use the design and hoop templates
included with the 8600. The templates
along with the hoop positioning keys
assure perfect design placement.
Look how easy !
Pull down the lever, position the
thread and the needle is threaded.
Works first time, every time.
Great for all those color changes.
Pick and choose.
Want to use the fish but not
the background ? Just touch the
screen to skip over the colors
or parts you don't want. You'll even
see the screen recalculate the real
sewing time.
It's all there !
Smart and informative.
No separate unit to attach, the carriage
is built-in. One minute you're inserting
a zipper, the next you're embroidering.
And the feed dog adjusts itself
to the task automatically.
Everything's set, but the machine
won't sew. What happened ?
Did you lower the presser foot ?
Did you thread the machine ?
The Xplore 8600 will let you know !
Ready to Xplore ?
Have some fun.
Come explore all the decorative possibilities. Choose from
cross stitches, quilt stitches, heirloom stitches, florals, satin
stitches, a comprehensive alphabet. Looking for more?
Simply switch to embroidery mode and you're ready
to embroider a built-in design or alphabet.
An elegant way to say, " It's mine ! "
Two or three letter monograms are so easy
to embroider. You can add a classic frame and even encase
the monogram within other designs. Or if you want to embroider
your entire name, select from Gothic, Script or Cheltenham fonts.
All of these styles are built-in, ready to embroider.
Recipe for success.
We've given you the standard version of the stitch.
Now it's up to you to personalize it. Elongate satin stitches
up to 5 times their original length. Use mirror image
to flip stitches for a different effect. And, of course,
you can change the width and length of any
of our stitches. What delicious ingredients!
Just the way I want it !
See it all come together before embroidering.
Arrange one or more designs in the window with the drag
and drop feature. Take it a step further and use resize, mirror
image, face to face or rotation to refine the components
until you're pleased with the results.
Be creative with the free arm ?
Yes! Save all your thread and fabric scraps. Sandwich them
between layers of wash-away stabilizer, and sew continuously
around the free arm to weave unique, custom-made fabric
for decorative accents. Another thought – use the optional
free arm hoop to embroider cuffs and pant legs.
Torn seams, missing buttons ?
As creative as you are, sometimes you still need to be practical.
Reinforce belt loops with sturdy bartacks and pleats with
arrowtacks. Make durable buttonholes and securely attach
the buttons. Of course these elements can be creative as well.
Sew buttons around a pocket area. Instead of a zipper, create
a lacing effect with eyelets. Anything goes.