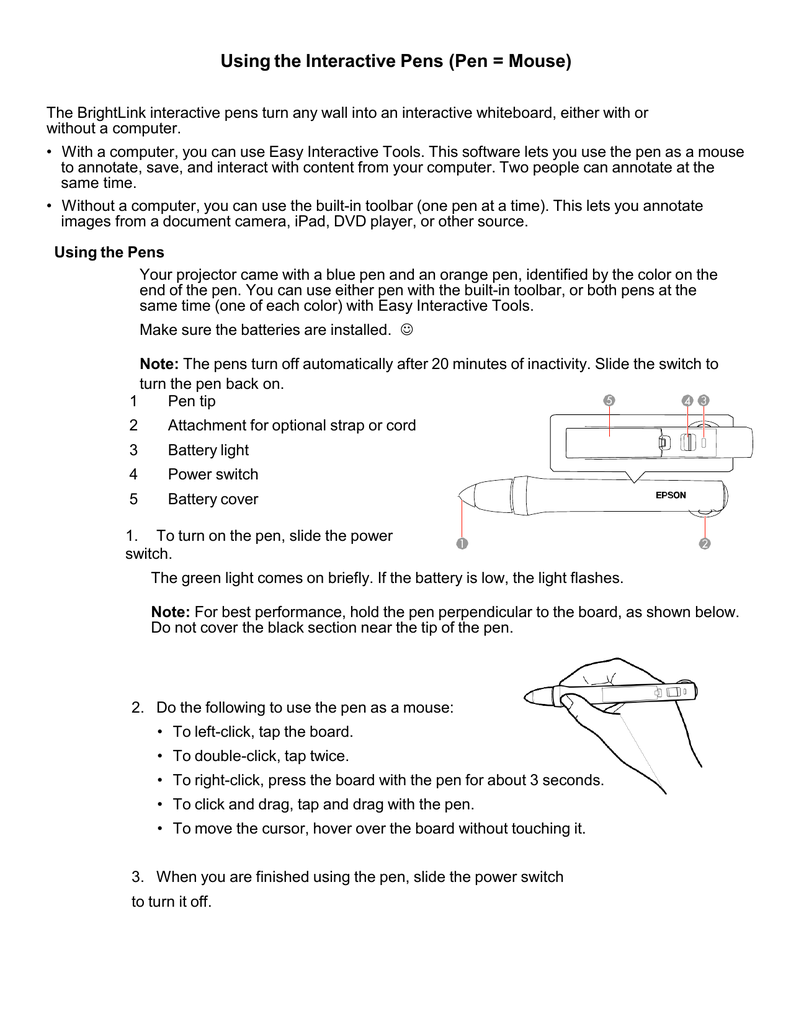 Using the Interactive Pens (Pen = Mouse)
The BrightLink interactive pens turn any wall into an interactive whiteboard, either with or
without a computer.
• With a computer, you can use Easy Interactive Tools. This software lets you use the pen as a mouse
to annotate, save, and interact with content from your computer. Two people can annotate at the
same time.
• Without a computer, you can use the built-in toolbar (one pen at a time). This lets you annotate
images from a document camera, iPad, DVD player, or other source.
Using the Pens
Your projector came with a blue pen and an orange pen, identified by the color on the
end of the pen. You can use either pen with the built-in toolbar, or both pens at the
same time (one of each color) with Easy Interactive Tools.
Make sure the batteries are installed. 
Note: The pens turn off automatically after 20 minutes of inactivity. Slide the switch to
turn the pen back on.
1
Pen tip
2
Attachment for optional strap or cord
3
Battery light
4
Power switch
5
Battery cover
1. To turn on the pen, slide the power
switch.
The green light comes on briefly. If the battery is low, the light flashes.
Note: For best performance, hold the pen perpendicular to the board, as shown below.
Do not cover the black section near the tip of the pen.
2. Do the following to use the pen as a mouse:
• To left-click, tap the board.
• To double-click, tap twice.
• To right-click, press the board with the pen for about 3 seconds.
• To click and drag, tap and drag with the pen.
• To move the cursor, hover over the board without touching it.
3. When you are finished using the pen, slide the power switch
to turn it off.

* Your assessment is very important for improving the work of artificial intelligence, which forms the content of this project