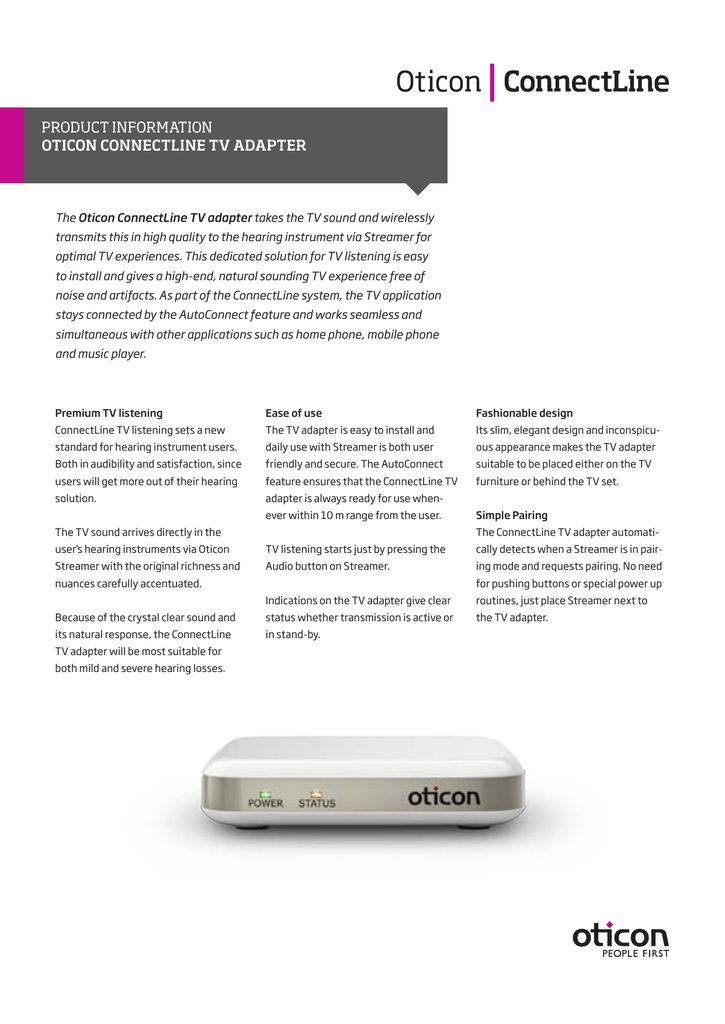 product information
Oticon connectline TV adapter
The Oticon ConnectLine TV adapter takes the TV sound and wirelessly
transmits this in high quality to the hearing instrument via Streamer for
optimal TV experiences. This dedicated solution for TV listening is easy
to install and gives a ­high-end, natural sounding TV experience free of
noise and artifacts. As part of the ConnectLine system, the TV application
stays connected by the AutoConnect feature and works seamless and
simultaneous with other ­applications such as home phone, mobile phone
and music player.
Premium TV listening
Ease of use
Fashionable design
ConnectLine TV listening sets a new
The TV adapter is easy to install and
Its slim, elegant design and inconspicu-
standard for hearing instrument users.
daily use with Streamer is both user
ous appearance makes the TV adapter
Both in audibility and satisfaction, since
friendly and secure. The AutoConnect
suitable to be placed either on the TV
users will get more out of their hearing
feature ensures that the ConnectLine TV
furniture or behind the TV set.
solution.
adapter is always ready for use whenever within 10 m range from the user.
Simple Pairing
The ConnectLine TV adapter automati-
The TV sound arrives directly in the
user's hearing instruments via Oticon
TV listening starts just by pressing the
cally detects when a Streamer is in pair-
Streamer with the original richness and
Audio button on Streamer.
ing mode and requests pairing. No need
for pushing buttons or special power up
nuances carefully ­accentuated.
Indications on the TV adapter give clear
routines, just place Streamer next to
Because of the crystal clear sound and
status whether transmission is active or
the TV adapter.
its natural response, the ConnectLine
in stand-by.
TV adapter will be most suitable for
both mild and severe hearing losses.
pRODUCT OVERVIEW
Included Accessories
❍❍ Power supply
❍❍ TV cord 1,5 m
(3.5 mm jack - 2 x RCA)
❍❍ TV interface adapters
Power indicator
TV connection
Status indicator
Mic connection
Power connection
Technical data TV 75-01
Dimensions
80 x 80 x 17 mm
Weight
70 g
Power supply
External wall adapter, 5 V dc
Power consumption
Max. 60 mA
Audio interfaces
Line input (3.5 mm jack)
Mic input (2.5 mm jack)
Line input sensitivity
0,5 Vrms - 2,0 Vrms (analogue)
Compatibility
Streamer 1.4 or later
AutoConnect (range)
Yes (10 meters)
Simple Pairing
Yes
Frequency
10 meters (Class 2)
Transmission range
< 15 mSec
Audio Quality
Mono / 16 kHz sample frq
Audio Bandwidth
80 Hz - 7,4 kHz
Status indications
Green when powered
Orange when transmitting
Colour
White, high gloss
Emissions
Max. -15dBμA / 10 meters. In compliance with all relevant standards.
Operating temperature
0 - 50 °C
Storage temperature
-20 - 70 °C
For other instruments than Oticon Agil: the Streamer TV program cannot be fine tuned directly in Genie. The relevant amplification applied
in this program is similar to the general fitting, using P1 as reference. If fine tuning however is needed, an additional standard program
is fitted to the instrument as P2, which then must be the user's standard listening program. P1 can now be fine tuned to the specific TV
listening application.
For Oticon Agil: The ConnectLine tool in Genie 2010.1 or later allow for the individual ConnectLine programmes to be fine tuned.
During TV listening, the hearing instrument microphones are normally turned on (unless temporarily muted by the user).
The sound level of the microphones (i.e. acoustic input from surroundings) can be attenuated relatively to the TV sound.
This is done in the "End Fitting" of Genie.
www.oticon.com
910 59 910 00 / 11.10
Genie and ConnectLine TV adapter
Streamer compatible Oticon hearing instruments always have a program for the Streamer TV application. The dedicated Streamer TV
program is automatically activated by the hearing instrument as soon TV listening is started through Streamer.

* Your assessment is very important for improving the work of artificial intelligence, which forms the content of this project