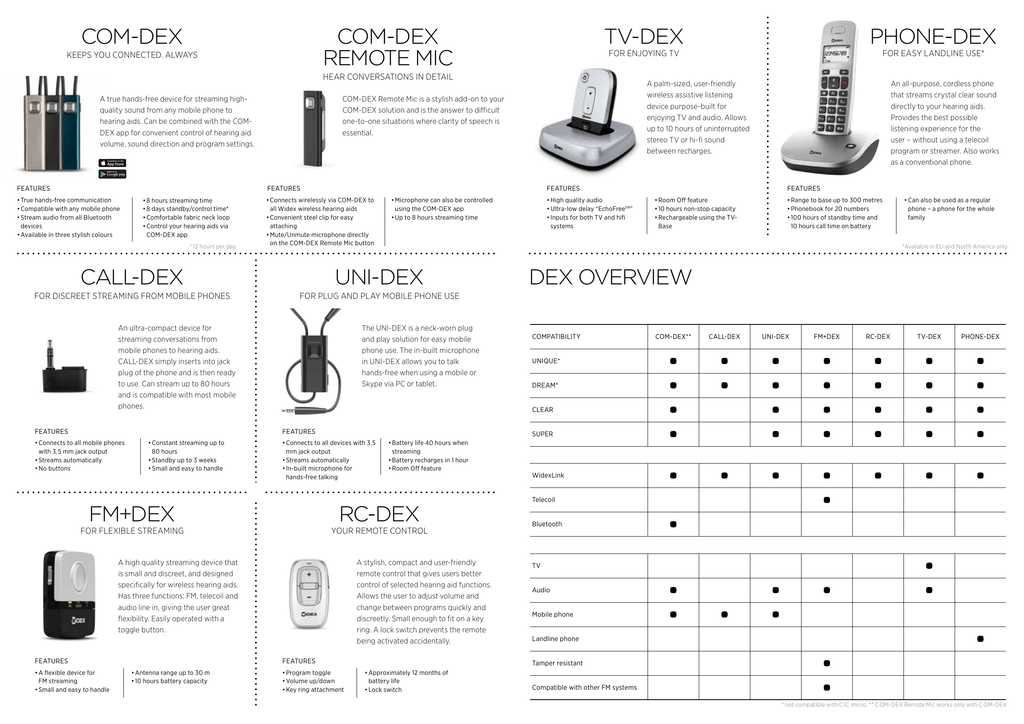 COM-DEX
COM-DEX
REMOTE MIC
KEEPS YOU CONNECTED. ALWAYS
TV-DEX
FOR ENJOYING TV
HEAR CONVERSATIONS IN DETAIL
FEATURES
FEATURES
•True hands-free communication
•Compatible with any mobile phone
•Stream audio from all Bluetooth
devices
•Available in three stylish colours
•8 hours streaming time
•8 days standby/control time*
•Comfortable fabric neck loop
•Control your hearing aids via
COM-DEX app
* 12 hours per day
FEATURES
•Connects wirelessly via COM-DEX to
all Widex wireless hearing aids
•Convenient steel clip for easy
attaching
•Mute/Unmute microphone directly
on the COM-DEX Remote Mic button
•Microphone can also be controlled
using the COM-DEX app
•Up to 8 hours streaming time
UNI-DEX
FOR DISCREET STREAMING FROM MOBILE PHONES
FOR PLUG AND PLAY MOBILE PHONE USE
An ultra-compact device for
streaming conversations from
mobile phones to hearing aids.
CALL-DEX simply inserts into jack
plug of the phone and is then ready
to use. Can stream up to 80 hours
and is compatible with most mobile
phones.
The UNI-DEX is a neck-worn plug
and play solution for easy mobile
phone use. The in-built microphone
in UNI-DEX allows you to talk
hands-free when using a mobile or
Skype via PC or tablet.
•Constant streaming up to
80 hours
•Standby up to 3 weeks
•Small and easy to handle
•Battery life 40 hours when
streaming
•Battery recharges in 1 hour
•Room Off feature
RC-DEX
FOR FLEXIBLE STREAMING
YOUR REMOTE CONTROL
A high quality streaming device that
is small and discreet, and designed
specifically for wireless hearing aids.
Has three functions: FM, telecoil and
audio line in, giving the user great
flexibility. Easily operated with a
toggle button.
•A flexible device for
FM streaming
•Small and easy to handle
A stylish, compact and user-friendly
remote control that gives users better
control of selected hearing aid functions.
Allows the user to adjust volume and
change between programs quickly and
discreetly. Small enough to fit on a key
ring. A lock switch prevents the remote
being activated accidentally.
FEATURES
•Antenna range up to 30 m
•10 hours battery capacity
FEATURES
•Room Off feature
•10 hours non-stop capacity
•Rechargeable using the TVBase
•Range to base up to 300 metres
•Phonebook for 20 numbers
•100 hours of standby time and
10 hours call time on battery
•Can also be used as a regular
phone – a phone for the whole
family
DEX OVERVIEW
COMPATIBILITY
COM-DEX**
CALL-DEX
UNI-DEX
FM+DEX
RC-DEX
TV-DEX
PHONE-DEX
UNIQUE*
DREAM*
SUPER
•Connects to all devices with 3.5
mm jack output
•Streams automatically
•In-built microphone for
hands-free talking
FM+DEX
FEATURES
•High quality audio
•Ultra-low delay "EchoFreeTM"
•Inputs for both TV and hifi
systems
CLEAR
FEATURES
•Connects to all mobile phones
with 3.5 mm jack output
•Streams automatically
•No buttons
An all-purpose, cordless phone
that streams crystal clear sound
directly to your hearing aids.
Provides the best possible
listening experience for the
user – without using a telecoil
program or streamer. Also works
as a conventional phone.
*Available in EU and North America only
CALL-DEX
FEATURES
FOR EASY LANDLINE USE*
A palm-sized, user-friendly
wireless assistive listening
device purpose-built for
enjoying TV and audio. Allows
up to 10 hours of uninterrupted
stereo TV or hi-fi sound
between recharges.
COM-DEX Remote Mic is a stylish add-on to your
COM-DEX solution and is the answer to difficult
one-to-one situations where clarity of speech is
essential.
A true hands-free device for streaming highquality sound from any mobile phone to
hearing aids. Can be combined with the COMDEX app for convenient control of hearing aid
volume, sound direction and program settings.
PHONE-DEX
•Program toggle
•Volume up/down
•Key ring attachment
WidexLink
Telecoil
Bluetooth
TV
Audio
Mobile phone
Landline phone
Tamper resistant
•Approximately 12 months of
battery life
•Lock switch
Compatible with other FM systems
* not compatible with C IC micro. ** C OM-DEX Remote Mic works only with C OM-DEX
WWW.WIDEX.COM
Widex A/S, Nymoellevej 6, DK-3540 Lynge
Google Play is a trademark of Google Inc.
Apple and the Apple logo are trademarks of Apple Inc., registered in the U.S. and other countries. App Store is a service
mark of Apple Inc.
Printed by KLS/2016-07. 9 502 4165 001 #01
Widex and DEX are trademarks of Widex A/S.
É[5pw4q6|g;;a;a]
A WHOLE WORLD OF WIRELESS SOUND
DEX
OVERVIEW
THE DEX FAMILY
The DEX™ communication accessories from Widex keep
hearing aid users connected to a whole world of sounds.
They make it easy for them to connect quickly and
instantly to remote controls, TVs, personal audio systems,
tablets and more.
Whether it is music, phone calls, TV or remote controls,
there is a DEX for every situation.
TM
KEEP
CONNECTED
WITH WIDEXLINK
At the heart of the DEX communication accessories is our
unique wireless technology, WidexLink.
It allows instant communication between hearing aids, direct
connection to external audio devices, and coordination and
synchronisation of data between two hearing aids.
WidexLink is designed specifically for the demands of hearing
aids and DEX devices. It uses less power, is extremely fast and
ensures there are no delays or dropout of sound.

* Your assessment is very important for improving the work of artificial intelligence, which forms the content of this project