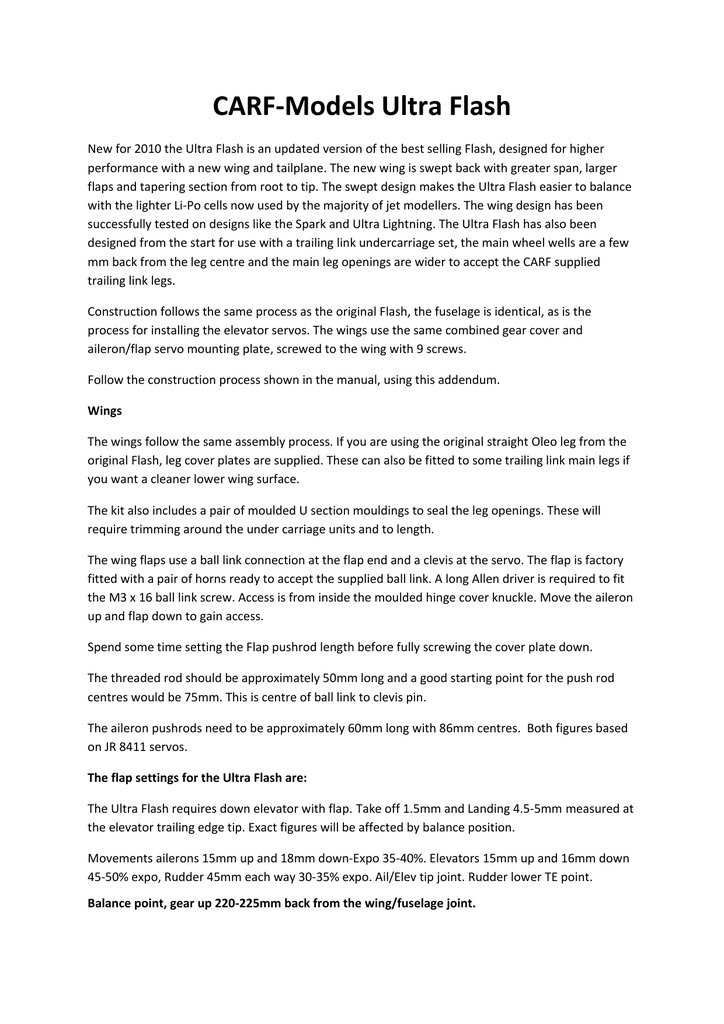 CARF-Models Ultra Flash
New for 2010 the Ultra Flash is an updated version of the best selling Flash, designed for higher
performance with a new wing and tailplane. The new wing is swept back with greater span, larger
flaps and tapering section from root to tip. The swept design makes the Ultra Flash easier to balance
with the lighter Li-Po cells now used by the majority of jet modellers. The wing design has been
successfully tested on designs like the Spark and Ultra Lightning. The Ultra Flash has also been
designed from the start for use with a trailing link undercarriage set, the main wheel wells are a few
mm back from the leg centre and the main leg openings are wider to accept the CARF supplied
trailing link legs.
Construction follows the same process as the original Flash, the fuselage is identical, as is the
process for installing the elevator servos. The wings use the same combined gear cover and
aileron/flap servo mounting plate, screwed to the wing with 9 screws.
Follow the construction process shown in the manual, using this addendum.
Wings
The wings follow the same assembly process. If you are using the original straight Oleo leg from the
original Flash, leg cover plates are supplied. These can also be fitted to some trailing link main legs if
you want a cleaner lower wing surface.
The kit also includes a pair of moulded U section mouldings to seal the leg openings. These will
require trimming around the under carriage units and to length.
The wing flaps use a ball link connection at the flap end and a clevis at the servo. The flap is factory
fitted with a pair of horns ready to accept the supplied ball link. A long Allen driver is required to fit
the M3 x 16 ball link screw. Access is from inside the moulded hinge cover knuckle. Move the aileron
up and flap down to gain access.
Spend some time setting the Flap pushrod length before fully screwing the cover plate down.
The threaded rod should be approximately 50mm long and a good starting point for the push rod
centres would be 75mm. This is centre of ball link to clevis pin.
The aileron pushrods need to be approximately 60mm long with 86mm centres. Both figures based
on JR 8411 servos.
The flap settings for the Ultra Flash are:
The Ultra Flash requires down elevator with flap. Take off 1.5mm and Landing 4.5-5mm measured at
the elevator trailing edge tip. Exact figures will be affected by balance position.
Movements ailerons 15mm up and 18mm down-Expo 35-40%. Elevators 15mm up and 16mm down
45-50% expo, Rudder 45mm each way 30-35% expo. Ail/Elev tip joint. Rudder lower TE point.
Balance point, gear up 220-225mm back from the wing/fuselage joint.

* Your assessment is very important for improving the work of artificial intelligence, which forms the content of this project