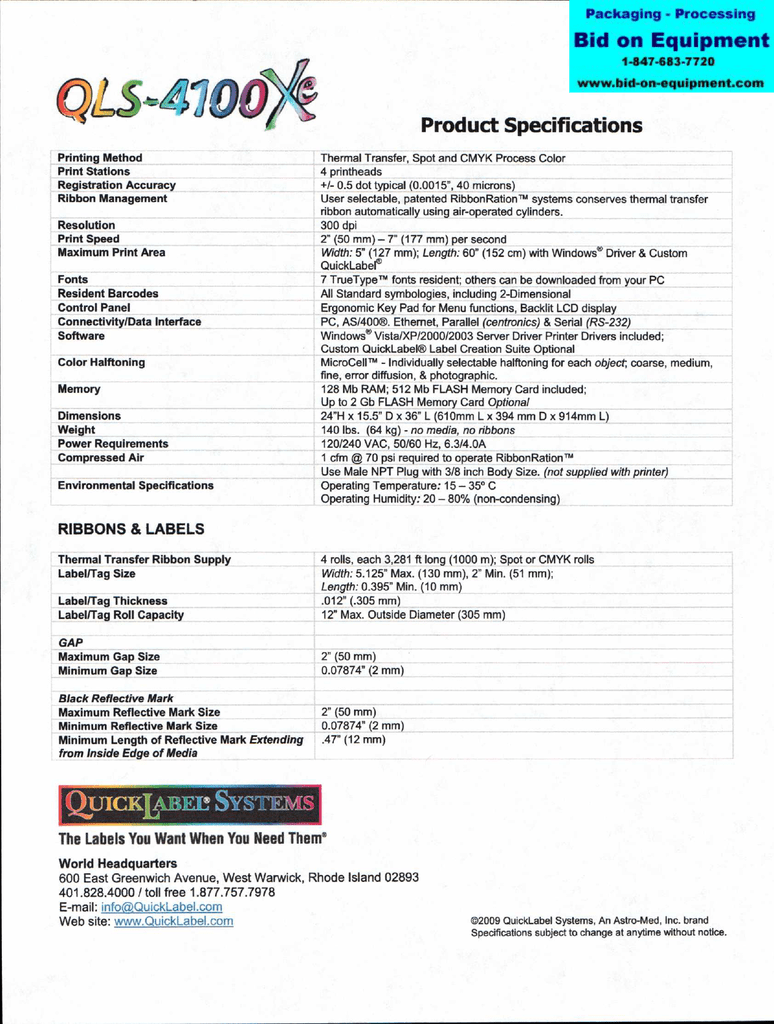 Product Specifications
Printing Method
Print Stations
Registration Accuracy
Ribbon Management
Resolution _
Print Speed
Maximum Print Area
Fonts
Resident Barcodes
Control Panel
Connectivity/Data Interface
Software
Color Halftoning
Memory
Dimensions
Weight
Power Requirements
Compressed Air
Environmental Specifications
Thermal Transfer, Spot and CMYK Process Color
4 printheads
+/- 0.5 dot typical (0.0015", 40 microns)
User selectable, patented RibbonRation Tm systems conserves thermal transfer
ribbon automatically using air-operated cylinders.
300 dpi
2" (50 mm) — 7" (177 mm) per second
Width: 5" (127 mm); Length: 60" (152 cm) with Windowse Driver & Custom
QuickLabel®
7 TrueType TM fonts resident; others can be downloaded from your PC All Standard symbologies, including 2-Dimensional
Ergonomic Key Pad for Menu functions, Backlit LCD display
PC, AS/400®. Ethernet, Parallel (Centronics) & Serial (RS-232)
Windows® Vista/XP/2000/2003 Server Driver Printer Drivers included;
Custom QuickLabel® Label Creation Suite Optional
MicroCell TM - Individually selectable halftoning for each object; coarse, medium,
fine, error diffusion, & photographic.
128 Mb RAM; 512 Mb FLASH Memory Card included;
Up to 2 Gb FLASH Memory Card Optional
24"H x 15.5" D x 36" L (610mm L x 394 mm D x 914mm L) 140 lbs. (64 kg) - no media, no ribbons
120/240 VAC, 50/60 Hz, 6.3/4.0A
1 cfm @ 70 psi required to operate RibbonRation TM
Use Male NPT Plug with 3/8 inch Body Size. (not supplied with printer)
Operating Temperature: 15 — 35° C
Operating Humidity: 20 — 80% (non-condensing)
RIBBONS & LABELS
Thermal Transfer Ribbon Supply
Label/Tag Size
Label/Tag Thickness
Label/Tag Roll Capacity
4 rolls, each 3,281 ft long (1000 m); Spot or CMYK rolls
Width: 5.125" Max. (130 mm), 2" Min. (51 mm);
Length: 0.395" Min. (10 mm)
.012" (.305 mm)
12" Max. Outside Diameter (305 mm)
GAP
Maximum Gap Size
Minimum Gap Size
2" (50 mm)
0.07874" (2 mm
Black Reflective Mark
Maximum Reflective Mark Size
Minimum Reflective Mark Size
Minimum Length of Reflective Mark Extending
from Inside Edge of Media
2" (50 mm)
0.07874" (2 mm)
.47" (12 mm)
The Labels You Want When You Need Them
World Headquarters
600 East Greenwich Avenue, West Warwick, Rhode Island 02893
401.828.4000 / toll free 1.877.757.7978
E-mail: info(d)CtuickLabei.com
Web site: www.QuickLabel.com
©2009 QuickLabel Systems, An Astro-Med, Inc. brand
Specifications subject to change at anytime without notice.

* Your assessment is very important for improving the work of artificial intelligence, which forms the content of this project