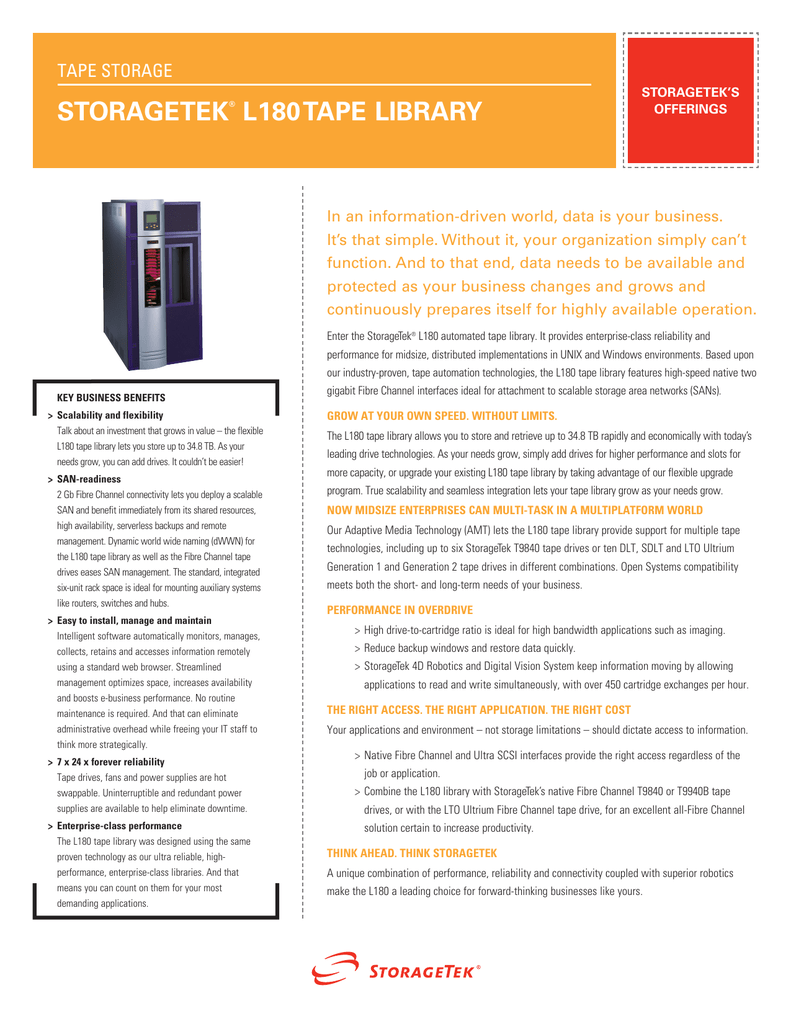 ®
STORAGETEK L180 TAPE LIBRARY
NEVER MET A
PIECE OF DATA
WE COULDN'T
MANAGE.
TAPE STORAGE
STORAGETEK'S
OFFERINGS
In an information-driven world, data is your business.
It's that simple. Without it, your organization simply can't
function. And to that end, data needs to be available and
protected as your business changes and grows and
continuously prepares itself for highly available operation.
Enter the StorageTek® L180 automated tape library. It provides enterprise-class reliability and
performance for midsize, distributed implementations in UNIX and Windows environments. Based upon
our industry-proven, tape automation technologies, the L180 tape library features high-speed native two
KEY BUSINESS BENEFITS
> Scalability and flexibility
Talk about an investment that grows in value – the flexible
L180 tape library lets you store up to 34.8 TB. As your
needs grow, you can add drives. It couldn't be easier!
> SAN-readiness
2 Gb Fibre Channel connectivity lets you deploy a scalable
SAN and benefit immediately from its shared resources,
high availability, serverless backups and remote
management. Dynamic world wide naming (dWWN) for
the L180 tape library as well as the Fibre Channel tape
drives eases SAN management. The standard, integrated
six-unit rack space is ideal for mounting auxiliary systems
like routers, switches and hubs.
> Easy to install, manage and maintain
Intelligent software automatically monitors, manages,
collects, retains and accesses information remotely
using a standard web browser. Streamlined
management optimizes space, increases availability
and boosts e-business performance. No routine
maintenance is required. And that can eliminate
administrative overhead while freeing your IT staff to
think more strategically.
> 7 x 24 x forever reliability
Tape drives, fans and power supplies are hot
swappable. Uninterruptible and redundant power
supplies are available to help eliminate downtime.
> Enterprise-class performance
The L180 tape library was designed using the same
proven technology as our ultra reliable, highperformance, enterprise-class libraries. And that
means you can count on them for your most
demanding applications.
gigabit Fibre Channel interfaces ideal for attachment to scalable storage area networks (SANs).
GROW AT YOUR OWN SPEED. WITHOUT LIMITS.
The L180 tape library allows you to store and retrieve up to 34.8 TB rapidly and economically with today's
leading drive technologies. As your needs grow, simply add drives for higher performance and slots for
more capacity, or upgrade your existing L180 tape library by taking advantage of our flexible upgrade
program. True scalability and seamless integration lets your tape library grow as your needs grow.
NOW MIDSIZE ENTERPRISES CAN MULTI-TASK IN A MULTIPLATFORM WORLD
Our Adaptive Media Technology (AMT) lets the L180 tape library provide support for multiple tape
technologies, including up to six StorageTek T9840 tape drives or ten DLT, SDLT and LTO Ultrium
Generation 1 and Generation 2 tape drives in different combinations. Open Systems compatibility
meets both the short- and long-term needs of your business.
PERFORMANCE IN OVERDRIVE
> High drive-to-cartridge ratio is ideal for high bandwidth applications such as imaging.
> Reduce backup windows and restore data quickly.
> StorageTek 4D Robotics and Digital Vision System keep information moving by allowing
applications to read and write simultaneously, with over 450 cartridge exchanges per hour.
THE RIGHT ACCESS. THE RIGHT APPLICATION. THE RIGHT COST
Your applications and environment – not storage limitations – should dictate access to information.
> Native Fibre Channel and Ultra SCSI interfaces provide the right access regardless of the
job or application.
> Combine the L180 library with StorageTek's native Fibre Channel T9840 or T9940B tape
drives, or with the LTO Ultrium Fibre Channel tape drive, for an excellent all-Fibre Channel
solution certain to increase productivity.
THINK AHEAD. THINK STORAGETEK
A unique combination of performance, reliability and connectivity coupled with superior robotics
make the L180 a leading choice for forward-thinking businesses like yours.
STORAGETEK® L180 TAPE LIBRARY SPECIFICATIONS
FUNCTIONAL DATA
Number of cartridge slots
84, 140, 174
Plus six slots for diagnostic and cleaning cartridges
One to six T9840 or T9940B tape drives
One to ten LTO Ultrium, SDLT and DLT 8000 drives
Number of tape drives/types
CAPACITY AND PERFORMANCE
Capacity, native (uncompressed)
(maximum configurations –
174 cartridges)
T9840A (20 GB/cart) – 3.48 TB
T9840B (20 GB/cart) – 3.48 TB
T9940B (200 GB/cart) – 34.8 TB
LTO Gen1 (100 GB/cart) – 17.4 TB
LTO Gen2 (200 GB/cart) – 34.8 TB
SDLT 320 (160GB/cart) – 27.84 TB
DLT 8000 (40 GB/cart) – 6.96 TB
T9840A (6 drives, 10 MB/sec) – 216 GB/hr
T9840B (6 drives, 19 MB/sec) – 410.4 GB/hr
T9940B (6 drives, 30 MB/sec) – 648 GB/hr
LTO Gen1 (10 drives, 15 MB/sec) – 540 GB/hr
LTO Gen2 (10 drives, 30-35 MB/sec) – Up to 1.26 TB/hr
SDLT 320 (10 drives, 16 MB/sec) – 576 GB/hr
DLT 8000 (10 drives, 6 MB/sec) – 216 GB/hr
Throughput per hour, native
(uncompressed)
(maximum configurations)
LIBRARY FEATURES
Cartridge Access Port (CAP)
Standard, 10-cartridge capacity
Two 5-cartridge removable magazines
Unique digital vision system performs continuous
calibration and reads bar codes
User-friendly configuration and diagnostic controls, status
display and viewing window
Digital vision system
Operator panel
LIBRARY PRODUCT/PERFORMANCE ENHANCEMENTS
Audit time
Less than four min
AutoClean
Library or software-initiated tape drive cleaning uses the
dedicated cleaning cartridge slot
Automatic self discovery
Self configuring for cells, drives and CAPs
Average cell to drive time
4 sec
Continuous automation calibration
No periodic maintenance or alignment required
L-Series Library Admin
Optional embedded web-based library administration tool
Maintenance
No periodic maintenance required
Media management
Adaptive Media Technology provides non-partitioned full,
mixed-media capabilities
Non-disruptive serviceability
Hot-swappable drives, redundant power supplies and fans;
serial port and Ethernet port for diagnostics; optional
Universal Power Supply (UPS)
Robotics control interfaces
SCSI-3 media changer command set HVD (default), LVD
and 2 Gb Fibre Channel
RELIABILITY
Mean Exchanges/Swaps Between Failures
(MEBF/MSBF)
Mean Time Between Failures (MTBF)
Mean Time to Repair (MTTR)
ENVIRONMENTAL DATA
Temperature
Operating
Non-operating
Humidity
Operating
Non-operating
+59° F to +90° F (+15° C to +32° C)
+50° F to +104° F (+10° C to +40° C)
20% to 80%
10% to 95%
POWER SOURCE
Power input
100-127 VAC, 200-240 VAC @ 50-60 Hz single phase
(auto-ranging)
Power consumption/dissipation
(operating maximum continuous - not peak)
Library
Drives
AGENCY CERTIFICATIONS
Safety
1.0A @ 120 VAC, 0.5A @ 240 VAC, 410 BTU/hr
Drive power consumption varies. Refer to individual drive
specification sheets.
CSA standard CAN/CSA-C22.2, no. 950-95;
UL Listed to UL 1950, 3rd Edition;
GS licensed to EN 60950, 2nd Edition, 1991 + A1, A2, A3,
A4;
Emissions
Immunity
Nemko, Semko, Demko, Finko certified to EN 60950 (1992)
A1/A2/A3/A4/A11, EMKO-TSE (74-SEC) 207/94;
CB test certified
FCC #47, Part 15, Subpart B, Class A; VCCI Class A
European Union CE emissions standards
AS/NZS 3548:1996 (Australia, N.Z.);
ICES-003 (Canada)
European Union CE immunity standards
* Rack space is measured in height and expressed as a u. One u is 1.75 in (4.45 cm) in height.
2,000,000
360,000 hr (full operation)
Less than 30 min
PHYSICAL DATA
Dimensions (W x H x D)
Library
Rack space
Weight
Library
28.3 in x 65.1 in x 49.3 in (71.9 cm x 165.4 cm x 125.2 cm)
6 u* of standard 19 in rack space
635 lb (288 kg)
World Headquarters
About StorageTek
Storage Technology Corporation
One StorageTek Drive
Louisville, Colorado 80028 USA
StorageTek (NYSE: STK), a $2 billion worldwide company with headquarters in Louisville, CO, has been delivering a broad range of storage
management solutions designed for IT professionals for over 30 years. StorageTek offers solutions that are easy to manage, integrate well
with existing infrastructures, and allow universal access to data across servers, media types and storage networks. StorageTek's practical
and safe storage solutions for tape automation, disk storage systems and storage integration, coupled with a global services network,
provide IT professionals with confidence and know-how to manage their entire storage management ecosystem today and in the future.
Phone: 1.800.877.9220
®
StorageTek products are available through a worldwide network. For more information, visit www.storagetek.com, or call 800.786.7835.
International Offices
Australia: 61.2.9438.4844
Austria: 0800.20.16.31
Belgium: 0800.75.327
Brazil: 55.11.3044.4599
Canada: 905.602.5586
Chile: 56.2.201.0490
China: 86.10.8251.1911
Denmark: 44836111
Finland: 08001.13361
France: 0800.82.83.57
Germany: 0800.181.6238
Hong Kong: 852.8200.0791
India: 91.80.226.7272
Ireland: 1800.55.33.54
Italy: 167.790.852
Japan: 81.3.3746.9711
Korea: 82.2.191.1100
Specifications/features may change without notice.
© 2003 Storage Technology Corporation, Louisville, CO. All rights reserved. Printed in USA. StorageTek and the logo are
trademarks of Storage Technology Corporation. Other product names mentioned may be trademarks of Storage Technology
Corporation or other vendors/manufacturers.
MT 9157 F 8/03
Malaysia: 603.772.41125
Mexico: 52.55.9177.1800
The Netherlands:
0800.022.8496
Norway: 800.11.220
Poland: 48.22.5757.157
Singapore: 65.6774.9248
South Africa: 0800.99.5820
Spain: 900.99.33.66
Sweden: 020.798.711
Switzerland: 0800.83.87.65
Taiwan: 886.2.6600.9840
United Arab Emirates:
971.4.3900162
United Kingdom: 0800.731.8852
StorageTek equipment is manufactured from new parts, or new and used parts. In some cases, StorageTek equipment
may not be new and may have been previously installed. Regardless, StorageTek's standard warranty terms (as set forth
at www.storagetek.com/warranties/) apply, unless the equipment is specifically identified by StorageTek as "used" or
"refurbished." Replacement parts provided under warranty or any service offering may be either new or equivalent-to-new,
at StorageTek's option.