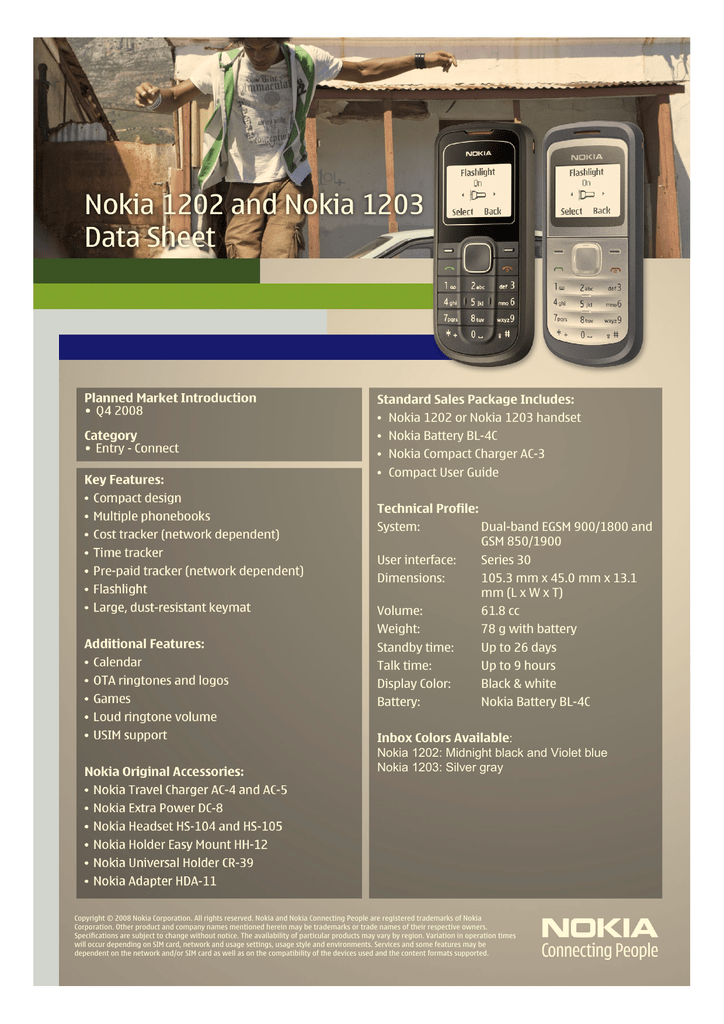 Nokia 1202 and Nokia 1203
Data Sheet
Planned Market Introduction
• Q4 2008
Category
• Entry - Connect
Key Features:
• Compact design
• Multiple phonebooks
• Cost tracker (network dependent)
• Time tracker
• Pre-paid tracker (network dependent)
• Flashlight
• Large, dust-resistant keymat
Additional Features:
• Calendar
• OTA ringtones and logos
• Games
• Loud ringtone volume
• USIM support
Nokia Original Accessories:
• Nokia Travel Charger AC-4 and AC-5
• Nokia Extra Power DC-8
• Nokia Headset HS-104 and HS-105
• Nokia Holder Easy Mount HH-12
• Nokia Universal Holder CR-39
• Nokia Adapter HDA-11
Standard Sales Package Includes:
• Nokia 1202 or Nokia 1203 handset
• Nokia Battery BL-4C
• Nokia Compact Charger AC-3
• Compact User Guide
Technical Profile:
System:
Dual-band EGSM 900/1800 and
GSM 850/1900
User interface:
Series 30
Dimensions:
105.3 mm x 45.0 mm x 13.1
mm (L x W x T)
Volume:
61.8 cc
Weight:
78 g with battery
Standby time:
Up to 26 days
Talk time:
Up to 9 hours
Display Color:
Black & white
Battery:
Nokia Battery BL-4C
Inbox Colors Available:
Nokia 1202: Midnight black and Violet blue
Nokia 1203: Silver gray
Copyright © 2008 Nokia Corporation. All rights reserved. Nokia and Nokia Connecting People are registered trademarks of Nokia
Corporation. Other product and company names mentioned herein may be trademarks or trade names of their respective owners.
Specifications are subject to change without notice. The availability of particular products may vary by region. Variation in operation times
will occur depending on SIM card, network and usage settings, usage style and environments. Services and some features may be
dependent on the network and/or SIM card as well as on the compatibility of the devices used and the content formats supported.

* Your assessment is very important for improving the work of artificial intelligence, which forms the content of this project