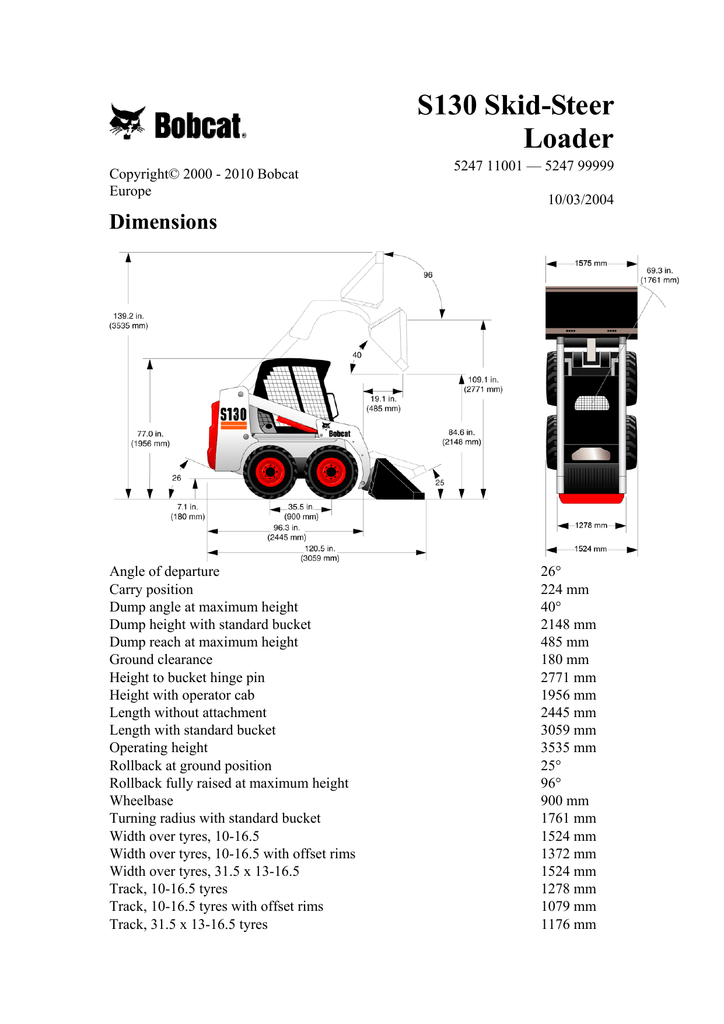 S130 Skid-Steer
Loader
Copyright© 2000 - 2010 Bobcat
Europe
5247 11001 — 5247 99999
10/03/2004
Dimensions
Angle of departure
Carry position
Dump angle at maximum height
Dump height with standard bucket
Dump reach at maximum height
Ground clearance
Height to bucket hinge pin
Height with operator cab
Length without attachment
Length with standard bucket
Operating height
Rollback at ground position
Rollback fully raised at maximum height
Wheelbase
Turning radius with standard bucket
Width over tyres, 10-16.5
Width over tyres, 10-16.5 with offset rims
Width over tyres, 31.5 x 13-16.5
Track, 10-16.5 tyres
Track, 10-16.5 tyres with offset rims
Track, 31.5 x 13-16.5 tyres
26°
224 mm
40°
2148 mm
485 mm
180 mm
2771 mm
1956 mm
2445 mm
3059 mm
3535 mm
25°
96°
900 mm
1761 mm
1524 mm
1372 mm
1524 mm
1278 mm
1079 mm
1176 mm
Dimensions
Width over bucket, 54–inch
Width over standard bucket, 62–inch
Width over bucket, 74–inch
1398 mm
1575 mm
1880 mm
S130 Skid-Steer Loader — 10/03/2004
Machine Rating
Lift breakout force
Tilt breakout force
Rated operating capacity (ISO
5998)
Tipping load (ISO 8313)
Axle torque
12232 N
12454 N
600 kg
1200 kg
6373 Nm
Function Time
Raise lift arms
Lower lift arms
Bucket rollback
Bucket dump
2.8 s
2.3 s
1.9 s
2.2 s
Weights
Operating weight
Shipping weight
2268 kg
2018 kg
Engine
Make / Model
Fuel
Cooling
Power (ISO 9249)
Maximum governed RPM
Torque at 1800 RPM (ISO 9249)
Number of cylinders
Displacement
Bore
Stroke
Fuel consumption
Lubrication
Crankcase ventilation
Air filter
Ignition
Kubota / V2203-M-DI-E2B-BC-3
Diesel
Liquid
34.3 kW
2800
141 Nm
4
2.2 l
87 mm
92.4 mm
6.57 l/h (Estimated fuel consumption is based on
testing by Bobcat Company in high duty-cycle
digging applications.)
Pressure system with filter
Closed
Dry replaceable cartridge with safety element
Diesel-compression
Engine
Starting aid
Glow plugs
Electrical
Alternator
Battery
Starter
Belt driven — 90 A — open
12 V — 600 cold cranking A at -18°C — 115 min
reserve capacity
12 V — gear reduction type — 3.0 kW
S130 Skid-Steer Loader — 10/03/2004
Hydraulic System
Pump type
Pump capacity at high idle
System relief at quick couplers
Control valve
Hydraulic filter
Fluid lines
Engine driven, gear type
64 l/min
186 bar
Three-spool, open-centre type with float detent on
lift and electrically controlled auxiliary spool
Full-flow replaceable — 3 µm synthetic media
element
SAE standard tubelines, hoses, and fittings
Hydraulic Cylinders
Lift cylinder (2)
Lift cylinder bore
Lift cylinder rod
Lift cylinder stroke
Tilt cylinder (1)
Tilt cylinder bore
Tilt cylinder rod
Tilt cylinder stroke
Double-acting
50.8 mm
31.8 mm
674.9 mm
Double-acting with cushioning feature on dump
and rollback
88.9 mm
38.1 mm
368.3 mm
Drive System
Transmission
Final drive chains
Main drive
Axle size
Wheel bolts
Infinitely variable tandem hydrostatic piston
pumps, driving two fully reversing hydrostatic
motors
Pre-stressed #80 HSOC endless roller chain (no
master link) and sprockets in sealed chaincase with
oil lubrication. (Chains do not require periodic
adjustments.) Two chains per side with no idler
sprocket.
Fully hydrostatic; four-wheel drive
50.8 mm, heat treated
Eight 9/16–inch wheel bolts fixed to axle hubs
Traction
Standard tyres
Heavy duty tyres
Float tyres
Travel speed
10 x 16.5 — 8-ply — Bobcat standard duty
10 x 16.5 — 10-ply — Bobcat heavy duty with
offset rims
31.5 x 15.5-15 — Bobcat super floatation
11,8 km/h
S130 Skid-Steer Loader — 10/03/2004
Fluid Capacities
Chaincase reservoir
Cooling system
Engine oil with filter
Fuel tank
Hydraulic reservoir
Hydraulic / Hydrostatic system
30.0 l
9.2 l
7.1 l
53 l
13.2 l
22.0 l
Fluid Specifications
Bobcat PG Coolant
5 l can - 6904844A
Engine coolant
25 l container - 6904844B
209 l drum - 6904844C
1000 l tank - 6904844D
Oil must meet API Service Classification of CD,
CE, CF4, CG4, or better.
Recommended SAE viscosity number for
anticipated temperature range.
Engine oil
Fluid Specifications
* Can be used only when available with appropriate
diesel rating.
For synthetic oil use the recommendation from the
oil manufacturer.
Bobcat Superior SH
5 l can - 6904842A
25 l container - 6904842B
209 l drum - 6904842C
1000 l tank - 6904842D
Hydraulic fluid
Bobcat Bio Hydraulic
5 l can - 6904843A
25 l container - 6904843B
209 l drum - 6904843C
1000 l tank - 6904843D
Controls
Engine
Starting
Front auxiliary (standard)
Rear auxiliary (optional)
Loader hydraulics tilt and lift
Service brake
Secondary brake
Parking brake
Vehicle steering
Auxiliary pressure release
S130 Skid-Steer Loader — 10/03/2004
Hand lever throttle
Key-type starter switch and shutdown or optional
keyless start. Glow plugs automatically activated
by Standard or Deluxe instrument panel.
Electrical switch on right-hand steering lever
Electrical switch on left-hand steering lever
Separate foot pedals or optional Advanced Control
System (ACS)
Two independent hydrostatic systems controlled by
two hand-operated steering levers
One of the hydrostatic transmissions
Mechanical disc, hand-operated rocker switch on
dash panel
Direction and speed controlled by two hand levers
Pressure is relieved through the coupler block.
Push in and hold for 5 s.
Instrumentation
The following loader functions are monitored by a combination of gauges and
warning lights in the operator's line of sight. The system alerts the operator of
monitored loader malfunctions by way of audible alarm and visual warning lights.
Standard Instrument Panel
•
•
•
Gauges
o Engine coolant temperature
o Fuel
o Hour-meter
Warning lights
o Advanced Control System (ACS)
o Engine air filter
o Engine coolant temperature
o Engine oil pressure
o Fuel level
o General warning
o Hydraulic filter
o Hydraulic oil temperature
o Hydrostatic charge pressure
o Seat belt
o System voltage
Indicators
o Attachment control device
o BICS functions
o Glow plugs
Deluxe Instrument Panel (Option)
Same gauges, warning lights and other features as Standard Instrument Panel, plus:
•
•
Bar-type gauges
o Engine oil pressure
o System voltage
o Hydrostatic charge pressure
o Hydraulic oil temperature
Additional features
o Keyless start with password capability
o Digital clock
o Job clock
o Attachments information
o Digital tachometer
o High flow lockouts
o Multi-language display
o Help screens
o Diagnostic capability
Instrumentation
o
Engine/hydraulic systems shutdown function
S130 Skid-Steer Loader — 10/03/2004
Serviceability
Access is available to the following through the rear door/tailgate and rear screen:
•
•
•
•
•
•
•
•
Air cleaner
Alternator
Battery
Cooling system (engine oil and hydraulic oil coolers) for cleaning
Engine oil and fuel filters
Engine oil drain and dipstick
Hydraulic oil fill (access at the side of the machine)
Starter
Axle hubs provide protection for the axle seals
Bob-Tach™ pivots have replaceable wear bushings
Easy access to all lift arm grease points
Rod end of the tilt cylinder has a replaceable bushing
Tailgate has an optional lock for vandal-proofing
Tailgate is equipped with door-stop to hold door open while servicing
Tip-up operator cab gives access to certain hydraulic system components
Standard Features
•
•
•
•
•
•
High-back cushion suspension seat
Automatically activated glow-plugs
Auxiliary hydraulics: variable flow/maximum flow
Bob-Tach™ frame
Bobcat Interlock Control System (BICS)
Deluxe operator cab*
Includes interior cab foam, side, top and rear windows, accessory wire
harness, dome light, and electrical power port
•
•
Electrically activated proportional front auxiliary hydraulics
Engine/hydraulics system shutdown
Standard Features
•
•
•
•
•
•
•
•
•
•
Instrumentation
Lift arm support
Operating lights, front and rear
Parking brake
Seat belt
Seat bar
Spark arrestor muffler
Tyres — 10-16.5 — 8-ply — Bobcat standard duty
CE certification
Warranty: 12 months or 2000 hours
* Roll Over Protective Structure (ROPS) – meets requirements of SAE-J1040 and
ISO 3471
S130 Skid-Steer Loader — 10/03/2004
Options
•
•
Factory Options
o Deluxe instrument panel
o Power Bob-Tach™
o Cab enclosure with heat
o Hydraulic bucket positioning (including ON/OFF switch)
o Segmented tyres — industrial type — 7.50-15
o Segmented float tyres — 10-16.5
o Super float tyres — 31 x 15.5-15
o Heavy duty tyres — 10 x 16.5 — 10-ply
o Advanced Control System (ACS)
o Advanced Hand Controls (AHC)
Dealer Installed Accessories
o Cab door kit
o Special applications kit
o Counterweight kit
o Front axle counterweight kit
o Fuel cap locking kit
o Deluxe instrument panel
o Replacement Bob-Tach™
o Fresh air heater kit
o Front door kit
o Door sensor kit
o Plumbing kit for fresh air heater
o Back up alarm kit
o FOPS kit **
o Single-point lift kit
o Replacement operator cab structure
o Power Bob-Tach™ kit
o Operator cab, CE, enclosure kit
Options
o
o
o
o
7-pin attachment control kit
Four-point lift kit
Rear auxiliary hydraulic kit
Secondary auxiliary hydraulics
** Falling Objects Protective Structure (FOPS) – meets requirements of SAEJ1043 and ISO 3449, Level I
S130 Skid-Steer Loader — 10/03/2004
Attachments
For specific model availability, see Bobcat Product Price List.
• Angle blade
• Pallet forks
• Angle broom*†
• Planer*
• Auger
• Rear stabiliser
• Backhoe
• Rotary mower
• Brush cutter
• Salt and sand spreader
• Buckets
• Scarifier
• Chipper*
• Snow blower*
• Combination bucket
• Sod layer*
• Digger
• Spreader
• Dumper
• Stump grinder*
• Feeding bucket
• Super scraper
• Front scarifier
• Sweeper
• Grader*
• Three-point hitch
• Grapples and forks
• Tiller
• Hydraulic breaker**
• Tilt-Tatch™
• Hydraulic fork positioner
• Tracks
• Landplane
• Trencher
• Landscape rake
• Vibratory roller
*Attachment control kit required.
**When operating the loader with this attachment, a Special Applications Kit,
which includes a 12 mm Lexan front door with 6 mm top and rear windows, must
be used.
†Optional water kit.
S130 Skid-Steer Loader — 10/03/2004
Environmental
Noise level LpA (EU Directive
2000/14/EC)
Noise level LWA (EU Directive
85 dB(A)
104 dB(A)
Environmental
2000/14/EC)
Whole body vibration (ISO 2631–
1.07 ms-2
1)
Hand-arm vibration (ISO 5349–1) 2.54 ms-2
Safety
Requires the operator to be seated in the loader
with the seat bar in place and the engine running.
Bobcat Interlock Control System
After the operator presses the "Press to Operate
(BICS), standard
Loader" button, the loader's hydraulic lift and tilt
functions and traction drive can be operated.
Used to lower the lift arms in the event that the lift
Lift arm bypass control, standard arms cannot be lowered during normal operating
conditions.
Should always be worn when operating the loader.
Seat belt, standard
Three-point shoulder belt provides restraint for
high range speeds.
Secondary operator restraint, also serves as an arm
Seat bar, standard
rest.
An enclosed operator cab with side screens with a
minimal inside cab width of 838 mm. Meets SAEJ1040 and ISO 3471 for Roll Over Protective
Operator cab, standard
Structure (ROPS) and SAE-J1043 and ISO 3449
Level I * for Falling Objects Protective Structure
(FOPS). Level II ** option is available.
Lift arm support, standard
Use for servicing when lift arms are raised.
Parking brake, standard
Always set brake when leaving loader.
Should always be used when entering/exiting
Grab handles, standard
loader.
Slip resistant tread on lift arms and main frame to
Safety tread, standard
be used when entering/exiting loader.
Should always be used when entering/exiting
Attachment steps, standard
loader.
Rear window, standard
For emergency exit.
Front and rear working lights,
Use for indoor and low light operation.
standard
Backup alarm, optional
For use in areas with high traffic
Lift kits are available so loader may be lifted into
Lift kits, optional
remote areas.
Restricts objects and material from entering cab
Special applications kit, optional
openings.
Weather-resistant operator handbook attached to
the inside of the cab, providing operational
Operator's handbook, standard
instructions and warnings decals with pictorials and
international symbols.
* Level I — Acceptance is intended for protection from falling bricks, small
Safety
concrete blocks, and hand tools encountered in operations such as highway
maintenance, landscaping, and other construction site services.
** Level II — Acceptance is intended for protection from falling trees or rocks
for machines involved in site clearing, overhead demolition, or forestry.