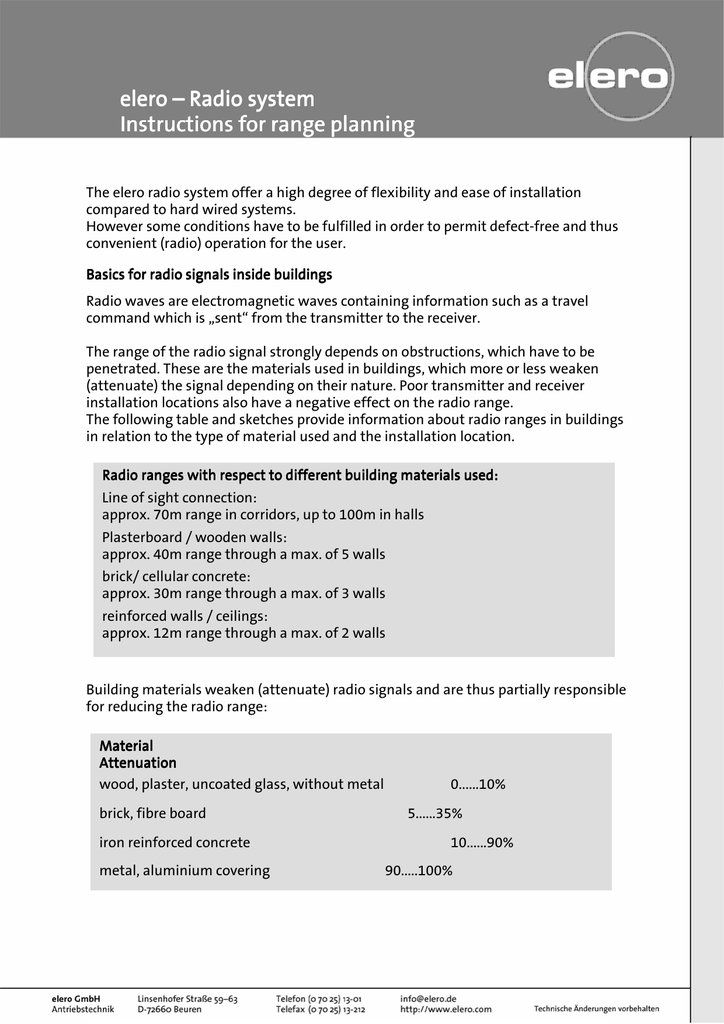 elero – Radio system
Instructions for range planning
The elero radio system offer a high degree of flexibility and ease of installation
compared to hard wired systems.
However some conditions have to be fulfilled in order to permit defect-free and thus
convenient (radio) operation for the user.
Basics for radio signals inside buildings
Radio waves are electromagnetic waves containing information such as a travel
command which is "sent" from the transmitter to the receiver.
The range of the radio signal strongly depends on obstructions, which have to be
penetrated. These are the materials used in buildings, which more or less weaken
(attenuate) the signal depending on their nature. Poor transmitter and receiver
installation locations also have a negative effect on the radio range.
The following table and sketches provide information about radio ranges in buildings
in relation to the type of material used and the installation location.
used::
Radio ranges with respect to different building materials used
Line of sight connection:
approx. 70m range in corridors, up to 100m in halls
Plasterboard / wooden walls:
approx. 40m range through a max. of 5 walls
brick/ cellular concrete:
approx. 30m range through a max. of 3 walls
reinforced walls / ceilings:
approx. 12m range through a max. of 2 walls
Building materials weaken (attenuate) radio signals and are thus partially responsible
for reducing the radio range:
Material
Attenuation
wood, plaster, uncoated glass, without metal
brick, fibre board
iron reinforced concrete
metal, aluminium covering
0......10%
5......35%
10......90%
90.....100%
elero – Radio system
Instructions for range planning
Other criteria which reduce the radio range:
Installation of the switch on a metal wall Ø- value = 30%
range loss
Use of a metallic switch surround Ø- value = 30%
range loss
Hollow lightweight walls with insulation wool on metal foil
False ceiling with metal or carbon fibre panels
Lead glass or metal coated glass, steel furniture
Installation tips:
Firewalls, lift shafts, stair wells and supply areas usually have special partitioning.
The partitioning,
partitioning or radio shadows as they are called, can be overcome by repositioning the transmitter and/or receiver. Alternatively a repeater (amplifier) can be
used.
Metal
plate
Metal
plate
WALL
Roller shutter
drive with radio
receiver
Hand-held
transmitter
WALL
Repeater
elero – Radio system
Instructions for range planning
Penetration angle:
The angle, at which the radio signal hits the wall is plays an important role. If possible
the signals should penetrate as perpendicular to the brickwork as possible. Wall niches
are to be avoided.
WALL
WALL
Devices with internal receiver antenna should not be installed on the same side of the
wall as the transmitter. It is better to install on the opposite or adjacent wall surface.
WALL
Wall transmitter
elero – Radio system
Instructions for range planning
Distance between the receiver and other radio sources
The distance to other radio sources (e.g. GSM/DECT/Wireless LAN) and high frequency
interference sources (computer, Audio and Video systems) should be at least 50 cm.
cm
> 50cm
> 50cm
Receiver
Use of repeaters:
In case of problems with the quality of the reception the use of a radio amplifier or so
called "Repeater" can be helpful. The elero 868 repeater does not require any
configuration. It receives the radio signal and relays it thus increasing the range almost
two fold.
Field intensity measurement device:
Elero has developed the RadioTester for
optimised transmitter and receiver position
determination. The field intensity is
displayed simply by three LEDs on the
device. These LEDs are used for help in
determining the best location.

* Your assessment is very important for improving the work of artificial intelligence, which forms the content of this project