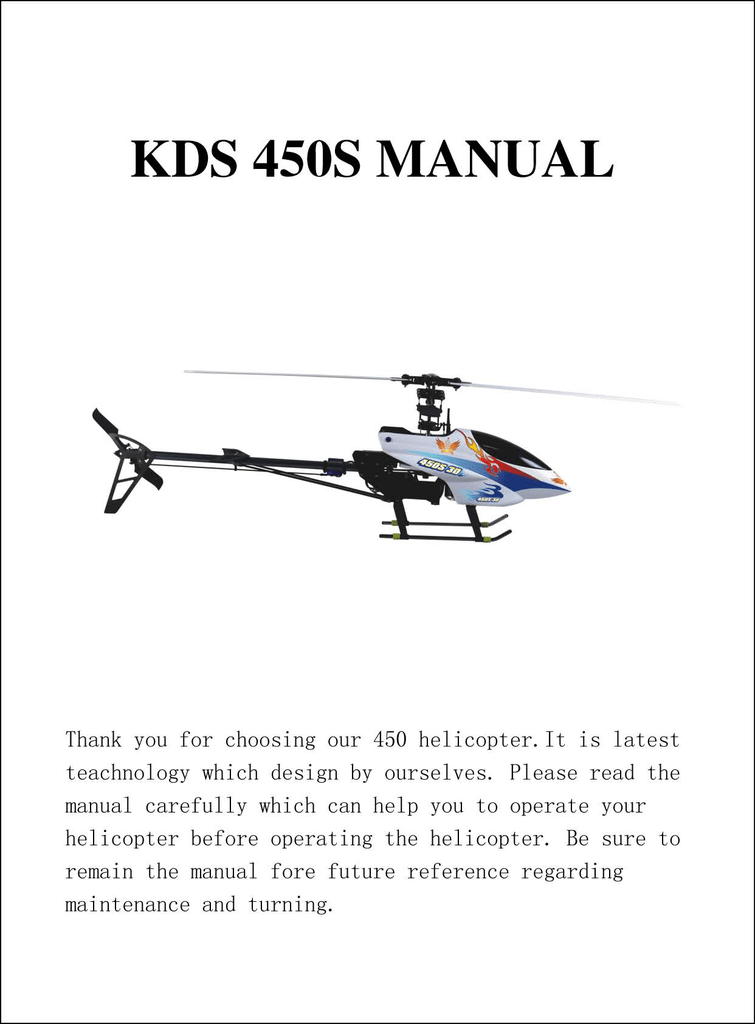 KDS 4508 MANUAL
Thank you for choosing our 450 helicopter. 1t is latest
teachnology which design by ourselves. Please read the
manual carefully which can help you to operate your
helicopter before operating the helicopter. Be sure to
remain the manual fore future reference regarding
maintenance and turning.
Foreword
Thank vou for buying our helicopter product. Please read this manual carefully
before assembling and operating the helicopter, in order to use 450 series helicop-
ters more conveniently. At the same time, please keep this manual for future refer-
ence regarding adjusting and maintaining. (450 is the product that researched by
Gulang themselves, it' s the best choice to the beginners who demand steady flight
and advanced fliers who pursue full aerobatic capability.
R/C helicopters, including the 500heli are not toys, R/C helicopter utilize various
high-tech products and technologies to provide superior performance.
We recommend that you obtain the assistance of an experienced pilot before attempt-
ing to fly our products for the first time. A local expert is the best way to prop-
erly assemble, setup, and fly your model for the first time. The 450 heli requires a
certain degree of skill to operate, and is a consumer item. Any damage or dissatis-
faction as a result of accidents of modifications are not covered by any warrantee
and cannot be returned for repair or replacement
Notice:
Fly only in safe areas, away from other people. Do not operate R/C aircraft within
the vicinity of homes or crowds of people. R/C aireraft is prone to accidents, fail-
ure, and crashes due to a variety of reasons including, Lack of maintenance, pilot
error, and radio interference. Pilots are responsible for their actions and damage
or injury occurring during the operation or as of result of R/C aircraft models.
UTION ITEMS
1.KEEP AWAY FROM BARRIER
R/C helicopters fly at high speed, thus posing a certain degree of potential. Choose
an appropriate flying site consisting of flat, smooth ground, a clear open field, or
a large open room, such as gymnasium or warehouse without obstacles. Do not fly near
buildings, high voltage cables, and careful to keep your face, eyes, hands, and
loose clothing away from the blades. Always fly the model a safe distance from your-
self and others, as well as surrounding objects. Never take your eyes off the model
or leave it unattended while it is turned on. Immediately turn off the model and
transmitter when you have landed the model.
2. ALWAYS BE AWARE OF THE ROTATING BLADES
During the operation of the helicopter, the main rotors will be spinning at a high
rate of speed. The blades are capable of inflicting serious bodily and damage to the
environment. Be conscious of your actions, one else is operating on the same fre-
quency for the safety.
3. OBTAIN THE ASSISTANCE OF AN EXPERIENCED PILOT
Before turning on vour model and transmitter, check to make sure no one else is
operating on the same frequency. Frequency interference can cause your model, or
other models to crash. The guidance provided by an experienced pilot will be invalu-
able for the assembly, turning, trimming, and actual first flight. (Recommend vou to
practice with computer-based flight simulator.
4. PREVENT MOISTURE
R/C models are composed of many precision electrical components. It is critical to
keep the model and associated equipment away from moisture and other contaminants.
The introduction or exposure to water or moisture in any form can cause the model to
malfunction resulting in loss of use, or a crash. Do not operate or expose to rain
or moisture.
5. KEEP AWAY FROM HEAT
R/C models are made up various forms of plastic. Plastic is very susceptible to
damage or deformation due to extreme heat and cold climate. Make sure not to store
the model near any source of heat such as an oven, or heater. It is best to store
the model indoors, in a climate-controlled, room temperature environment.
6.CAREFULLY INSPECT BEFORE REAL FLGHT
Before flying, please check to make sure to no or trees to ensure the safety of
yourself, others, and you model. Do not fly you model in inclement weather, such as
rain, wind, snow or darkness. Before fl, please check if the batteries of transmit-
ter and receiver are enough for the flight. Before turn on the transmitter, please
check if the throttle stick is in the lowest position. IDLE switch is OFF. When turn
off the transmitter, please follow the power on/off procedure. Power ON-Please turn
on the transmitter first, and then turn on receiver. Power OFF-Please turn off the
receiver first and turn off the transmitter. Improper procedure may cause out of
control, so please to have this correct habit.
Before operation, checking every movement is smooth and directions are correct.
Carefully inspect servos for interference and broken gear.
Check for missing or loose screws and nuts. See if there is any cracked and incom-
plete assembly of parts. Carefully check main rotor blades and rotor holders. Broken
and premature failures of parts possibly cause resulting in a dangerous situation.
Check all ball links to avoid excess play and replace as needed. Failure to do so
will result in poor flight stability.
Check the battery and power plug are fastened. Vibration and violent flight may
cause the plug loose and result out of control. Check for the tension of tail drive
belt.
=
j
|
A
| a
high buildings crowd hurricane night rain snow thermometer hot
Tools Required for assembly
| | Sy D—
e |
ball Link
Piliers screwdriver
Lubricant knife Scissors Nipper
MAIN ROTOR INSTALLATION:
IName and NO. :
NO. Name Amount] |NO. Name Amount
1 Metal head stopper 1 13 Collar screw 2
2 Main rotor housing 1 14 Flybar rod 1
3 Feathering shaft 1 15 Flybar paddle 2
4 Mixing arm —1 2 16 Set screw 2
5 Flybar seesaw holder 1 17 Copper ring 2
6 Pin 2 18 Bearing 2
7 0 circle 4 19 Flybar seesaw holder -2 2
8 Socket screws M2%8 1 20 Flybar control rod 2
9 Col lar screw M2*G 2 21 Cross screw FM2%5 4
10 Cross screw FM2*7 4 22 Washer 4
11 Ball part 4 23 Flange bearing 2
12 Copper ring 2 24 Washer 2
MAIN ROTOR INSTALLATION:
/
Name and NO. :
NO. Name
25 | Main rotor holder
26 | Bearing 3*6*2. 5 2
27 | Oring 4
28 | Bearing 3%8:%4 4
29 | Washer 2
30 | Socket screw M2*5
DO
31 Socket screw M2*12
32 | M2 nut
33 | Collar screw M2*9
DS | |H-
34 | Copper ring
35 | Collar screw M1. 4%*6. 5
36 | Cross screw FM2*7
37 | Linkage ball
38 | SF mixing lever
39 | Washout linkage
40 | Main shaft
41 | Socket screw M3*16
42 | M3 nut
43 | Main rotor
44 | Set screw
45 | Main shaft lock ring
46 | Swashplate
47 | Long linkage ball
48 | Cross screw РМ2*13
= | | == | == | 2 | 5 | ВО | Во | == | 32| ВО | 9 |9 |9 |5
accrue e o
« SWwWABip La J |
MAIN FRAME INSTALLATION:
>
Note: the directions of upper bearing holder :
and lower bearing holder are different. TAIL BOOM
STIFFENER SET
NO. & Name:
NO. NAME AMOUNT] | NO. NAME AMOUNT
49 Main frame 2 56 Main shaft bearing mount 2
50 Socket screw M2*5 & washer 48 97 Cross screw FM2*4 10
al Anti-rotation bracket 1 56 Front belt wheel set 1
52 Battery plate 1 59 Tail boom mount 1
83 Alrframe connecting part 4 00 Motor mount 1
54 Airframe connecting part 6 61 assistant board 1
55 Servo mount 3 2
LANDING SKID ILLUSTRATION:
Big gear set
NAME AND NO. :
NO. NAME AMOUNT | NO. NAME AMOUNT
62 Skid pipe end cap 4 (2 cross screw 4
63 Landing skid nut A 73 Main gear case |
64 Skid pipe 2 74 Big gear 1
65 Landing skid 2 (5 Socket screw 4
66 Antenna pipe 1 76 Belt wheel 1
67 Socket screw 2 TT One-way gear bearing set 1
68 canopy mount 2 78 Belt wheel mount |
69 Tapping screw 4 79 Socket screw |
70 shaft ring 1 80 Nut 1
71 One-way bearing 1
NO. and Name:
NO. Name Amount | | NO. Name Amount
81 Socket screw m2*10 4 92 Tail rotor hub 1
82 Tail unit housing (L) 1 93 Tail rotor blade
83 Tail unit housing (R) 1 94 Ball link (short)
84 Belt 1 95 Socket screw
Зо Tail shaft set | 96 Tail rotor control set
86 Socket screw 2 97 Tail rotor control arm
87 Bearing 2 98 Washer
88 Collar 2 99 Bearing
89 Tail rotor holder 2 100 Linkage ball
90 linkage ball part 2 101 Cross screw
91 Cross screw 2 103 Collar screw
INSTALLATION ILLUSTRATION OF TAIL ROTOR:
7
TAIL GEAR HOLDER AND TALL BOOM SET
NO. & Name
NO. NAME AMOUNT] | NO. NAME AMOUNT
103 | Tail boom | 107 | Tail servo mount 2
104 | Horizontal stabilizer ] 108 | Tail boom brace 2
105 | Vertical stabilizer | 109 | Tail servo linkage rod 2
106 | Horizontal stabilizer bracket] 1 110 | Socket screw M2#*6 8
и
FIXING FOR MAIN ROTOR SET
A
= ПГ
E
pa Jat ;
= CE
ен mi Ал ПЕ =
— a oy | eee —l,
a de eL — —
si ——
No E |
au TP
|
0 Ne | дя ЗЕ
E
Linkage rod:
2. Omm
D ea
6. Sim
DEI
(FIXING FOR ELECTRONIC EQUIPMENT
Antenna pipe |
FIXING FOR CANOPY
| canopy
Pitch and throttle setting
General Flight mode
e y o —
— = О гу ©
E. Ye
-
етот i
del |
a o
General Flight
Throttle Curve (Hovering Flight)
4
Throttle Pitch | Current | Rotation speed
1 0% 0—-2 0
2 40%
3 50% +4—+5 1500
4 85%
5 100% +9 1800
100%
85%
65%
45%
Aerobatic flight mode
Throttle Pitch Current | Rotation Speed
1 80% = 1700
2 75%
3 70% | +4—+5 1500
4 75%
5 100% +9 1800
100%
50% -
70% |
q |
1
Throttle Curve (Simple Aerobatic Flight)
3D Fright Model
Throttle Curve (3D Flight)
Throttle Pitch | Current | Rotation Speed
1 100% —9 2000
2 95%
3 85% 0 1800
4 95%
5 100% +9 2000
100%
85%
| 9 1 6
Flight adjustment and setting
Esc setting (35A) :
¢ 1-1 brake: Öff
¢ 2-1 Battery type: Battery choice: li-ion/1i-Poly
+ 31 Cutoff mode: Reduce power
+ 43 cutoff threshold: high
+ 5-3 Startup mode: Super soft
+ 6-3 Timing: High
Caution: As to the specific setting way, you can refer to the user handbook of ESC.
Main rotor adjustments
Caution: lt is very dangerous to adjust rotor blade, pleas keep a certain
distance to adjust them.
~ ~~ Ty
I i r
|
f a
L FA =
YA
/ Le
L —
Before flying, balancing of the blades is very important.
Screw the rotor blades together as illustration, apply o r paint different colors mark on the blades.
When they are suspended exactly horizontally, the rotor blades are properly balanced. If not, you
need to adjust them.
/ black sign (A)
\ white sign (B)
The adjusting of rotor blades in flight.
1. Slowly adjust throttle to certain position, before the heli taking off, through the lateral of the
heli, you can watch the run of big rotor blade.
2. If the blade tracking is correctly, a line will be shaped. If not, you should adjust the higher one
or lower one.
3. Short pitch linkage rod is used for adjusting general pitch (when the rotor blades are
bigger).Long pitch is used for trimming(when the difference of two blades is small).
A. Rotating blades, the higher rotor indicates that the pitch is bigger. You can adjust short
linkage rod A, if it needs smaller pitch trimming, please adjust long linkage rod A.
B. Rotating blades, the lower blade indicates that the pitch is smaller. You can adjust long
linkage rod B, if it needs smaller pitch trimming, please adjust long linkage rod B.